From a man who's known as much for his biting, verbose cultural and political criticism, it was hard to know what to expect from a new record that was called, by the artist himself in the press release announcing it, "a dance album." But spoken-word poet, writer, musician, and activist Saul Williams hasn't gone soft on Volcanic Sunlight, his fourth full-length album. It's just that his priorities changed.
Volcanic Sunlight is concerned with how the words fit the music, instead of how the music fits the words, and because of this, vocal lines are shorter and more often repeated, and perhaps most interestingly, lyrics are consciously removed. "The mood of the music is really the first thing I approached when envisioning [the album]," Williams explains. "I wrote the music first, and once I did, I didn't want the words to get in the way." It works. Volcanic Sunlight isn't your typical pop, or dance, album, but there's a structure and familiarity to it that leaves you humming choruses and singing along in a way that doesn't happen with his other releases.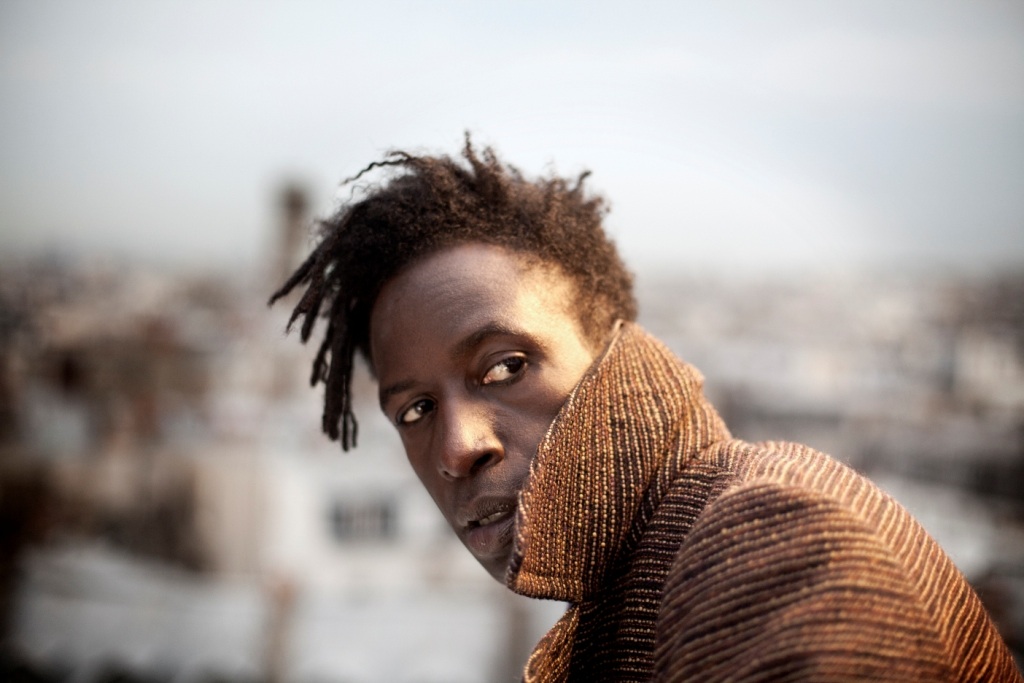 Saul Williams. Photo by Andrew Gura.
Which isn't to say there's a lot of filler or fluffiness here. Volcanic Sunlight, despite its new focus, is still redolent of Williams' more politically focused material. "Explain My Heart," one of the album's catchiest songs, is also one of its darkest, written while the artist was visiting Palestine and Israel and witnessing "[k]ids kicking tear gas canisters as soccer balls" and "six-year-olds showing [him] bruises from rubber bullets." Keys pound ominously as Williams sings, near desperation, "I take my heart and I divvy up/the separate parts into city blocks/I walk around all the city blocks/hunted by sirens hunted by thoughts." Still, despite the violence surrounding the song's inception, there's not an overt rage, and it's the hope within melody, not the violence, that propels everything forward.
And it's this same focus that guides the rest of the album. "Niggy Tardust was about freedom. Volcanic Sunlight is about love," Williams states, and it's clear he means it. The title itself comes from, as Williams explains, "... [a dream] where love could live freely... It reflects my interest in seeing inner beauty and passion overtake the mainstream." Perhaps it's just the case that in the end, Williams realized that while a furious list of demands can be effective, and has its place, there's much to be gained from a more measured approach, as well. Take "Triumph," for example, an introspective guitar-line driven song that could fit easily into the TV On The Radio catalog. "And I feel bad, I feel bad/I feel conquered, I feel sad/And I think of all the ones/That may know just what I have/And I feel love," Williams sings. When it comes down to it, it's about love.
Popular in the Community