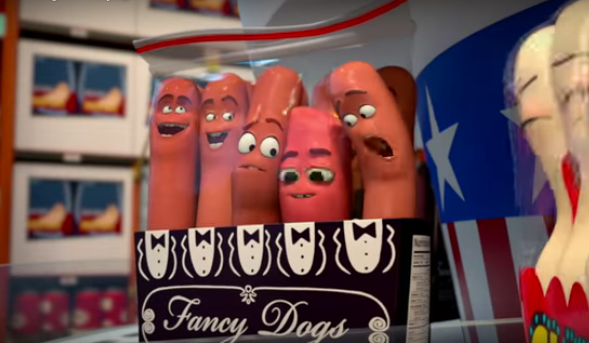 Seth Rogen's new R-rated animated film "Sausage Party" is hardly the first to feature anthropomorphic food, but it's definitely one of the most disturbing. 
Rogen, who Variety called "the most subversively sincere religious allegorist working in movies today," co-wrote the film and lends his voice to a hot dog named Frank, whose greatest dream comes true when he and his fellow wieners are plucked from the obscurity of living in plastic packaging and are purchased from the grocery store. But Frank's dream soon turns into a nightmare when he learns what really happens to food when you take it home. 
The film also features the voices of Kristin Wiig, Paul Rudd, James Franco, Jonah Hill, Michael Cera and a handful of other stars and will ensure you never look at a peeled potato the same way again.
If Rogen's previous projects were your thing, then you'll likely be into "Sausage Party," which The Hollywood Reporter described as "a twisted riff on 'Finding Nemo,' though Nemo never had to contend with a sleazeball human who was tripping balls after shooting up bath salts, encounter a talking used condom, or flee from a roid-ragey, douchey villain who was, literally, a douche."
Calling all HuffPost superfans!
Sign up for membership to become a founding member and help shape HuffPost's next chapter
BEFORE YOU GO
PHOTO GALLERY
SXSW 2016 Preview