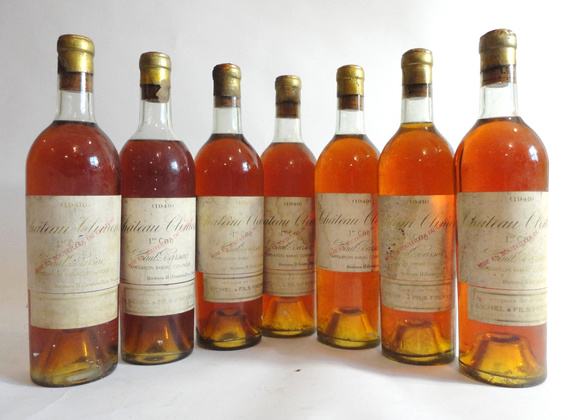 Beloved but so often neglected, Sauternes are among the world's most respected wines that few people drink with any degree of frequency. Best known as the accompaniment with foie gras (a match I think is overrated), Sauternes, owing to their sweetness, are otherwise relegated to the dessert part of the meal, sometimes sipped all on their own. Still, there are interesting match-ups with savory dishes where Sauternes show remarkably well.
This notion was in full play at a lovely spring day luncheon at Blue Hills at Stone Barns restaurant in Pocantico Hills, NY, hosted by Bérénice Lurton (below), owner of the esteemed Château Climens, classified in 1855 as a First Growth.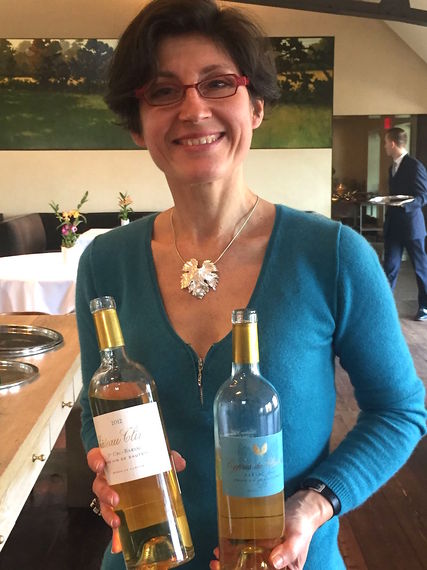 The Lurtons are the fourth family to own the estate, whose name means "unfertile, poor land," dating back to 1547, with the château itself built by the Roborel family in the 17th century. Three centuries later, Lucien Lurton, already owner of several fine Bordeaux estates, acquired the 75-acre Climens in 1971, and since 1992 his daughter, Bérénice, working alongside wine maker and viticulturist Frédéric Nivelle since 1998, has been in charge of bringing to bear all modern viticultural techniques, including biodynamic farming since 2010, to improve the health of the vines and the signature style of Climens wines of freshness, medium body and delectable sweetness.
To this day that infertile, poor red clay soil, though rich in iron and limestone, is stingy in producing Sémillon grapes. Climens is the only winery in Barsac to make its Sauternes with 100% of the varietal, which must be attacked by the botrytis fungus (below)--known as "the Noble Rot"--in order to shrivel the grapes and develops the number of actual aromatic molecules, and concentrate the sugars, most of which turn into alcohol while maintaining delicate sweetness that must be bolstered by good acid to achieve balance and refinement.
At the luncheon, Lurton said that, unlike most dry white and red wines, Sauternes is difficult to make. "One vine will only produce a single glass of wine, and it is not easy to extract great vines from the terroir's soil. Grape yields are low and irregular from year to year. If summer is too dry, botrytis will not appear; too wet and it turns to horrid gray rot. If things go well, we still never know until a few days before when we can pick the grapes, and we have to be very selective in picking the grapes that will work to make a quality Sauternes." Speaking in the language of biodynamics, she explained, "It is the sandiness that guarantees Climens's brightness and taut tension, and the limestone adds structure and depth."

Thus, the climate and the vines interact to become either beauty or beast in the fall harvest, and under the rules of biodynamic winemaking, all chemical sprays have been banned, vines are now knitted instead of trimmed, even the phases of the moon are taken into consideration. Just as acupuncture operates on the body without drugs to produce a balance of elements, so, too, the biodynamic method avoids as much as possible unnatural systemic interference in the vineyards.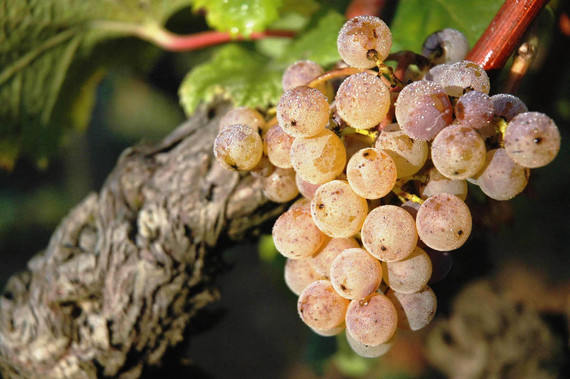 Once the grapes are pressed, fermentation using natural yeasts is achieved in small, separate barrels. Only in the rigorous final blend is it determined if Climens will even release a vintage, as they did not in 1984, 1987, 1992 and 1993, because the quality was not good. The attempt by the kitchen at Stone Barns to pair a four-course lunch with various Climens wines was convincing, largely because a wine like the estate's second label, Cyprès de Climens 2013 ($25), made from grapes left after the primary selection is done, has such a delightfully light floral nose and structure. Served with an amuse of pork liver terrine sandwiched in bitter chocolate wafers, Cyprès was easy to drink as an aperitif, especially now that spring is here.
The 2012 ($70) and 2011 ($114) vintages were sipped with a winter squash salad whose golden raisins evoked the moderate sweetness of the wines, while a yogurt dressing's acidity counterbalanced it. An Indian summer provided the 2011 vintage with an excellent degree of Noble Rot along with good quantity--at 43,000 bottles nearly three times the size of 2012's, whose harvest was a tough one but resulted in producing a stunningly elegant Sauternes, feminine and vibrant with youthfulness.
The saltiness of a slice of succulent pork (from pigs raised on the farm there), served with rutabaga, sweet dates and spinach, was able to contend well with the rich sweetness of the 2005 ($124) and 2009 ($135) vintages.
Lurton called 2005 the "big one," an abundant crop ideal for its concentration in tandem with good acids. I enjoyed its faint whiff of the farmland itself in the bouquet. Pure apple and pear flavors were shot through the somewhat lighter 2009, whose citrus notes were refreshing and bright.
Dessert was a honey parfait with beeswax ice cream, a far more traditional kind of match-up for Sauternes like the 2002 ($81), made from a difficult harvest that produced a small crop; it had great depth but not enough acid to cut through its sweetness, resulting in flavors more like maple syrup but not cloying like caramel.
Our reward for cleaning our plates that afternoon was a taste of a 1976 ($228), made only five years into the Lurtons' ownership of the estate. It was remarkably bright for its age--although many Sauternes can age well for decades--a tour de force, really, with that characteristic lightness that identifies Climens' style.
Lurton and Stone Barns proved that such sweet wines can happily be paired with savory dishes, though as such it seemed more of a rewarding novelty than a great idea for increasing Sauternes consumption.
In the end, Climens and other great Sauternes are to be enjoyed largely for themselves and with foods that are amenable to their lush sweetness. But there's no question that these unusual wines, literally plucked from the edge of disastrous rot, are fit to be more than an occasional indulgence.