Colleges of art that also administer a bona fide affiliated campus museum featuring a lively exhibition program provide an amazing advantage to their students and the surrounding community, particularly from an educational point of view, as well as the growing positive exposure to the institution and to its enduring reputation. However, it is a rare occasion indeed to discover a robust school of art with a handsome museum attached at the hip that also is surrounded by a uniquely historic built environment, such as the Savannah College of Art and Design (SCAD) and its use of Savannah Gray Brick. SCAD was founded by Paula Wallace, a woman of vision and a thoughtful preservationist, who first saw the potential for adaptively reusing many of the city's great brick buildings that were in disrepair and potential victims of the wrecking ball. She began by saving the magnificent 1892 Savannah Volunteer Guard Armory and turning it into a school for the visual arts--SCAD--which remains today as a testament to the inherent value and aesthetic inspiration of historic preservation.
Before examining the current show at SCAD, it's important to get a brief perspective on the history of this great American city. In 1733, James Oglethorpe and 114 colonists from England arrived on the Savannah River to found America's thirteenth colony, Georgia. The idea was to increase imperial trade and navigation along the coastal waterway and to establish a protective buffer during the Spanish War. Oglethorpe demonstrated remarkable vision and foresight as he designed the basic layout of Savannah into blocks of five symmetrical lots and twenty-four public squares, earning the distinction of "America's first planned city." Today this wonderful, genteel southern town certainly is among the finest preserved communities in America, constructed brick by brick from the area's rich native clay soil--the silver lining that protected over 2,300 structures through centuries of deterioration, turmoil and the debilitating Civil War.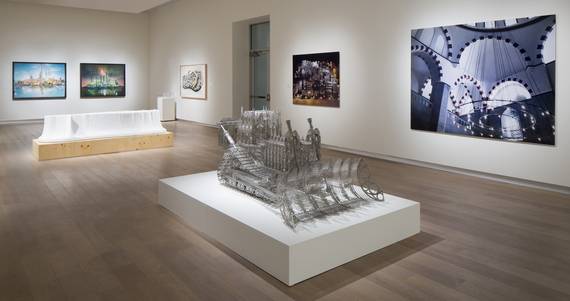 Installation of "Built, World" at SCAD Museum of Art. Photo courtesy of SCAD. Foreground: Wim Delvoye, D-11 Scale Model 2.0, 2008, Laser-cut stainless steel, 38 ¼ x 87 ¾ x 48 in. Courtesy of Sperone Westwater Gallery, New York.
"Built,World" is a group exhibition highlighting twenty leading international artists, whose works examine architecture and constructed actualities with a assortment of media across a wide range of interpretations and scale. The title couldn't be more appropriate, as the museum itself is a walking, talking work of art, carefully crafted and maintained where possible as an exciting, groundbreaking showplace that combines vintage industrial architecture with new utilitarian vision, developed and transformed by hotshot architect Christian Sottile, SCAD alumnus and dean of the college's School of Building Arts. Built in 1853, it is the oldest surviving antebellum railroad depot in the country, now housing the SCAD museum and considered a National Historic Landmark. The museum has breathed new life into these ruins after five decades of neglect, which apparently were standing precariously and had an uncertain future. Originally conceived as a major trade post for Savannah, the railroad complex was occupied by Union troops at the close of the Civil War. Salvaged bricks and original heart pine timbers appear throughout the museum, and the high ceilings provide a dramatic setting for the exhibitions, much like Renzo Piano's use of innovative and adaptively reused materials for the new Whitney Museum of American Art in downtown Manhattan.
The unusual exhibition through a variety of mediums "...engages the social landscape, explores the real and mimetic and deconstructs architectural forms, histories and legacies," according to the show's curators, Aaron Levi Garvey and Storm Janse van Rensburg. The artists, who are from a variety of countries, including Germany, Belgium, France, Denmark, Iceland, Portugal, Cuba, Angola, Japan, Trinidad, Syria, and India, as well as the United States, assemble an appealing visual document and cohesive supportive arguments for thoughtful environmentalism; appreciating industrialization; related social activism; and historical contexts that we can deduct from this remarkable variety of works that have an underlying common denominator.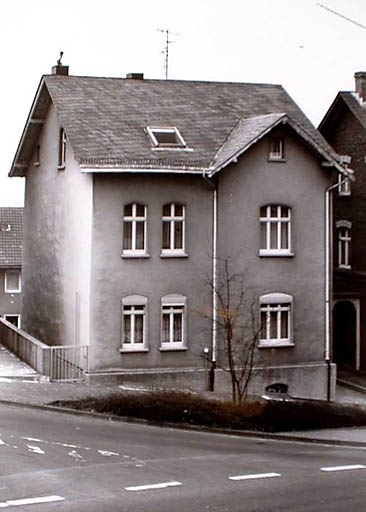 Bernd Becher, Hilla Becher, Wohnhaus, Siegen, Westfalen, 1981, Silver gelatin print on baryta paper, 23 ¾ x 20 in. framed. Collection of Deutsche Bank, New York.
While it's not possible to evaluate each work in the exhibit, the following examples offer a robust overview of this delightful investigation into exciting architectonic subject matter and its subsequent interpretations. Although there have been a great variety of artists and photographers who have documented the built environment, from Eugène Atget to Harry Callahan, the German husband and wife team of Bernd and Hilla Becher was the most pioneering in documenting multiple built structures, from water towers to blast furnaces, bringing to the contemporary art world the inherent aesthetic components of repetition and consistency of architectural DNA to the forefront of contemporary photography.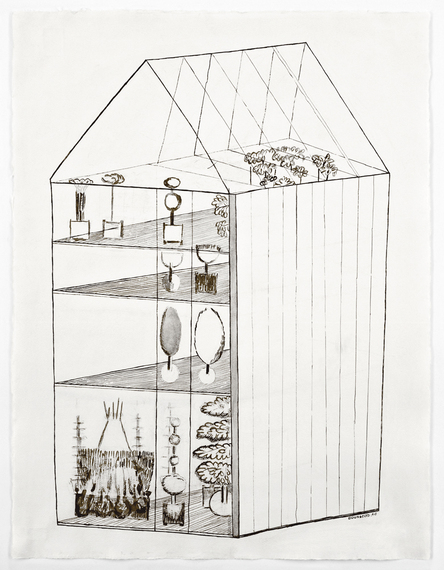 Louise Bourgeois, Untitled, 1946, Ink and watercolor on paper, 25 ¾ x 19 ¾ in.; 65.4 x 50.2 cm. Photo: Beth Phillips, (c) The Easton Foundation / Licensed by VAGA, NY Courtesy of the Wieland Collection, Atlanta.
The late Louise Bourgeois' Untitled ink and watercolor created in 1946 is an unexpected and unusual surprise, depicting a four-story dollhouse-like form filled with domestic objects. Bobby Davidson has six mysterious and provocative archival pigment prints that possess an eerie and ghost-like presence; these are oddly beautiful vignettes of the aftermath of the 9/11 terrorist attack on the World Trade Center, objects covered in dust but retaining a measure of dignity and an entirely different perspective. Subjects include a barely recognizable water tower, as well as a park bench, phone booth or a hot dog cart, which were active and occupied prior disaster.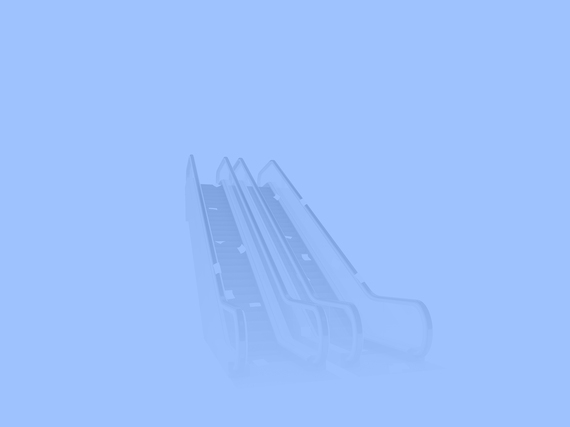 Bobby Davidson, US LETTER, Escalator (Blue), 2012, Archival Pigment Prints, 15 x 20 in. Courtesy of the artist.
Perhaps the most dramatic and telling work is US LETTER, Escalator (Blue), which depicts ambulatory electric stairs that are frozen in time, permanently unplugged and unusable, after transporting thousands of commuters like clockwork every day, and then suddenly, horribly, shut down for good. While it is very difficult for artists to find and portray splendor and mystery in tragedy, Davidson has found a respectful and strangely lovely end run, which may be the most memorable in this exhibition.
Perhaps the most ingenious and literally jaw-dropping handmade object in this show is Wim Delvoye's D-11 Scale Model 2.0, courtesy of Sperone Westwater Gallery (see installation image above), where the sculptor meticulously laser-cut stainless steel into the shape of a bulldozer that offers an irony of depth and width as well as weight and volume.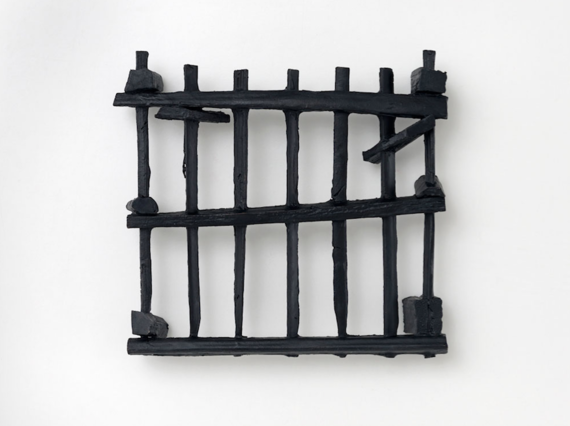 Susan Hefuna, Grid Drawing, 2015, Bronze, 9.75 x 10.2 in. Courtesy of the artist and Rhona Hoffman Gallery, Chicago.
Susan Hefuna's series of cast bronze wall objects titled Grid Drawing obviously have an appropriate connection to the built environment, as they present a common theme in fabrication, whether a hut made of sticks or the cor-ten steel ribs of a modern skyscraper tied together with orange-hot bolts and the sweat of a construction worker precariously balanced on an open beam.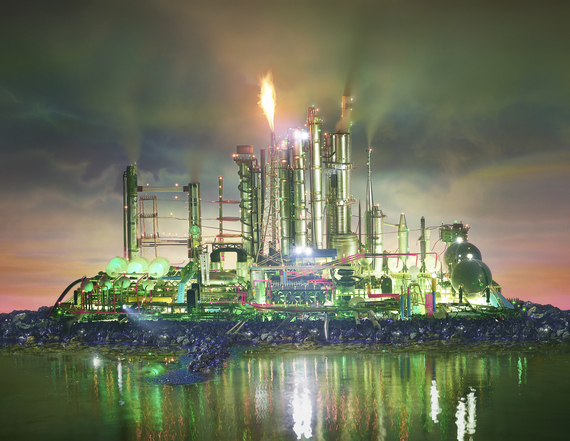 David LaChapelle, Emerald City, 2013, Chromogenic print, 50 x 63 in. Edition of 3. © David LaChapelle Studio. Courtesy of Paul Kasmin Gallery.
On the brighter side, renowned and risk-taking Manhattan-based photographer David LaChapelle's large-scale chromogenic print titled Emerald City embodies the true essence of this fascinating show by highlighting a gleaming futuristic architectural masterpiece of a reflective metropolis, which has an uncanny illustrative connection to the Wizard of Oz.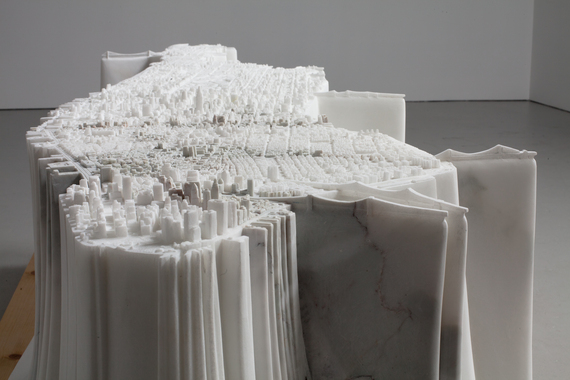 Yutaka Sone, Little Manhattan, 2007-2009, Marble, 21 ¾ x 104 3/8 x 33 ½ in. Edition 1 of 5, 1 AP. Courtesy of the artist and David Zwirner Gallery, New York.
Speaking of glistening cities, Yutaka Sone's extraordinary, luminous white marble carving courtesy of David Zwirner Gallery is a sensational scale-model of Manhattan Island in a relatively accurate representation of America's greatest city as a mighty fortress, where bridges and subway tunnels end and the surrounding bodies of water from the Hudson disappear.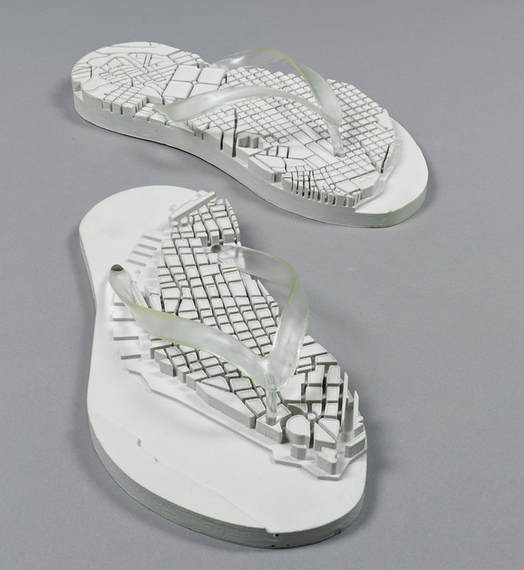 Los Carpinteros, Sandalia, 2004,Two cast rubber sculptures; each sandal: 12 ¾ x 5 ¾ x 2 ½ in. Edition of 60. Published by Graphicstudio, University of South Florida, Tampa, Florida. Collection of University of South Florida Contemporary Art Museum, Tampa
This super fine exhibition also includes Olafur Eliasson's Your House (Artist's book), Angela Ferreira's For Mozambique, Takahiro Iwasaki's Edinburgh Castle on the Bin Bag (a small plastic city on the top of a cast garbage bag), Los Carpinteros' architectural "footprints" cast into rubber flip flops, Roxy Paine's Machinery of Indeterminacy, carved exclusively out of birch wood (from Paul Kasmin Gallery and Kavi Gupta Gallery in Chicago) and James Casebere's Tripoli, a convincing digital chromogenic print mounted to Plexiglas from Sean Kelly Gallery, among others.
New revelations for radiocarbon dating have allowed us to age the very first free-standing buildings, constructed around 4000 BC for the sole purpose of shelter and continuous occupancy. Neolithic monuments in Wales at the same time incorporated balance and ingenuity and the sheer beauty of man-made minimalist structures, created by collecting or shaping giant rocks. As humankind evolved, it didn't take long for invention and the idea for giant, shaped "bricks" were cut and painstakingly moved to eventually take shape as a pyramid. For every millennium, the human spirit continued to progress and use modern and sophisticated methods of building, leaving a legacy that still remains. This show continues to document mankind's attraction to the built environment and the ingenuity of contemporary artists in defining and recording our evolutionary paths, and the endless interpretations that they inspire.
Calling all HuffPost superfans!
Sign up for membership to become a founding member and help shape HuffPost's next chapter