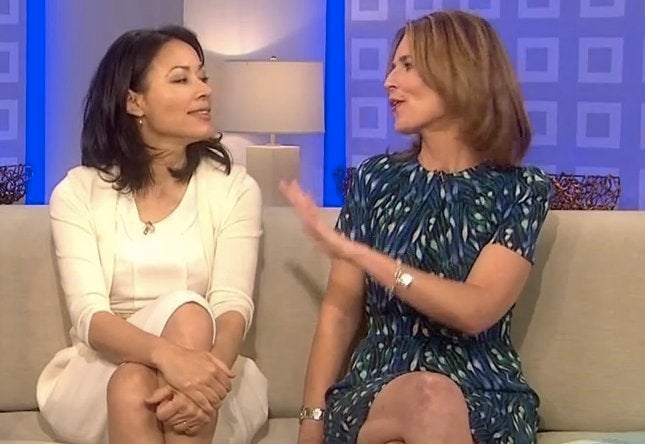 Savannah Guthrie has officially been asked to replace Ann Curry as the co-host of "Today," according to multiple reports on Tuesday night.
The Hollywood Reporter and The New York Times wrote that NBC News had formally offered the job to Guthrie, currently one of the hosts of the show's third hour.
Guthrie was widely seen as the favorite to replace Curry, who has been the subject of intense media scrutiny ever since last Wednesday. That's when news broke that, after a troubled year at "Today," NBC was negotiating an exit deal with Curry.
The Hollywood Reporter's Marisa Guthrie (no relation) wrote Tuesday that Curry will not leave NBC News entirely. She has been with the network since 1990, rising from Chicago correspondent to the co-host of one of the most iconic programs in television. Guthrie offered no details, but said Curry will be given a "substantial" role within NBC. It has been speculated that she will become a foreign correspondent -- fitting for someone who has said she is a hard news journalist "at my core," and who critics said seem less than enthralled by some of her fluffier duties on "Today." (Curry will also reportedly be given at least $10 million to walk away.)
While the Times reported that Guthrie has not formally accepted NBC's offer yet, it would be a shock if she turned it down. For her, the "Today" job represents the culmination of a meteoric rise in the ranks of the network. In just four years, she has landed in one of the most coveted jobs in the news business.
For NBC, the shift would bring a partial end to what has become a protracted and somewhat ugly process. Curry has been under a harsh spotlight for nearly a week, with many saying that the network has left her cruelly twisting in the wind. Curry's fans have also rallied around her, with tens of thousands signing a petition demanding that NBC keep her on.
The Olympics also loom large in NBC's planning. "Today" is known for shipping off almost wholesale to the location of the Games. It is the morning show with the most access to the Olympics, and NBC News will want as much stability on the program as possible so that it has a clearer shot at rebounding from its recent ratings dogfight with rival "Good Morning America." Whether the dropping of Curry and the ascension of Guthrie can accomplish that feat is the biggest open question of all.