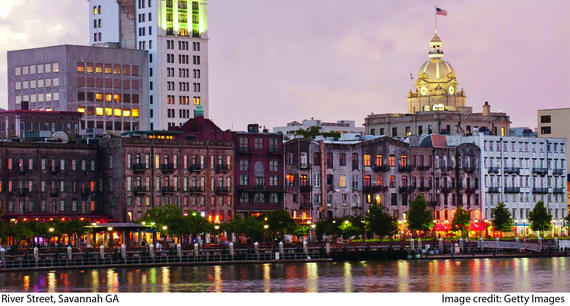 The city of Savannah is constantly intertwining its past, present, and future. Since the city's emergence, trade and manufacturing have played a huge role in its economy and continue to make an impact on a local and global scale. Savannah's ability to mix modern times with its historical past is one reason why this city is undergoing a growth spurt in manufacturing, logistics, and tourism. This combination of assets creates an ideal situation for industrial growth, in particularly fashion. The fashion industry will flourish in this location due to its inspiring atmosphere, competitive costs, big city experiences and its costal location. Once you get immersed in Savannah's beauty its hard to picture yourself anywhere else.
The inspirational city of Savannah has attributed its charm to elegant architecture, ornate ironwork, pristine squares and antebellum homes. However, some facades in the city's downtown have been altered over time, making streets like Broughton look imbalanced. Thanks to developer Ben Carter and preservationists from Hanson Architects many of these buildings are being restored to their former glory. Carter owns 37 properties on Broughton Street that are being converted into restaurants, boutique hotels, lofts, and storefronts. Some of the retailers and eateries that have signed onto the project are: Club Monaco, Lulelemon, H&M, J. Crew, Lilly Pulitzer, Victoria's Secret, Michael Kors, Beetnix Superfoods and Juice Bar, and Savannah Tap House - just to name a few. As of now 70% of construction is complete and by fall 2016 the project will be finished. With hard work and ambition Ben Carter Enterprises and Hanson Architects will bring Broughton Street back to its pinnacle and enhance the city of Savannah.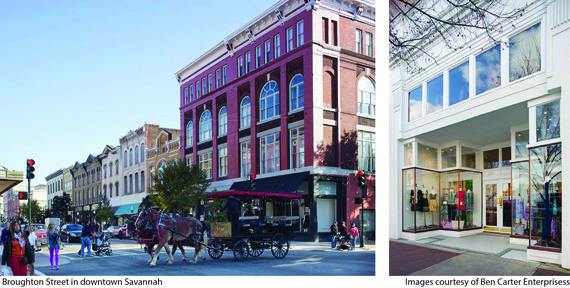 Developer Ben Carter started his firm in the early 1990's, since then he has been responsible for retail development throughout the Southeast such as: St. Johns Center, The Mall of Georgia and most recently Savannah's Tanger Outlets. One common theme among Carter's projects is that he always creates or enhances places that people will enjoy visiting, supporting his goal of adding quality and experiences to everyday life. This motivation makes Ben Carter's projects successful and will make his Broughton Street project a staple for the community.
Carter became involved with Savannah when he realized there was a gap in its variety of stores. After this realization he began developing the Tanger Outlets, purchasing properties on Broughton Street, and becoming involved with Savannah's design and retail community. His involvement with locals began when he sponsored two fashion shows on Broughton Street and founded the Broughton Street Exchange. These venues have allowed locals to showcase their merchandise and expand their influence. Designers Emily Bargeron of Mamie Ruth, and Brooke Atwood have been working with the Broughton Street Exchange since it's beginning. What the designers love about The Broughton Street Exchange is that it allows small designers to make a big impact by joining together and help promote their brands.
However, many natives fear the development of big box retailers on Broughton Street will eradicate the presence of mom and pop stores. This change gives local retailers the opportunity to expand Savannah's shopping district and attract more customers. Designer Emily Bareron has a design studio and store on Liberty Street. She chose this location because of the unique experience it offers to shoppers. Features that make visiting Mamie Ruth distinctive is that shoppers can meet the designer and see her create new fashions. This innovative design and art community off Broughton makes the Savannah's shopping experience something unique.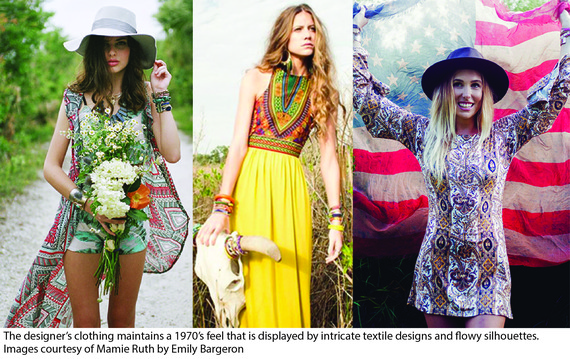 Savannah fashion designers Brooke Atwood and Emily Bareron have been making a big impact at apparel markets, retailers, fashion shows, and music festivals around the nation and are proud to call Savannah their home. These designers came to the city because of the quality of life they would be able to maintain and the lack of distractions, giving them more time to focus on their business and become successful designers at their own pace. Being in Savannah has allowed them to make a large impact on their community, and benefit from the many perks the city and Georgia has to offer. One of the greatest advantages of the city is that it offers a lower cost of living- a factor that designers of LA and NYC constantly struggle with.
Another perk of this location is the increasing amount of manufacturing facilities in Georgia. Having production sites in the vicinity of the design team allows for a faster turnaround time than overseas. Manufacturing smaller orders are easily accepted allowing special orders to be produced, and designers can be involved with the whole design process. The involvement of the design team is crucial for manufacturing since its saves money by cutting down on errors and ensures that workers are being fairly treated. Designer Emily Bareron uses manufacturers in Georgia and believes that "all the love being put into the manufacturing of our products is what makes makes her brand stand out."
Being in fashion generates a lot of pressure to live in a fashion capital like NYC or LA; however, due to digital technology and the abundance of trade shows, designers can work from wherever they desire. Designer Brooke Atwood believes that, "being successful isn't about where you live. Success is taking advantage of the resources you have in front of you. You might have to work harder to make it happen, but in the long run drive, determination and perseverance will be most beneficial to you." Since speaking to Brooke these words have resonated in my mind, and have made me realize that success come to those who work for it.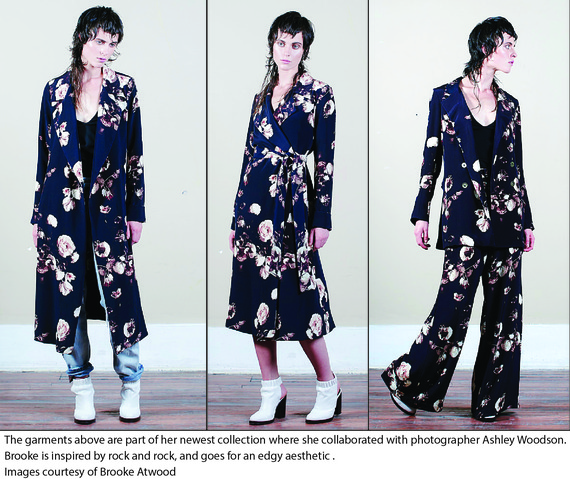 Other than Savannah being a cost effective location, there are several reasons why some of America's most recognizable companies are making the move to Savannah. Walmart, Target, Ikea, and Hugo Boss have moved their distribution centers to warehouses off the Savannah River for reasons such as: professionalism offered by port and warehouse representatives, the availability of expansion, quality infrastructure, expedient trade routes from Europe, and the availability of being under a foreign trade zone. When officials of Hugo Boss were exposed to the timelessness, responsiveness, and excellent follow through offered in Georgia the company decided to relocate their NYC and some of their Cleveland operations down south. Another great thing about the location is the size and the accessibility for expansion. At 4.5 million square feet, Savannah is home to the 4th largest distribution site in the US. Surrounding the distribution centers lies a vast amount of unoccupied land, at the price of $100,000 per acre growth can be easily attainable.
Georgia's high quality of infrastructure makes trade expansion possible. When Panama Canal officials announced its renovation, the state of Georgia anticipated the increase in traffic and spent over $250 million to improve waterways, highways, purchase new cranes, improve rail connections, and reconstruct terminal ramps and traffic patterns. Within the past years the Port of Savannah was expanded to 7 miles and deepened to 47-49 ft below sea level. Expanding the Savannah River will allow for more efficient and larger container ships to access the channel, allow for greater flexibility, and will accelerate deliveries and shipments. The increase in depth will allow for an additional 3,600 cargo containers in each transit that The U.S. Army Corps of Engineers believe will bring an additional $174 million per year. Georgia has the amenities to support the increase in cargo since Atlanta's Hartsfield Jackson Airport, the world's busiest airport, is in close proximity to the ports and there are two railroad lines that connect to the city.
A major benefit of owning a business and working in Savannah are the tax incentives the city offers. One of the major tax reductions found in this city is that the Port of Savannah falls under a foreign trade zone, and its surrounding warehouses can qualify as subzones. These zones allow companies to maintain a competitive edge in foreign and domestic markets, improve profits, lower shipping rates, save money on duties and taxes, can reduce costs associated with operating in the U.S., and generate jobs in America. Other than the Port of Savannah being under a foreign trade zone the city offers businesses tax credits, tax exemptions, electricity discounts, and many others. Savannah is beneficial for employees since the city has a 0% income tax rate topping New York and Los Angeles at 6% or higher. Savannah's cost effective and acclaimed efficiency will put the city on the map for years to come.
Even though Savannah may never be as well-known as NYC or LA, the city has a sense of realness that is hard to find in this digital age. According to Ben Carter Savannah is an "irreplaceable experience of art, architecture, and culture." He affirms "(if people) want to get away from the distractions of digital technology and go see something that is real- experience it, see it, feel it," then the city of Savannah is the place for you. Savannah's resurgence in business, hotels, and restaurants will be able to highlight the city's historical past as well as its future, and accommodate businesses and visitors for time to come.

For more information of Savannah click here
For more information on Ben Carter Enterprises and the Broughton Street project click here
For more information on Mamie Ruth and designer Emily Bargeron click here
For more information on Brooke Atwood click here
References
(http://www.gaports.com/Media/PressReleases/TabId/379/ArtMID/3274/ArticleID/14/CORPS-TOP-GENERAL-GPA%E2%80%99S-CURTIS-FOLTZ-DISCUSS-HARBOR-EXPANSION-PROGRESS.aspx)
(https://www.washingtonpost.com/world/the_americas/expanded-panama-canal-sparks-race-to-be-ready-for-bigger-cargo-ships/2013/01/12/f3c85d52-5785-11e2-8a12-5dfdfa9ea795_story.html)
(http://savannahnow.com/stories/041802/LOCHugoBoss.shtml#.ViAP-BCrRBw)
(http://www.nytimes.com/2015/03/25/business/port-of-savannah-commercial-building-construction.html?_r=1)
(http://www.gaports.com/About/SavannahHarborDeepeningExpansion.aspx)
(http://www.wtcsavannah.org/foreign-trade-zone-104/)
(http://www.city-data.com/us-cities/The-South/Savannah-Economy.html)