The city may be on the verge of losing another cultural icon. According to reports in the Chicago Tribune and Crain's, Mr. Beef is facing foreclosure.
Seems like Joseph Zucchero and Michael Genevese, co-owners of the cultural and culinary institution at 666 N. Orleans St., overextended themselves at a bad time. Apparently they are delinquent on some loans they took out to help finance the March opening of a new venture, the more upscale Natalino's, a 120-seat restaurant at 1523 W. Chicago Ave.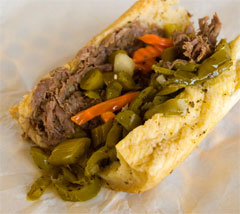 Zucchero told the Trib that Mr. Beef is not going to close, but the the details reported in the articles above sound like it will be tough for them to stay above water. I recommend you get to Mr. Beef soon for two reasons: They can use the cash flow, and if they go down, there is nothing to replace them. Mr. Beef ranks second only to Al's on Taylor Street, and there's a big gap between them and #3 Johnnie's in Elmwood Park.
Created on the South Side in the Italian enclaves around the now defunct Stockyards, the classic Chicago Italian Beef Sandwich (pronounced sangwitch) is a unique, drippy, messy variation on the French Dip Sandwich. It is available in hundreds of joints around the city, and rarely found beyond the metro area.
The exact origin is unknown, but it was probably created by Italian immigrants in the early 1900s. The recipe was popularized by Pasquale Scala, a South Side butcher and sausage maker. During the Depression, in the late 1920s, when food was scarce, Scala's thinly sliced roast beef on a bun with juice and fried peppers took off. Today, beef sangwitches are a staple at Italian weddings, funerals, parties, political fund raisers, and lunches "wit my boyz". And Scala's Packing Company supplies hundreds of restaurants and Italian Beef Stands with the raw ingredients.
To learn more about the history of this iconographic sandwich, about the "Cheef", the "Combo", "With Gravy", and the "Soaker", how to order it, how it is made, and how to make it at home, click here.
The best beef stands in Chicago
There are scores of Italian beef stands in Chicago, and Italian beef sandwiches are available at most hot dog stands. Some purchase pre-cooked beef and juice (it's not called gravy) from Scala's, but the best make it from scratch. Prices typically range from $3.50-$6.50 for a sandwich. Below are some of my faves listed in order of preference. Let the arguments begin! Send me your opinions.
1) Al's #1 Italian Beef
Reviewed: 1079 W. Taylor St., Chicago. Now franchised to several locations, the original, founded in 1938 in Little Italy, is on everyone's top five list. The gravy is rich and flavorful, and that's their secret. Great, buttery, skin-on fries, that are not too salty. No toilets, the counter will handle 6-8 people standing up, there is no indoor seating, but there are three picnic tables out front. Watching the world go by in Little Italy is as entertaining as the opera. There is a parking lot, and Mario's Italian Ice is across the street.
2) Mr. Beef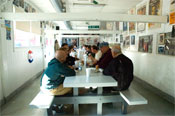 Reviewed: 666 N. Orleans St., Chicago. A celebrity and tourist fave. Jay Leno has said it's his favorite, and his picture is prominently displayed on the wall along with numerous other illuminati. The parking lot and attendant are worth the price of admission. Not far from downtown. The beef is cooked on the premises.
3) Johnnie's Beef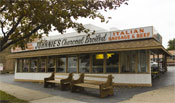 Reviewed: 7500 W. North Ave., Elmwood Park (just west of Harlem on North Ave., in an Italian suburb). Long and skinny inside, there is standing room only for about 20, and 5 outdoor picnic tables alongside the ample parking. The beef is juicy and very tender with lots of fresh black pepper bite. The shoestring fries are first rate. Don't miss the home made Italian ices.
4) Freddie's Pizza & Sandwiches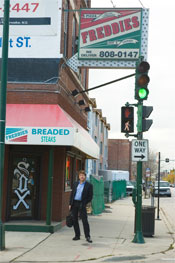 Reviewed: 701 W. 31st St., Chicago. In the shadow of Comiskey Park (sorry, I just can't bring myself to call it by the official corporate sponsored name). Plenty of real tables with seating for about 50, two toilets, a TV for watching the Sox games, and a mural of Venice. There's always a table or two of gray hairs talking with their hands. The standard Italian Beef Sandwich is very wet, almost too hot and crumbly to pick up. I've been known to resort to knife and fork here. But I'm not complaining because the juice is among the best. The giardiniera is more vinegary than most.
Buona Beef and Portillo's
Although the beef sandwiches at these popular chains are good but not spectacular, I list them here because they have locations all across the city and they sell beer, something many beef joints do not do...
Now you tell me which ones you like and why you disagree with my rankings. Gahead. I can take it.
REAL LIFE. REAL NEWS. REAL VOICES.
Help us tell more of the stories that matter from voices that too often remain unheard.