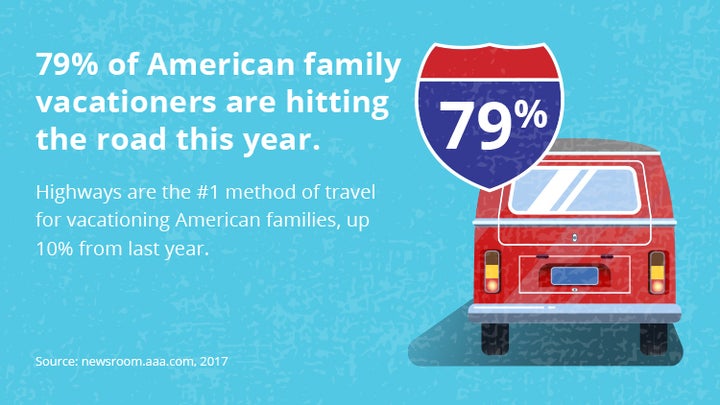 Are you packing up your car and hitting the road this summer? You're not alone. According to a survey conducted by AAA, road trips are the most popular type of vacation for families in the U.S. in 2017. In fact, 10 percent more families are expected to take road trips this year than last.
From driving to the tip of Cape Cod, to seeing the Great Lakes all the way to a drive through the Yosemite Valley in California, there are limitless ways to explore on the road. Whether you're going to visit family or taking off on an epic adventure, a road trip can be a great way to make travel about the journey rather than the destination.
Before you hit the road, make sure your car can handle the trip. One of my friends was planning a road trip across the country but wanted to visit Death Valley about a month before. He decided to take his used car to a mechanic before taking either trip. Good thing he checked.
The mechanic warned him that driving in the extreme heat of Death Valley could cause long-term damage to his battery. He decided to take a rental car on his first trip instead, an alternative you may want to consider if you're hoping to avoid wear and tear that might depreciate your car's value. Having your car inspected and serviced by a mechanic before a road trip can also be a worthwhile investment that could both save you money and prevent an untimely breakdown. Consider your options carefully and choose what makes most financial sense for you.
Pack for bumps along the way. A flat tire or dead battery can put a serious damper on your road trip, especially if you're not prepared. Keeping a spare tire in your car and checking your tire pressure and tread should be on your pre-trip checklist. Along with your bags, bring a few items for preventive maintenance measures on the road. Having jumper cables, coolant and engine oil handy can save you time and money.
Additionally, packing necessities like maps, flashlights, an emergency blanket, a first aid kit, food and water can be cost-saving and life-saving in an emergency, especially if you're going somewhere fairly remote and isolated from gas stations and supplies. If you're in need of all of these items, it may be more cost-effective to buy them in a packaged bundle.
Map out your trip ahead of time. While just jumping in the car and driving without a set destination can be an enticing idea, the spontaneity will likely result in more expenses. Knowing when and where you'll stop ahead of time, especially for hotels and outings, will help you stick to a budget. If you still crave the more adventurous aspects of a road trip, you can make a general plan for your major excursions and routes, while stopping for unexpected attractions and views as you go.
Using a city pass or coupon books for different location can help you stretch your budget to see more attractions for less. Additionally, state and national parks have several free days each year and discounted admission for seniors and active duty military members and their dependents.
Comparison shop to keep hotel prices under control. Booking ahead of time and using comparison shopping websites will save you from driving around to find the best hotel deal when you're already tired from a long drive. If you do have to book last-minute, consider using hotel coupon books, hotel-booking apps, group coupon sites or reward points to save a little more.
A road trip might also be a good opportunity to visit friends and family along the way. The savings on skipping the hotel are an added bonus.
Camping could be another alternative to booking a hotel, which can be particularly cheap if you already have gear like tents and sleeping bags. However, you'll want to plan in advance as popular destinations can fill up fast. If a national park is mapped out on your route, you can make reservations online or plan to arrive early and try to secure a first-come-first-served camping spot. Those who don't mind roughing it can camp for free in National Forests and on Bureau of Land Management land and in some state forests.
Managing your mileage could add up to major savings. Though fuel prices may generally be down, the cost of filling up your tank can still add up. To make this cost more manageable, you can take advantage of apps that help you find the best gas prices in your area. In certain cases, you may also want to consider renting a more fuel-efficient car.
Packing lightly, following the speed limit, checking your tire pressure and avoiding fast acceleration and frequent braking can also help you improve your gas mileage. You can save even more by mapping your trip ahead of time to avoid road tollways and construction that might slow you down.
Keep kids entertained to avoid unnecessary stops. Kids tend to get antsy in the back seat, which can lead to more frequent stops and a few impulse buys if you're not prepared. Packing snacks and meals ahead of time can help you avoid making extra purchases at the gas station, and will often be cheaper.
Also have a plan for keeping your kids entertained. Let them choose a few activates ahead of time, like preparing a road trip playlist or making a game like road trip bingo with sights you'll be seeing along the way. Games and music can keep them occupied for long stretches in the car and help create some anticipation for the trip. If you have a tablet or phone, downloading free games, podcasts or movies can be another great option. You can also find audiobooks available for download online, in bookstores or at your local library. Depending on the ages of children, dollar store activities like coloring books or small toys spaced can be a good way to keep children entertained.
Protect your home while you are away. One other way to save on your road trip is to ensure that your home is protected while you're gone. If you can, ask a trusted neighbor, friend or family member to keep an eye on your house. Having someone take care of plants or pets and bringing in the mail can make it appear like someone is still home and deter potential burglars.
If you can't find someone to help, you can call US Postal Service to hold your mail while you're away. Double check that you've locked all doors and windows, including the garage door, and that you've set your alarms and put your lights on a timer.
Bottom line: Road trips can be an adventurous and inexpensive way to see the country, but costs can add up if you're underprepared. Planning your stops and packing to anticipate your needs could help you enjoy the ride rather than worry about the expenses.
This article is intended to provide general information and should not be considered legal, tax or financial advice. It's always a good idea to consult a legal, tax or financial advisor for specific information on how certain laws apply to you and about your individual financial situation.
Related
Popular in the Community