WASHINGTON -- President Barack Obama was swept into office amid calls for change in the country on issues ranging from the economy to education. Almost three years after his election, those who enthusiastically supported his candidacy are calling for him to fulfill his campaign promises and bring United States public education into the 21st century.
On Saturday the Save Our Schools march took place in Washington, D.C., at the Ellipse just south of the White House. The purpose of the event was to get federal officials to listen to teachers, parents and students -- the people who are closest to the education process.
Speakers included former Assistant Secretary of Education Diane Ravitch, Academy Award-winning actor Matt Damon and Damon's mother, Nancy Carlson Paige, a former Massachusetts public school teacher.
"We need to give students a sense of hope," Ravitch told The Huffington Post. When asked for specific policy proposals Ravitch said, "We need to stop high-stakes testing and we need more funding for early childhood education."
About 4000 people were in attendance and came from all over the country to bring to the light the current state of United States public education.
Kelly Hiegl, a public school teacher from Milwaukee, came to protest the budget cuts in Wisconsin.
"We're losing specialists in classes, we're being laid off -- the detriment is going to be tremendous," Hiegl told The Huffington Post. "We need collective bargaining back, we need to be able negotiate and we need funding so urban and suburban students have equal opportunity."
Nancy Cox, a school board member and former teacher from Durham, N.C., decried the emphasis put on standardized testing: "I have proctored the end of graduation test and I have seen men cry knowing they can't pass. Children have fallen asleep taking the test," she told The Huffington Post. "We need to scrap 'No Child Left Behind' and start over."
Jeff Dailey, a public school teacher from Delaware, had similar concerns over the current state of public education. "I've been around long enough that I know what public education was like in the 60's and 70's," Dailey told The Huffington Post. "We have no need for private and charter schools. We used to have qualified teachers who had support from the public education system and the emphasis was on team building. Now students are tested to death. Education is about growing, not testing."
There was particular anger at the event towards Arne Duncan, current Secretary of Education. There were many signs featuring the words, "Arne Sucks" and "Children are more important than test scores" -- a reference to Duncan's emphasis on standardized tests. The secretary has been a controversial figure for teachers as he is a proponent of merit pay proposals based on test scores as well as other measures, such as peer review and classroom observations.The march came only a few days after Secretary Duncan defended current education funding levels.
The event drew upon the A-List star power of Academy Award winning Actor Matt Damon to make its point.
"I wept when Barack Obama was elected president, but this isn't the type of history I thought he'd make, Damon told The Huffington Post. "Funding is driven based on test scores. That puts all the focus on the test scores. So if you're a teacher in the classroom, you don't spend any time getting your kids excited about learning -- your job depends on how well the kid does on a test, so now you're just drilling and trying to get them ready for the test."
There is undeniable anger and frustration from educators across the country toward President Obama and Secretary Duncan. However, it is unclear if "Save Our Schools" is meant to represent the beginning of a movement or a one time event.
If Diane Ratvich has her way, this is just the beginning: "Free public education, open to all, with no lottery, is a cornerstone of our democracy," she said.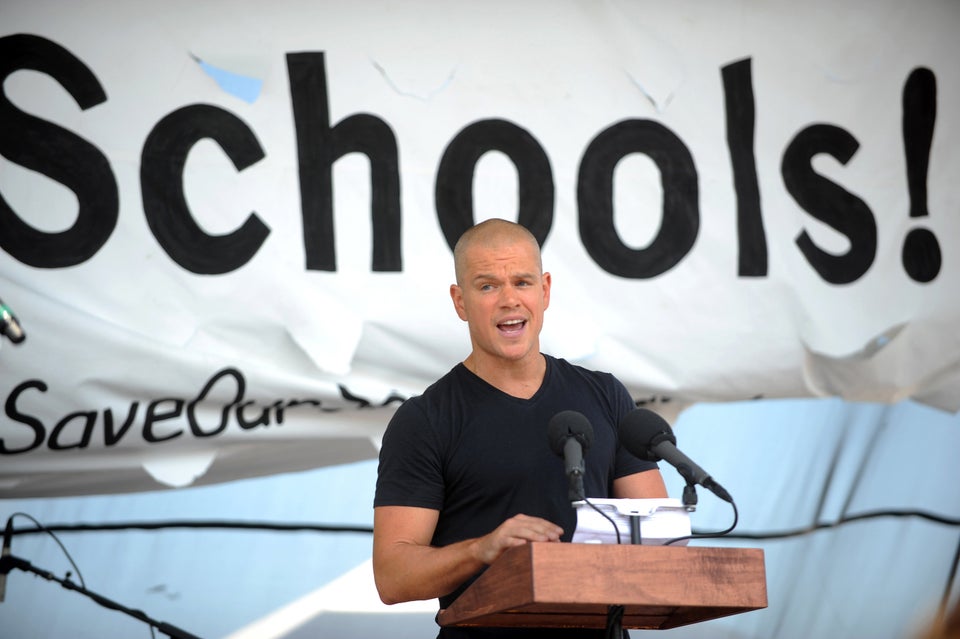 UPDATE: This story has been updated to include mention of Duncan's other measures for merit pay.