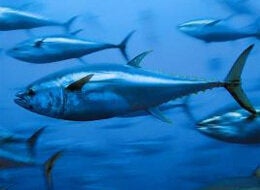 Anyone who has listened to the radio, watched television, read a newspaper, surfed the internet, or chased after celebrity gossip in the past couple of weeks has likely heard about something about a particular sushi chain getting called out for a history of nefarious behavior.
The chain in question is Nobu, the fantastically successful joint venture of renowned chef Nobu Matsuhisa, the Raging Bull himself Robert De Niro, and three other partners. Nobu is a sushi titan, with twenty-four locations in various chic neighborhoods throughout many of the world's most glamorous cities, not to mention a menu replete with dozens of price tags that would make the average recession-choked American both green with envy and red with rage.
Nobu is under siege from all sides for its continual disregard for the health of our planet. The high-end chain sells a tremendous amount of bluefin tuna, much of which is critically endangered Northern bluefin (Thunnus thynnus) from the Atlantic Ocean and Mediterranean Sea. Despite repeated warnings about the looming commercial extinction of this majestic fish from a vast international amalgamation of scientists, actors, conservation organizations, foodies, activists, bloggers, aquaria, filmmakers, politicians, and even a European Prince, Nobu resolutely presses forward, offering no comment and refusing to alter its menu in the slightest. The restaurant's response is akin to a tantrum-throwing child clapping his hands over his ears while stomping his feet, or perhaps to a yoked horse charging towards a cliff regardless of its own life or the lives of those in the stagecoach attached to it. Nobu's arrogant denial of the reality of our mutual challenge -- the continual decline of the health of our oceans -- is a serious problem.
But this is not about just one restaurant. Nobu is a symbol; it represents the old guard of restaurateurs whose lofty perches often distance them from the plebeian masses. Moreover, Nobu is a rallying point -- as an endangered species-slinging, celebrity-owned, stratospherically-priced haunt for the upper crust, it's a perfect target for those who are itching for a greater level of corporate responsibility within the restaurant industry.
Nobu and Greenpeace have a history. Greenpeace has already "outed" Nobu on their unsustainable practices (this interaction is featured in the forthcoming documentary The End of the Line, based on the excellent book by Charles Clover). Nobu promised to label bluefin as an endangered species on all of their menus, but subsequently changed tactics and cut off communications. The one menu that reflects any change whatsoever is at the London branch, which uses a microscopic footnote to indicate that bluefin is "environmentally challenged."
This thunderous understatement aside, Nobu has done absolutely nothing to protect that very fish which has so heavily contributed to the jingling pockets of the restaurant's owners. Our oceans cannot endure this situation any longer.
We view direct confrontation as an avenue of last resort, only to be used when all other tactics have been exhausted. In this case, Nobu has been stonewalling environmental entreaty for over a year while the chain continues to plunder the ocean. To expose and spotlight this audacious behavior, John Hocevar, Greenpeace's Oceans Campaign Director, developed a mock Nobu menu -- a Swiftian satirization of Nobu. What is the difference, the menu suggests, between Northern bluefin and mountain gorilla, Iberian lynx, or California condor? All of these animals are critically endangered. Why is it acceptable to serve the former, when the presence of any of the latter three on a restaurant menu would no doubt solicit a restaurant critic's verbal equivalent of a Molotov cocktail through the front window?
Over the past week, Greenpeace activists in both New York and Los Angeles have staged "dine-ins" at Nobu's TriBeCa and West Hollywood locations, festooning the restaurant with mock menus, taking up table space, and demanding to speak to the manager about Nobu's egregious disregard for our planet's welfare.
The actions were conducted in a precise manner that was aimed at sending a message to upper management without undue disruption of other restaurant patrons. Nobu servers were generously tipped by Greenpeace activists; ownership's head-in-the-sand mentality does not justify behavior that would send the waitresses and waiters, who have no decision-making power but who do have families and livelihoods, home without the tips on which they depend. We are, after all, in a recession.
The point of all this is to take the issue to Nobu on the restaurant's home turf. In addition to being lambasted in the press, demonized in a documentary, and boycotted by celebrities, Nobu now must contend with activists that march directly into the restaurant to speak their minds.
Nobu is a trend-setting establishment that not only spans the globe, but wields incredible influence at the top of the sushi industry food chain. The innovative acumen and staggering talent of Nobu Matsuhisa are undeniable; he is undoubtedly capable of creating delectable dishes from both sustainable and unsustainable sources alike. Why, then, is he so resistant to use these gifts in an environmentally friendly manner?
Still, viewing this issue as "environmentalists v Nobu" is missing the point. Both groups want the same outcome: a healthy and productive ocean that can provide all the ecosystem services to foster sustainable business and healthy living. If Nobu were to drop bluefin and adopt a sustainable business model, it would be in the interest of the environmental community to promote the restaurant and encourage consumers to patronize it, rather than the unfortunate current situation.
Nobu needs to change their practices and begin to demonstrate corporate responsibility. Although environmentally rapacious and irresponsible businesses no longer have a place in this changing world, it is in everyone's interest that sustainable and wisely managed establishments thrive and succeed.
--Written with Greenpeace Campaigner Casson Trenor
Related
Popular in the Community