Recently my family and I spent a weekend in the Catskill Mountains in the New York State. Even though we've lived in Connecticut for the past thirteen years, we've never visited that area and we've only heard of it in passing from some friends, never finding it interesting enough to learn more and explore it.
As the opportunity presented itself this year we decided to visit Catskills in search of nature, solitude and perhaps even an escape from the overwhelmingly disturbing news from the American political front. I know that escape is not the answer, but we can always hope for clarity that could come from the soul searching while admiring the beauty of the nature (or at least we tried to do that, with two small boys in tow and all).
As we were driving to the Oliverea - Big Indian Valley to spend a few days unwired enjoying the fresh air and solitude, becoming one with the Earth that nourishes us, mountains lay in front of us, vast, covered in lush green vegetation, touching the bright blue sky speckled with white fluffy clouds. This picture was beautiful and it was big, a lot bigger than I thought, yet it all seemed still, as if time stood unmoving and people were trying to blend in with their surroundings. I was in awe of this almost uninhabited area, with its wild feel of survivalist's nature escape. We've passed signs for ski resorts and some small towns promising year-round vacation enjoyments. Other than that, we've seen houses, modest homes, some begging for fresh coats of paint, spread across the area, seemingly random, keeping their distances from each other.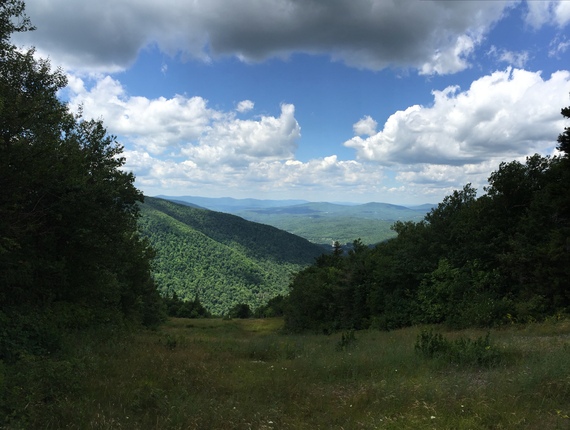 I knew very little of the history of Catskills prior to our trip. I thought that it was an area where New Yorkers went skiing and that more recent developments lead to its popularity among the New Yorkers and Connecticut residents. I was struck by the beauty of the area, but also by the visible signs that this area had a rich past and that this was once a developed zone where people ventured more often than I thought.
Since we have small children we had to fill our days not only with nature exploration (catching frogs and tadpoles in the pond behind the cottage, where a fresh mountain spring made its debut), but we also had to look for some other forms of entertainment (since there was no TV or internet- remember that soul searching). We've heard of the Railroad Museum in Phoenicia called the Empire State Railway Museum and we thought that the boys may enjoy seeing some locomotives. We drove up the dirt path to the small museum house that was once a station building for the Ulster-Delaware Railroad that ran from Kingston Point to Oneonta. Museum was small, stuck in the 60s place, with a few old fashioned exhibits. There was no interactive exhibits and fancy pictures and protective glass specimens here. It was perfect for small children since they were still not ready for extensive learning periods, but it was risky too since they could pretty much reach and touch everything (and by the look of things everything was old enough that it might have been broken at first contact with my sons hand). They liked the small train set and the pictures showing the railroad history and some old typewriters.
While we were walking around I sensed something that I typically do not sense with other museums. This museum, with its gravel road, its old engines sitting in front of it as if frozen in time, its small exhibit in the center of the old waiting room and typewriters and telegraph machines, had a sense of belonging to a family. It was all very casual, comforting and all I wanted to do is to sit at an old desk and pretend that I am waiting for a train, unaware of the plane travel, fast response time of the internet or e-mail. I wanted to wait and listen for the whistle and allow for my anticipation to build, anticipation that I would be whisked away on an adventure.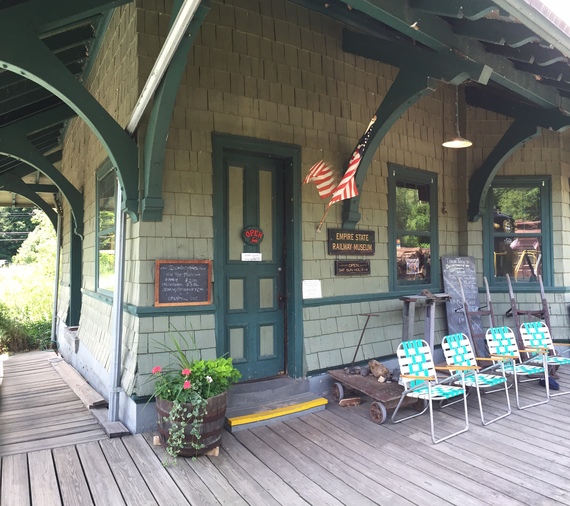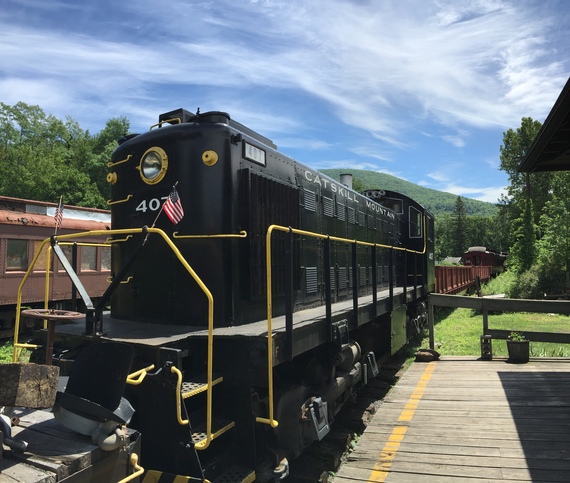 I spoke to a few local people and I found out that the Museum does not receive much funding and that in fact Ulster County government officials want to completely remove the railroad and stop the seasonal train rides that are offered along the area. People of Ulster County oppose this move and they feel that this would be removing an important part of history from this region and it would impede the success of the present seasonal train rides and remove the income from this tourist attraction and also it would remove any future possibility of developing the train traffic for the weekend travelers back to the Catskills. I sensed there was a sturdy pedestal upon which the story of the railroad was placed by the locals. My instinct told me that there must be something important here to cause volunteers to fight for this cause so passionately. Perhaps it was irrelevant and perhaps it was not, but in the passionate voices of the locals and the serene feeling I had while walking around the station, I thought that history deserved a second look by this unassuming traveler who came here with her family.
Catskills was first explored by the Dutch in the 15th century but it was not until the 18th century that the settlers claimed the land to develop cattle farming. Years after that Catskills became primary supplier of milk and dairy products to New York City, and railroad that was built helped transport the produce to the City. Farming was an industry that helped shaped the railroad traffic, following the farm produce delivery, it was the transportation of the blue stone to the city, then transportation of the raw materials for the high end furniture industry, wood building material, coal and finally the area became extremely important for the clean water supply for the ever growing Big Apple. As the railroad made its way up the mountains tales of their beauty reached the city dwellers who wished to escape the heat of the city in the Summer and soon there were summer destinations built on the mountains. Primarily the visitors were members of the Jewish community. This brought in tourist traffic on the railroad in the early to mid 20th century. Finally there was Woodstock (actually it all happened in Bethel, NY, another town in Catskills, which was news to me ) and that is one name that resonates with me and probably a lot of people.
People of Ulster County want to keep the railroad that brought the world to Catskills. Yes, there are roads now, the government would argue, to bring tourists who come for skiing, there are roads to transport the food and all the necessities, but the romantic history of the area could never be returned if there was no railroad to remind us of the path we took to end up in this very spot.
Everything I saw was a bit outdated, but the charm was unmistakable. There was a small diner reminding me of the simpler times, 60s or 50s perhaps, I saw houses that needed tourists and life breathed into them, I saw people who wanted the world to know that they mattered and that their history mattered and the railroad was a huge part of it. We loved our excursions. We loved the nature, breathtaking views, people and this small, museum that looked like some collectors living room, only situated in the old rail station. We understood the need to preserve what once was good.
Savetherails.org, is the official website petitioning for the preservation of the railroad and it makes an argument that the future of Catskills and its attractiveness as the escape to nature is in the public transportation. Millennials want to drive less and less, and this is certainly a possibility. I say, why, in the most powerful country in the world, government wants to kill its history, so callously, so carelessly, ignoring the path that the country took to achieve success over the years.
I hope everyone who has time gets a chance to visit this beautiful natural habitat with its variety of wildlife and take in the mountains, symbols of once unexplored American land that belonged to the Natives who roamed it, lived off of it and respected it. I hope that New Yorkers realize one day how small they are and how insignificant our presence may be compared to the vastness of the Catskills and other beautiful parts of our planet Earth. Past must be preserved and cherished with our future actions and we must be careful with what we are doing tomorrow as it will be saving our past. Save the railroad, we would not be here without it! If it is truly obsolete, then let it rest in peace, if it is the way of the future, let's let it flourish, but for the sake of our soul lets not destroy it.
My friend often recites his poem called The Broken Things. It moves me every time, it speaks about our urges to toss out everything and make everything disposable, but we should not, these things are sometimes connected to our emotions and to our destinies. We cannot become robots incapable of memories and preservation of what once was, for the sake of what will be.
Calling all HuffPost superfans!
Sign up for membership to become a founding member and help shape HuffPost's next chapter