Recently, I worked a flight to Las Vegas. This was the perfect opportunity to catch a show during my 18-hour layover. Prior to my trip, I checked out headliners appearing on the Strip, and Donny and Marie's show at the renowned Flamingo Hotel jumped out at me. Like a lot of us, I grew up watching the multi-talented and multi-faceted brother and sister act on TV. I figured, it would be fun seeing the former bubblegum pop idols, especially after reading that the highly popular show was voted "The Best Show in Vegas" by the readers of the Las Vegas-Review Journal for three years running.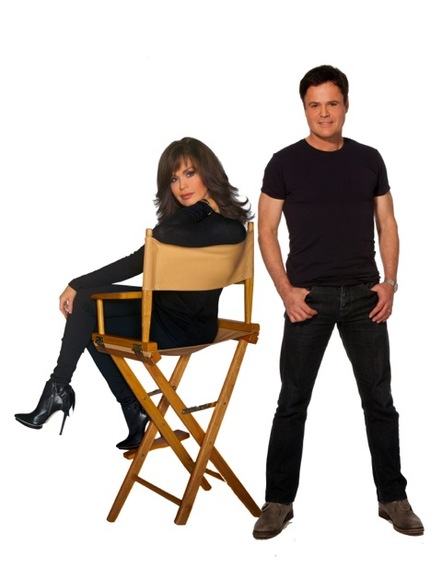 I had a spare ticket, so en route to Vegas I asked another flight attendant working the flight with me if she'd like to see Donny and Marie. It turned out that her name was also Marie, and without hesitation she accepted the invitation. We arranged to meet outside of the iconic showroom which was recently renamed Donny and Marie. The venue is intimate and you're pretty much guaranteed a good view of the stage wherever you happen to sit. The performance is a throwback to the "Old Showroom" format from the early days of Vegas featuring tables and booths. Donny and Marie like to interact with guests, so if you're sitting close to the stage, you might happen to be the one that Donny jokes with or Marie flirts with.
We took our seats and watched the theater fill up with mostly 50-something year olds, including the three couples sitting at our table. When the house lights went down, the stage lit up, and Donny and Marie hit the stage.
My first impression: They both look great. Donny still has all the right moves and glamorous Marie sashayed across the stage in a form-fitting sequined dress and sky high stiletto heels. She joked about how they're not easy to move around in. Marie, my flight attendant friend, leaned over to me and said "check out her lips." Marie was amazed with Marie's too perfect and really plump lips accentuated with fire engine red lipstick. Later in the show, one of Donny's lines was: "I love this show. You know why? I don't have to go to the gym!" I'm sure it's true, beads of sweat roll down his face during the dance segments.
From the get go, the quick-witted duo were both having fun on stage cracking corny jokes, poking fun at one another, bantering back and forth and interacting with audience members. They're both the real deal and they're consummate professionals; they relate with the audience making you feel like you personally know them. When Marie's 20-something year old daughter walks out on stage, Marie introduces her and explains that she works backstage and is in charge of the multiple costume changes.
Donny explained that back in 2008, they signed on for a limited six-week engagement, which turned into a multi-year run. (They will be appearing through 2014). The 90-minute show revives the classic performer-based Vegas revue. There's a nine-piece band, a cast of dancers and nostalgic video montages of Donny and Marie with everyone from Bob Hope to Michael Jackson, and Donny's debut on "The Andy Williams Show" in 1963, one day after his sixth birthday.
The show begins with a round of duets and then Marie is solo on stage showing off her incredible versatile vocal range with her country-pop songs, a faced-paced medly of Broadway hits and a show-stopping virtuosic "Pie Jesu."
Donny then hits the stage covering a couple of his teen idol hits with "Go Away Little Girl, "Soldier of Love" and "Puppy Love." After a couple of Stevie Wonder songs, he spoke briefly about his friend, Michael Jackson, and poked fun at Justin Bieber's recent in-the-news antics.
Marie joins Donny back on stage to wrap up the show with their familiar and entertaining wise cracks. The ninety minutes flies by and at the end, most of the audience is a little teary-eyed while watching Donny and Marie through the decades on the screens above the stage. It's hard to believe that Donny is now a grandfather.
I'd like to see the show again, but maybe next time I'll be close to the stage and I'll have the opportunity to give Donny and Marie each a high-five.
Donny and Marie perform at 7:30 Tuesday-Saturday. Tickets range in price from $95-$260.