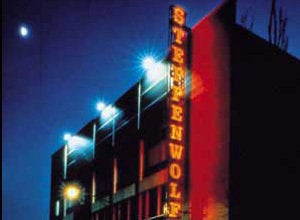 I normally write about film and television. And even then, I stay on the geekier side of things. But today I'm talking about my first love: theater. The subject is near and dear to my heart. I have a BFA in Musical Theater from Syracuse University, I met my husband while touring the country in the musical Anne Frank: A Voice Heard, and I still get a little nostalgic when I see pictures from my old productions of Evita. So it is with a heavy but hopeful heart that I make this plea. Save the Pasadena Playhouse.

This historic theater in Southern California is in danger of closing and I couldn't sit by and watch it happen. In the interest of full disclosure, I'll let you all know that my husband is the Production Audio Supervisor. (He's the guy in the back with the sound board. Tell him I said "Hi.") That means I'm lucky enough to have seen most of the recent productions, and I can tell you, without bias, that they are incredible. If the Pasadena Playhouse closes, we all lose. The actors, the production staff, and most of all, the community.

In an recent interview with writer Janette Williams, new managing director Stephen Eick (formerly of the Geffen Playhouse and Chicago's Steppenwolf Theater) states that this cultural institution is "potentially in peril." The theater has bank debts of $1.5 million carried over from the nineties. There have been staff cuts. Shows have closed early. Times are tough right now, and I know not everyone can afford to give. But once we let the arts go, what do we have? I don't mean to sound like an after-school special or a PSA here. It's just the plain truth.
The theater puts on six shows a year, many of them star studded affairs. Performers such as Angela Bassett, Patrick Dempsey, Laurence Fishburne, Sharon Lawrence, JoBeth Williams, Kelly McGillis and Orlando Jones have graced the Playhouse stage. So I'm calling on all the famous Playhouse alumni and those of you who love to watch them. Help the Playhouse stay open. Give back to the theater that let you showcase your talents. Show a little love to the venue that let you see your favorite performers in a whole new light. Bring your kids to shows and let them experience real live performances instead of videos on YouTube. Subscribe. Donate. And if you can't do that, tell your friends. (Especially the one who thinks he's extra cool because he went to school with that famous actor. Make him work for his bragging rights.)

Angela Bassett and Lawrence Fishburne in Fences.
Check out the website. Visit the beautiful Mission/Spanish Revival building designed by Elmer Grey and built by the company responsible for Grauman's Chinese Theater in Hollywood. Learn about it's rich history. The Pasadena Playhouse has been around since 1917. It was a theater school with alumni like Gene Hackman, Dustin Hoffman, Raymond Burr, Charles Bronson and Sally Struthers. It was nicknamed the "Star Factory" in Hollywood. It's one of the leaders in bringing cultural and theatrical diversity to the stage. They do outreach programs with at-risk youth. Internships, post-production talk backs with the performers, a Director's Lab to help out future artists...

Please don't let this incredible institution disappear. You can donate right on their website. And if you live here, take in a show. Volunteer. Support your local theater wherever you live. Pass it on.
Popular in the Community