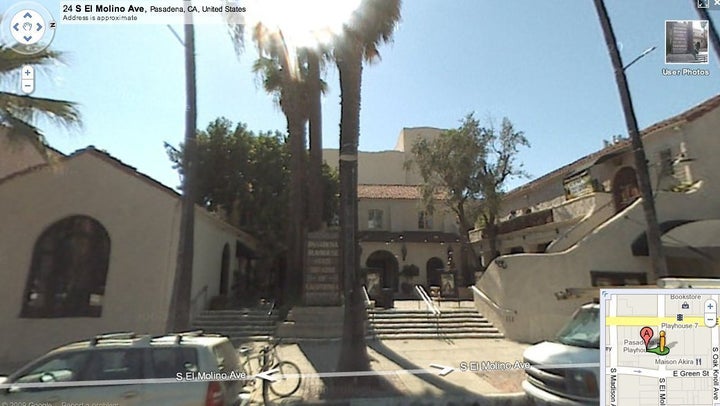 Two weeks ago, during the sold-out opening-night party for the Pasadena Playhouse's production of Camelot, I looked around and thought, great night, great place.
The courtyard and restaurant were packed with the diverse crowd that's typical at the Playhouse and less typical everywhere else in Southern California: in addition to the country club matrons, and lawyerly-looking men dragged by their somewhat-younger wives, there are high school teens, single women out with friends, deacons, realtors, baristas - white, black, Asian, Latino, and a smattering of celebrities thrown in for the press. My favorite - secretly photographed with my iPhone - David Hyde Pierce. And in the center of it all, greeting friends and meeting patrons: artistic director Sheldon Epps.
That the Playhouse appeals to such a broad demographic is a testament to Epps - one of the few African American artistic directors in the U.S., who, two years ago, became the first person working in the arts to win a James Irvine Foundation Leadership Award, largely for his commitment to diversity.
Epps has directed on Broadway and for television, and he casts a wide net with his programming, reeling in audiences that might otherwise slip away from live theatre. Angela Bassett, Laurence Fishburne, Neil Patrick Harris, Alfred Molina, Blair Underwood, Patrick Dempsey, Ruby Dee, Adam Lambert - in his 13 years, Epps has cast a variety of "names" - often against "type."
A case in point was the Playhouse's production of Doubt, which cast Linda Hunt in the role Cherry Jones created and won the Tony for. I liked their version as much - maybe more - than Broadway's. Hunt was a sinister Sister Aloysius, Jonathan Cake was charismatic and irresistible as Father Flynn (I hated Sister for getting rid of him), and Patrice Pitman Quinn was, in my opinion, the definitive Mrs. Muller - absolutely transcendent.
Whether it's the cast or the play, the Playhouse brings first-rate productions to people who might think they live too far from the Geffen or UCLA Live - or even too far from Downtown LA - to get to the theatre.
The building itself is an historical landmark, and the Playhouse has a storied past as the official state theater of California and a training ground for several well known actors (Nick Nolte, Dustin Hoffman, Gene Hackman and others). As an 8-year-old boy, Epps saw Ethel Waters on stage at the Playhouse in A Member of the Wedding.
But as beautiful as the building is, and as interesting as its past may be, it is the loss of the Playhouse's future to inspire audiences and to shape theatre that will be the greatest tragedy.
The Pasadena Playhouse is also home to The Furious Theatre Company. Its leader, Damaso Rodriguez, is associate artistic director of the Playhouse. Furious is both innovative and critically acclaimed, and they'll go on, but will have to find a new space - not the easiest thing for a small company to accomplish.
Pasadena will still be a good town for theatre. Along with Furious, The Theatre at Boston Court, another spectacular company located nearby, will continue to create top-notch productions. (Boston Court starts previews on February 18th of Oedipus El Rey, a reimagining of Sophocles' Oedipus Rex by Luis Alfaro; I can't wait.) But Pasadena will miss the Playhouse. She's the grand dame not just of Pasadena theatres but of theatres throughout Southern California.
We have so many multi-plexes and malls, and Wiis and DVDs, we need more - not less - live theatre. Somehow, the cultural community must come together to save not just this important part of our past, but an institution that can still play a significant role in our future.
REAL LIFE. REAL NEWS. REAL VOICES.
Help us tell more of the stories that matter from voices that too often remain unheard.