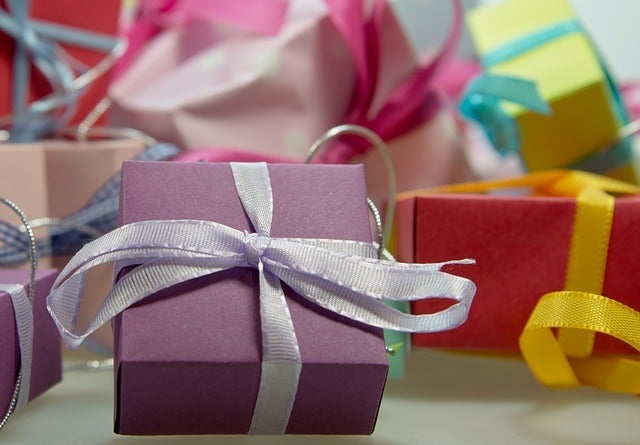 Holiday time is festive and joyful. Gift buying, parties, giving and feeling thankful – along with all the trimmings – give us a wonderful feeling that fills our hearts with gratitude and love. This feel-good experience is particularly welcome for those of us living in the north, because our shorter days mean fewer and fewer hours of daylight. Holiday lights and celebrating help us keep our sparkle through the winter months.
Another assist to keeping your sparkle throughout the season is to map out your holiday spending plan before it is too late. Popping out the credit card to make purchases can facilitate spending without limits, but when the bill arrives — yikes! The fun of buying can quickly disappear if you discover you overspent. For most of us, taking a few minutes to plan ahead makes all the difference.
An easy way to approach your holiday spending is to think in terms of, "Ready, Set, Go!" Let's start with the "Ready" stage, which has two parts: 1) drafting your gift list and 2) evaluating your household or personal budget. Begin by taking a piece of lined paper and folding it in half lengthwise. On the left side, write the title: Gifts/Events. Then list the names of all those for whom you plan to purchase a gift. Remember to include everyone, right down to the "extra" tips you give your manicurist and hairdresser. Everything adds up and takes a bite from your holiday savings.
Now continue by adding a specified list of the holiday events that will increase your spending — things such as concerts, dining out, travel and so forth. Of course you can prepare your Gifts/Events list on an electronic device but be sure you can see the whole list at one glance. Otherwise it is easy to overlook something and end up with a fragmented sense of your anticipated expenses.
When you feel certain your list is comprehensive, segue into part two of "Ready": 2) evaluating your household or personal budget. If you do not have one, visit BalancingActBook.com, click on the Resources tab and then Chapter 7 – Spending Plan Worksheet. This template will help you delineate your income and expenses, a necessary step before creating a holiday spending plan.
With your budget in hand, refresh your memory of your income sources, your fixed expenses and the discretionary money you have left. Take a careful look at your discretionary funds; then determine how much you want to earmark to purchase gifts and pay for special events. Return to your gift list and head the right-hand column with: Amount to Spend. Now divide up your holiday funds; opposite every entry in your Gifts/Events column, make a note of the maximum you intend to spend in the Amount to Spend column.
With this planning completed, you are well prepared for the "Set" stage. The primary purpose of the "set" stage is self-reflection. Self-reflection prior to spending makes it more likely you will adhere to your intentions. Ask yourself, "What is the easiest way for me to stick within my holiday spending budget?"
There are a variety of ways to stay on track. As you clarify your thinking with respect to what strategy is likely to work best for you, consider these examples:
"Shall I pay cash, so I am not blindsided by the ease of overspending when I use my credit card?" Or,
"Shall I shop for items on sale, because that makes it easier to stick within my budget?" Or,
"Shall I forego browsing, and shop online or in a store

only

for the items I have specified on my gift list?"
Stage three has finally arrived — "Go!" It is time to purchase gifts, to schedule events, and to look forward to all the trimmings of the season.
Whew! A lot of effort goes into the "Ready, Set, Go!" structure. But choosing to organize your holiday spending can save you from the pain and guilt of overspending. And it can protect you from starting the year with unpaid liabilities. A superb bonus is you may start the New Year with a renewed sense of your income and expenses, crowned with the confidence that comes from knowing you are making the right choices about your money!
Joslyn Ewart is the Founding Principal at Entrust Financial, a woman-founded, woman-owned independent wealth management firm with a strong commitment to partnering with clients to help them make good financial decisions in all aspects of their lives. She is the author of Balancing Act: Wealth Management Straight Talk for Women, filled with the stories of many women and how they address their financial needs.
Ellevate Network is a global women's network: the essential resource for professional women who create, inspire and lead. Together, we #InvestInWomen.
Related
Popular in the Community