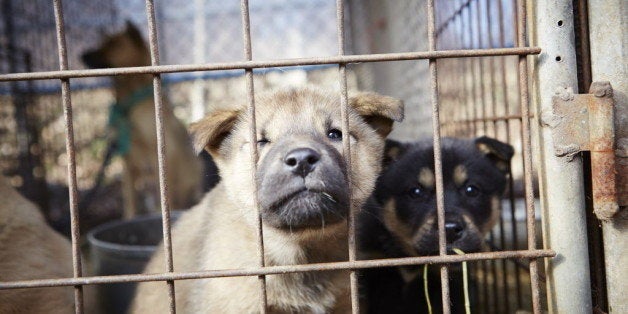 As a documentary filmmaker, I enjoy when another woman director/producer/writer forsakes most everything - certainly the easy road - to create a piece of work she is proud and passionate about. I know while shooting my two films (Behind the Burly Q and Bound by Flesh) I encountered strange and unusual people (nudists, convicted felons), places (Gibsonton, the Florida town for "freaks") as one would chronicling early American entertainment that deals with burlesque, sideshows and Siamese twins). However, I think the woman I am about to introduce you to might have me beat on "encounters" while filming.
TRAILER, SAVED IN AMERICA
In her debut documentary Saved in America I quizzed filmmaker and bombshell (not important, but she is) director Kim Sill about her journey protesting, benignly and politely (she is southern and a lady after all) in front of pet shops that sell puppies born and breed in puppy mills. Her film is set to be released August 14th in Los Angeles. Sill is a woman with a big heart and the film came out of her desire to hands-on save animals. She donates money, has rescued many dogs and worked with numerous animal rescue groups. She saw a lot of things that disturbed her while attempting to understand where all the money raised by the well-known animal organizations in the name of animal welfare went. Sill was shocked to learn the money was not trickling down to any of the grassroots organizations that were doing the real majority of rescuing. In fact very little of the money went to actually saving the animals. Most was used for fundraising and advertisements.
Sill is a gorgeous blonde with a soft voice who indeed carries a big stick. Taking to take on the Humane Society, to name just one of the organizations in her film, along the way she encountered hoarders and gangs in her attempt to fight and save hundreds of homeless dogs.
LZ. If your film is entitled Saved in America, does this mean the problem is made in America?
KS. Yes! Five million animals are killed yearly in America's shelter system; over-breeding, lack of mandatory spay-neuter laws and America's obsession with "that cute puppy in the window." What happens when the puppy doesn't learn to pee outside or barks too much? That $2,500 un-fixed puppy, now a grown up and not so cute, ends up at a shelter.
LZ. Your film shows the struggles of individual and small grassroots organizations that do the actual rescuing of the animals. You maintain it is these individuals who are literally saving thousands of animals a year. You also expose the truth about the big, flashy ads that produced by such organizations as Best Friends, ASPCA, Humane Society of U.S. It was pretty eye-opening stuff. You say that only "two cents of every dollar given to them [the big animal organizations] trickles down to help an animal and the rest goes to the ad, the t shirt, the umbrella and the news letter." How did you decide to make a film about what you were doing?
KS. In December of 2007 when it was still very popular to purchase a puppy from a pet shop, I painted a sign that said "Adopt Don't Shop" and stood on the corner of Wilshire and Roxbury in front of a shop called Posh Puppy. I handed out brochures to people who were receptive and asked them kindly not to enter the puppy shop. I encountered so many police and irate customers that my husband gave me an arsenal of cameras so I could use them as my weapons.
LZ. Did you hit anyone with them?
KS. I don't think I ever hit anyone with my camera. Sometimes it got chaotic because customers got passionate about their rights to go and buy a puppy. I got shoved and bumped, so did they. The police and the other protestors got in the worst fights. There was a line drawn between certain activists and me. My activist friends and I were considered weak because we were not the hard core activists.
LZ. It sounded like it was war on the streets of Beverly Hills.
KS. There were many hard core animal rights activists on that corner with me. Some shouted mean things to customers wearing leather; others would show horrific pictures of animal atrocities. I found myself in the middle between the extreme and the public who didn't know what or who to believe. I always dressed like I belonged in Beverly Hills as I wanted to be the person a family would walk up to and believe what I said. Most of the time that worked.
LZ. Does that mean you wore Prada and Gucci?
KS. I typically wore the knock offs of famous brands, that were made of fake leather-wearing leather at these protests could get you banned from protesting
LZ. Did your soft-sell approach work?
KS. After a protest broke up and everyone went home, I would sit at a nearby sandwich shop and watch the customers flood into the puppy shop and purchase puppies.
LZ. But after months of protesting that first shop they stopped selling puppy mill puppies right? Why?
KS. Many shops could not withstand the presence of people outside protesting, nor the undercover investigations that proved the puppies were mass produced in puppy mills. A few were willing to convert to humane only pet shops while the others went out of business.
LZ: So you are saying the big animal organizations don't rescue animals?
KS. The big animal organizations that you see in ads on TV and on billboards raise millions. I found this out as I volunteered helping with a few of their fund raisers. I started working in the trenches, in shelters and in cities where animals were at risk of being euthanized or killed on the streets. I saw for myself who and how the animals were being saved and it was not the well known big animal groups saving the animals. Those big groups would only show up on a rescue if it was a Katrina disaster where media would be there to cover it. Even in situations like Katrina the big groups would hog camera time and then leave. Literally leave the scene go back to their home base, send out a flashy newsletter and press release with a few photos and collect a lot of money and support. And a small team of rescue people were left behind to clean up the mess, with no funds and little resources. I became part of the grassroots rescuers who save animals not for recognition or donations but because the animals need to be saved. When I asked questions about helping animals in shelters or in poor neighborhoods like Compton, Watts and many other South LA hot spots, where I had rescued animals, the people working for the organizations explained to me that it was more important for us to raise money and awareness about the problems. The more I asked the less the people liked me-I became a nuisance.
LZ. You said you've made quite a few enemies, and had some scary encounters. Tell me about that.
KS. I got a call to pick up some abandoned three week old puppies that had been left to die in a garage. This was in a bad area of Watts. The man who reported the crime and asked for help told me that he did not want his gang to know he was helping the puppies. He was worried that they would die or be used for something awful. Another incident was when I got a call that a person in Compton was breeding min pins but would be willing to give them up to a rescue because animal control was coming to seize them. I got there and the house was surrounded by what I thought were gang members. I took four of the breeding min pins, the dogs were not socialized and one bit a person that was with me. I was more scared there than anywhere else.
LZ. What is the funniest thing that happened to you while making Saved in America?
KS. My mother and I got thrown out of a mall because we were holding a peaceful protest in our favorite place to shop! We were told we were never allowed back. We laughed hysterically and found other places to shop, we became more aware of who to give our money to and in the long run was glad we were banned from there. I think it would be fair to say that some of the opinions of activists toward me were harsher and more threatening than going into gang infested areas.
LZ. And the most challenging part of making the film?
KS. Reviewing the footage and knowing that we couldn't save them all. Deciding what the American public would be willing to watch and what we had to hold back.

LZ. Any obstacles?
KS. People who save animals are very passionate and sometimes that passion can be crazy. I found myself dealing with people facing jail time for animal abuse and hoarding. I also found myself losing friends who thought because I was working with an animal rights group that I was now a terrorist.
LZ: You had teenagers cussing at you outside a pet shop in Beverly Hills. You had eggs and red wine thrown at you. Which is worst to clean?
KS: The eggs were really tough as they were thrown at me while getting into my Range Rover after a protest. I was in a hurry to get home to meet my husband for a night out with friends. Cleaning the car before my husband could see what happened was the real trick.
LZ. And along the way you convinced a Kardashian (Khole) to adopt and Sharon Osbourne. And Grammy winner Diane Warren wrote a song for your film. Wow. How did you get Kim Kardashian and Kathyrn Heigl to participate in your film.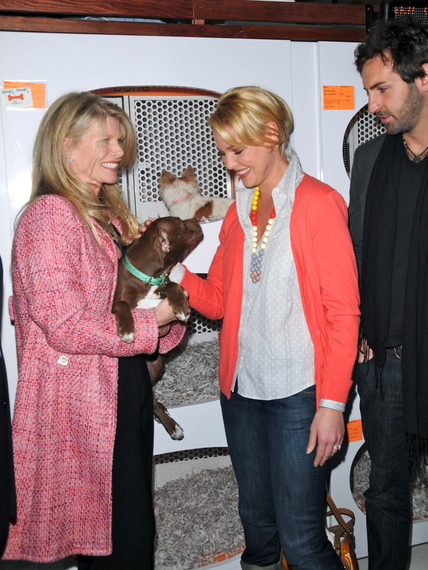 SILL WITH ACTRESS KATHRYN HEIGL
KS. I met Sharon Osborne outside a pet shop in Malibu that I was protesting.
I talked her into adopting a dog from me and then she agreed to do a PSA for me. Katherine's [Heigl] mom called Last Chance for Animals and needed help with an investigation about some animal abuse in Inglewood. She had called several animal groups but no one wanted to take the case. I said yes and we became friends and have done several big rescues with Katherine and her mom Nancy.
LZ. What do you want people to take away from seeing the film?
KS. Do not buy puppies on line or from USDA regulated pet shops.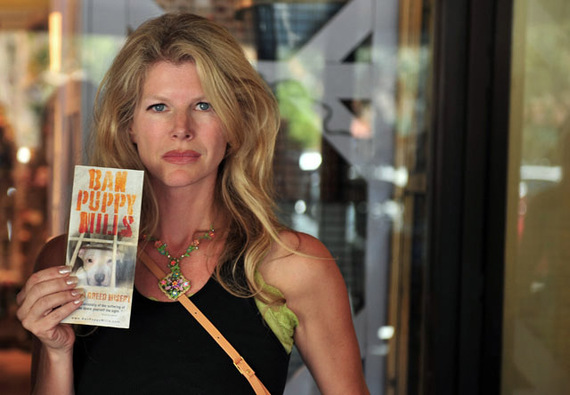 LZ. It's not just animals you have rescued is it?
KS. I have saved hundreds of cats and some bunnies, one turtle.
LZ. Just one turtle? Isn't he/it/she lonely? Do I see a sequel in your future? Here is the link to your screenings at the Regency Theatres. Best of luck.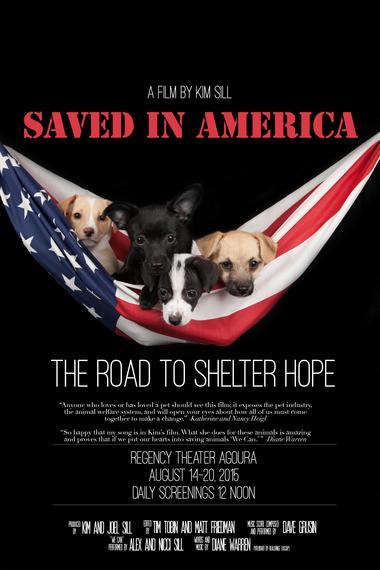 Leslie Zemeckis is an award-winning documentarian whose film Behind the Burly Q chronicles the history of burlesque. Her film Bound by Flesh, is a Netflix hit about Daisy and Violet Hilton of "Sideshow" fame. Author of Behind the Burly Q, the book based on her film, her new biography Goddess of Love Incarnate, about burlesque stripper Lili St. Cyr will be published by Counterpoint Press September 2015. Zemeckis has one of the largest collections of burlesque memorabilia. @Lesliezemeckis, www.lesliezemeckis.com
Follow Leslie Zemeckis on Twitter: www.twitter.com/lesliezemeckis
Support HuffPost
The Stakes Have Never Been Higher
Popular in the Community