"Refugees, immigrants and DREAMers are good for America." - Madeleine Albright at the 2017 Clinton Global Initiative University (CGI U) meeting at Northeastern University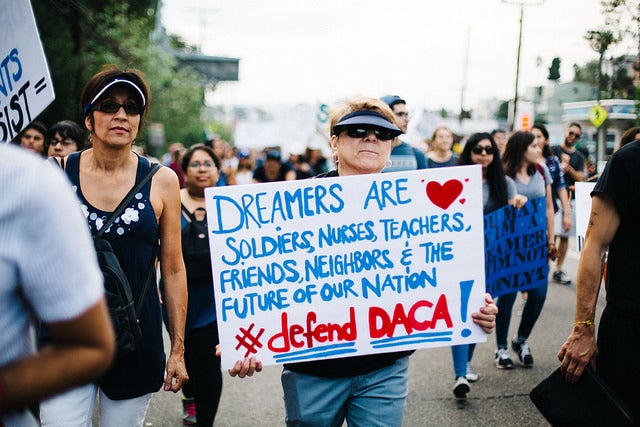 On September 5th, 2017, President Trump decided to end the Deferred Action for Childhood Arrivals (DACA) program. This five-year-old program instituted under former president Barack Obama, protected the nearly 800,000 undocumented immigrants who were brought to the U.S. illegally as children from deportation and granted them the right to work legally. Many of these young immigrants, known as "DREAMers," have never lived outside of the U.S. as adults. In the age of Trump, they now face uncertainty and the cruel possibility of being ripped away from their familiar - their homes, families, friends, universities, and employment. LGBTQ DREAMers also face deportation to countries where it remains dangerous to openly identify as LGBTQ. (More than three-quarters of all DACA recipients are from Mexico - a top home country of people seeking asylum in the U.S. due to persecution based on their sexual orientation or gender identity.) As 2018 approaches, DREAMers' futures remain uncertain. Time is running out.
It is up to Congress to pass legislation to protect these young people from unjustly losing their legal status and facing deportation to countries they hardly know. As early as March 2018, those previously safeguarded by DACA will become eligible for deportation. If Congress fails to meet their deadline, DACA will be steadily phased-out, resulting in thousands of young people losing their right to live and work freely in the U.S.
"As many as 983 undocumented people previously covered under DACA would lose their protected status every day -- nearly 30,000 people a month, on average, for the two years following the six-month delay in the termination of the program, according to a CNN analysis of Department of Homeland Security data." - Ryan Struyk and Tal Kopan in CNN Politics
This country needs a "clean DREAM Act," the name coined for legislation providing a pathway to U.S. citizenship for these young people. DREAMers' lives are rooted in the U.S. They represent our family members, friends, classmates, neighbors, doctors, teachers, coworkers, and more. Why should they be forced to leave their home?
Critics of DACA argue the program has stolen jobs from native-born Americans and wrongly granted legal status to recipients. However, these claims are unfounded.
"DACA grants recipients work permission and protects them from deportation, but it alone does not confer citizenship or legal permanent resident status. They are not granted legal status, according to the Department of Homeland Security, though their removals are deferred." - Linda Qiu in The New York Times
Others, including high-ranking members of the Trump administration, continue to portray DREAMers as dangers to our country despite a clear lack of evidence.
"Enforcing the law saves lives, protects communities and taxpayers, and prevents human suffering. Failure to enforce the laws in the past has put our nation at risk of crime, violence and even terrorism." - Attorney General Jeff Sessions in a statement on rescinding the DACA program
Since truth and justice are clearly not priorities for this administration, we need to make them ours. The fate of America is intricately intertwined with the fate of the DREAMers; and both are in jeopardy. DREAMers were brought to this country by parents striving to provide more freedoms and better opportunities for their children. There is nothing threatening, illegal or un-American about that.
DREAMers - and their parents - deserve to stay in the U.S. with a pathway to citizenship.
Popular in the Community