SAN FRANCISCO -- Standing on the corner of Mission and 16th Street, a mixed neighborhood of yuppies and the Latino working class, Carlos Lopez, 19, said he's heard of Mount Tamalpais State Park. But he thinks it's far away and isn't sure how to get there. When told it is only about 10 miles north of where he was standing, he was a little surprised. The images of rolling hills and rocky shores shown on an iPhone stoke his imagination. "Man, this is nice," he said. "Now I want to go."
The fact that, like Lopez, many people who grew up in San Francisco don't know where Mt. Tam is has become a major concern for those who care about the future of California's state parks. In recent years the parks have suffered some serious setbacks, from cuts in funding to charges of mismanagement of those funds. In 2013 an investigation by the state attorney general's office found that park officers knowingly kept funds worth $20 million hidden, even though 70 of the state's 280 parks were up for closure.
This year Parks Forward, an independent commission dedicated to assisting California's Department of Parks and Recreation, released a set of recommendations to fix what many parks advocates have called a "major crisis."
Among its recommendations are ways to modernize the parks. These include allowing park facilities that charge a fee to accept ATM and credit cards so they aren't cash-only, and using digital tools to entice people, especially young people, to go to the park.
That's why Parks Forward, made up of experts, advocates and thought leaders, is creating an app called CaliParks to encourage young people to visit the state's 1.6 million acres of pristine parks and beaches.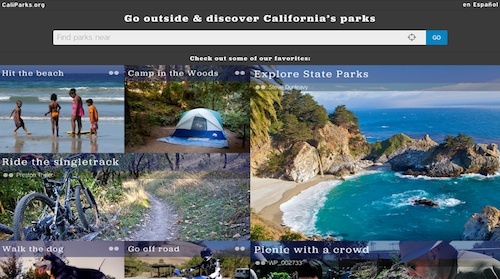 "The CaliParks.org app is bilingual, in Spanish and English," explained Jon Christensen, an adjunct assistant professor at the Institute of the Environment and Sustainability at UCLA who is collaborating on a project visualizing social media in California parks. "It would be wonderful to make it multilingual over time," said Christensen, who added that the app's navigation is primarily visual and iconographic so it can be useful even if you don't read Spanish or English. "It is crucial that the conversations around California's parks take place in the ethnic media as well," he noted.
Parks Forward is also suggesting the creation of a statewide nonprofit group called Parks California, in the vein of Golden Gate Parks Conservancy or the Central Park Conservancy, to fundraise for various park projects in order to ensure a regular source of funding to offset the ongoing budget crisis. The parks need at least $1 billion in overdue maintenance, yet the current budget footed only $20 million for the bill.
But it's also the highly urbanized young and diverse population of California -- especially young Latinos like Lopez -- that is among the commission's top concerns.
California's Latino population is projected to grow from 38 percent in 2010 to 52 percent in 2040. It's also a state that's growing younger and increasingly concentrated in urban centers. People born between 1980 and the early 2000s, known as Millennials, make up 29 percent of the state and constitute "the single largest generation in human history," according to the Parks Forward report.
Lan Nguyen, 32, a Vietnamese American who grew up in San Jose, said she had wanted to use the public park to have her wedding a couple of years ago, but "there weren't any seating areas that would cater to a big group. I would have loved to have a wedding in nature, but my guests don't want to dress up and sit on the ground or in a picnic situation." Nguyen said the public parks would have been cheaper than a restaurant for her 200-plus guests, but the parks near her area were "not really catering to a large crowd."
Parks Forward would agree. Among the commission's other key recommendations is to make efforts to draw from a more diverse population, especially from among Latinos, in hiring rangers and park managers, and to make greater efforts to reach out to a diverse and quickly changing demographic.
"Creating more inviting opportunities for diverse activities in parks is an important part of the recommendations of the Parks Forward Commission," Christensen said. "There also need to be changes in parks to make them welcoming for different kinds of activities."
Making parks more accessible by public transportation -- and making sure people know about it -- is also key, said Christensen.
"These parks are for all Californians," he said. "And their future depends on all Californians."
But conversations around minorities and nature are often misframed, according to Rue Mapp, the founder and CEO of Outdoor Afro, a social community dedicated to reconnecting African Americans with natural spaces and one another through recreational activities.
"African Americans do go out to parks and love nature," said Mapp. "But they just tend to go close to where they live and work."
Busy, working families don't want to drive three hours simply to go to a park, or to places where there aren't going to be any African Americans, she noted.
Mapp, who has led thousands of visitors into parks, says that many African Americans who love outdoor activities aren't accounted for in the numbers of visitors to parks.
She adds that parks would do well to realize that the parks are not an end point.
"Parks have to create [group] activities," she said. "They have to realize people go to parks to meet people. Their motivation is to celebrate living and try new activities."
So what can be done to make people feel more connected to parks? One way, according to Mapp, is to tell a different story. For example, she recently took a group of African Americans to Marshall Gold Discovery Historic State Park, where they learned about a prominent African-American couple, Nancy and Peter Gooch, former slaves from Missouri who struck it rich and later bought freedom for their children. Her group was amazed.
"We helped tell a different story -- and it's through those stories that people feel connected and welcome [at the parks]," she said.
The sense of urgency in the report is palpable. The Parks Forward commission, which includes Bay Area investor Lance Conn, former state lawmaker Christine Kehoe, a county parks director and the CEO of Sony Entertainment, among many others, has deemed that the parks are indeed in trouble.
"Now is the time to transform the Department into one that can collaboratively manage a vital system of parks used by a broader base visitors from both within and outside of California for decades to come," concludes Parks Forward. But "accomplishing this mission requires a new paradigm for California parks -- one that looks to the vast networks of parks and protected lands in our state, embraces the many partners in the state who share state parks' goals, and attracts more people to visit and connect with parks."
"As difficult as the task may be, Californians' dedication to their parks is greater," and "a unified effort led by a transformed Department and a supporting coalition of public agencies, park professionals, nonprofit organizations, partners, volunteers, California Indian tribes, businesses, civic leaders and advocate is up to the task," the report concludes.
Related
Popular in the Community