Co-authored by Luay Al Khatteeb* and Aymen Jawad**
Iraq's Christians have conceivably suffered more than any other group since the "Islamic State of Iraq and the Levant" (ISIL) dramatically invaded the Northern areas taking over Mosul. Within the Middle East as a whole, Christianity is becoming increasingly marginalized. Only about 5 percent of the region's population currently identifies as Christian, and that figure continues to plummet.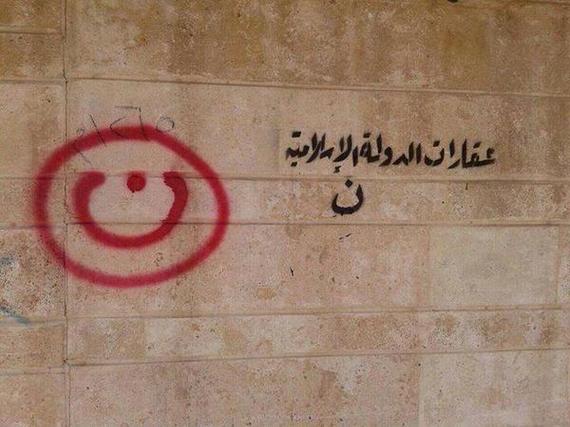 ISIL marking Mosul Assyrian homes with the "n" for Christian pejorative, "Nasrani," and for confiscation
ISIL terrorists have forced thousands of minorities from their homes, with Christians, Yazidis, Shia Turkmen and Shabak fleeing for fear of enslavement or death, often faced with a "convert, leave or die" ultimatum. ISIL have given Christians less than 24 hours' notice of the choice of converting, paying a fine, or leaving their homes with not even having the right to taking their possessions. Hundreds have been murdered without even the chance to make that horrific choice.
Iraq Heritage and its in-country contacts are focusing their attention on displaced persons who have fled Mosul, Qaraqosh and other areas on the Nineveh plain and who now live as refugees on the outskirts of Erbil, still within reach of ISIL's reign of terror.

The United Nations have declared the highest level of humanitarian emergency in Iraq, and accused ISIL of carrying out "barbaric" acts of sexual violence and enslavement against women and underage children belonging to Iraqi minorities. U.N. special representative Nickolay Mladenov said the declaration by the U.N. of a "level 3 Emergency" in Iraq would "facilitate the mobilization of additional resources in goods, funds and assets to ensure a more effective response to the humanitarian needs of populations affected by forced displacements."
Canon Andrew White, known as the vicar of Baghdad and the Chaplain of St George's Anglican Church in Baghdad said, "One of things that really hurt was when one of the Christians came and said, 'For the first time in 1,600 years, we had no church in Nineveh." This statement is heartbreaking in its poignancy, given the continuous destruction of a great, ancient community. Despite the increasing sense of desperation and imminent danger among the parish of St George, Iraq's last Anglican Church, the loyal vicar refuses to leave his church -- or Baghdad.
Iraq Heritage appeals to the government to do more to highlight the suffering of religious and ethnic minorities as a global humanitarian crisis and to increase the amount of international aid to those in need. The Open Doors and other humanitarian groups have been working in the region in partnership with churches and other Christian organizations, providing much needed help to refugees.
The situation in Northern Iraq is getting worse by the hour. Churches in Erbil are running out of living space as the number of internally displaced persons fleeing ISIL keeps growing. These people have nowhere to go; even the courtyard and gardens of churches are full.
The White House warned last week that the situation in Iraq risks becoming a "humanitarian catastrophe." The dilemma of persecuted minorities in the region must now surely override any debate over using military power to defeat ISIL. For months, church groups have been trying to raise awareness of this impending tragedy. In Britain, the Archbishop of Canterbury has warned that the threat of ISIL is part of an "evil pattern around the world," as innocent people are victimized and massacred simply because of their beliefs.
Pope Francis has said that he would travel to northern Iraq if it would help curb the violence in the region. This visit to Iraq would be instrumental in rallying global interfaith communities in providing urgent relief to persecuted religious minorities and to help unify the people of Iraq as a whole. It would be of immense historic relevance to have someone of such prominence and influence go to Iraq despite the enormous dangers to his personal security in order to draw attention to the worst humanitarian crisis in living memory.
Pope Francis was also quoted as telling reporters the use of force can be justified to stop "unjust aggressors," such as ISIL militants in Iraq. It is a welcome development that NATO in its latest meeting in Wales this week, classified ISIL as an enemy to be defeated and resolved to take unified and concerted action to degrade and defeat terrorist groups. The Pope's appeal to the U.N. to "take action to end the humanitarian tragedy now underway in Iraq" was an important step taken in consultation with the Vatican. He also sent Cardinal Fernando Filoni to Iraq to meet with government officials and refugees. It is highly symbolic and welcome that Pope Francis recently tweeted his first-ever photo of displaced Iraqi children escaping from ISIL persecution, captioned by an unprecedented message from a global leader calling upon everyone to join him in daily prayers for those suffering in Iraq.
Iraq Heritage urges the government to raise public awareness on the continued suffering of religious minorities, including Christians, inside Iraq. To do so would not mean supporting one faith over another, but merely to take a firm stand against the ethnic cleansing of human beings who are our brothers and sisters in humanity in accordance with international laws, norms and conventions. Ministers must intensify discussions and debate, while developing further initiatives and discussions with agencies such as the UNHCR on various means to assist those persecuted or at risk of persecution. This could include the provision of additional temporary shelter, medications, basic foodstuffs, as well as facilitating access to relief agencies such as War Child and Medicines Sans Frontiers.
Finally, it is everyone's moral duty to raise awareness to the plight of persecuted religious minorities and for all those who follow the news to heed Pope Francis call for humanity to unite in prayer to help our afflicted people in such traumatic and uncertain times.
We welcome the U.N. and the Vatican's efforts to work hand in hand to help protect and save religious and ethnic minorities in the ancient land of Mesopotamia, and we urge everyone religious or otherwise to support Iraq Heritage in its continued efforts to help save the precious humanity of the Cradle of all our Civilisations.
*Luay Al Khatteeb is the Co-Founder of Iraq Heritage and a Visiting Fellow of Brookings Doha Centre

**Aymen Jawad is the Co-Founder and Executive Director of Iraq Heritage

Popular in the Community