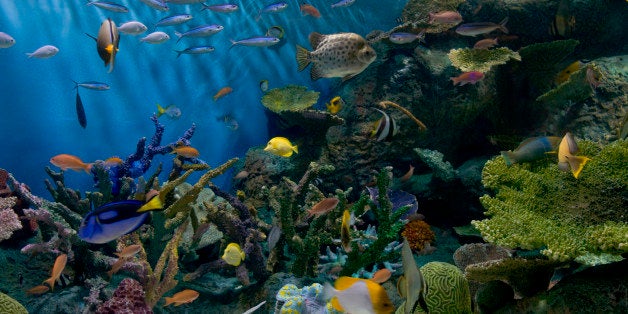 Local conservation efforts are important to restoring and protecting coral reefs. However, if we don't halt climate change those efforts will not be enough to save them. That's why marine biologists and ocean lovers have their eyes on the COP 21 climate negotiations in Paris this week.
Last year, I co-authored a New York Times op-ed entitled "We Can Save the Caribbean's Coral Reefs." The premise was that we must not use inaction on global emissions reductions as an excuse to postpone local conservation actions. Dr. Jeremy Jackson and I wrote, "We need to stop all forms of overfishing, establish large and effectively enforced marine protected areas, and impose strict regulations on coastal development and pollution, while at the same time working to reduce fossil fuel emissions driving climate change."
Due to nature's impressive resilience, coral reefs probably won't cease to exist regardless, but without bold policy changes they won't be anything like the iconic seascapes we envision. They will be softer -- more acidic waters melt organisms' skeletons. They will be less diverse -- some species simply won't be able to thrive. They will be fuzzier -- algae can overgrow corals in polluted conditions. They will not feed us -- hundreds of millions of people will lose the nutritious seafood on which they depend. They will not put money in our pockets -- tourism and coastal livelihoods will be devastated. They will not protect us -- as they crumble they can no longer provide a barrier to storms. They will give us less joy -- much of the splendor and vibrance of these ecosystems will be lost.
Nevertheless, we have to start somewhere, and it's past time to start seriously tackling climate change at a global scale. Whatever the policy outcomes of these negotiations, they must be just the beginning if we are to continue to reap all the benefits of food security, storm protection, livelihoods, and sheer beauty that coral reefs and other ecosystems provide.
Popular in the Community