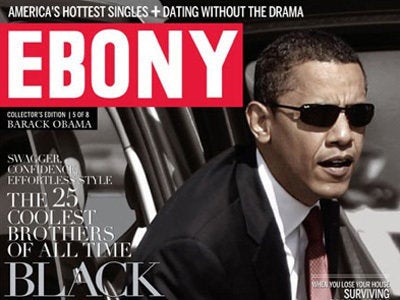 You're invited to participate in a bold experiment to help preserve an important piece of Black American history. It's simple, yet, in the 21st century, simplicity has become the most powerful tool of innovation.
You can help preserve an iconic symbol of Black American achievement by clicking the Facebook "like" button at the top of this blog post. Then tell your friends and family to do the same. Alternatively, you can leave a supportive comment below. It's for a good cause. An important cause.
There's no Million Man (or Woman) March. There's no need to brave frigid temperatures and inclement weather. You don't even have to contribute money.
Step 1: Click the Facebook "like" button or leave a supportive comment (or both).
Step 2: Send this blog post to your friends and family, asking them to do likewise.
Step 3: Revel in the knowledge that you have helped preserve an iconic symbol of African American media history.
Saving Ebony-Jet Headquarters
The Johnson Publishing Company -- owners of the iconic African American media brands, Ebony and Jet magazines -- has sold its building headquarters, located at 820 S. Michigan Avenue in Chicago.
Columbia College recently purchased the 110,000 square foot historic headquarters of Ebony-Jet for an undisclosed amount. The Johnson Publishing Company is planning to move its media operations to a new location within the next 18 months.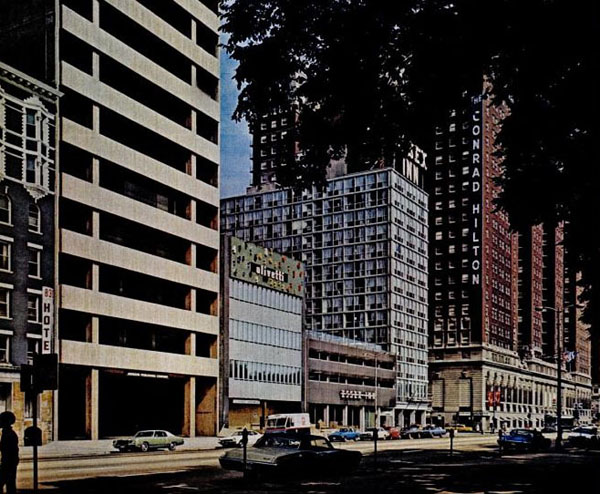 Headquarters of the Johnson Publishing Company as featured in Ebony Magazine, September 1972. Click here for full photo gallery.
Preserving the iconic headquarters of Ebony-Jet has become a common focus of numerous debates across the landscape of Black America. Reactions to the sale have ignited emotion-filled discussions. Some believe a part of Black American history is being sold. Others, like Eric Easter, the former vice president of digital and entertainment for Ebony-Jet, believe the history lives on within the brand, not just within the building. Easter argues:
"For anyone decrying some great loss of history, I would argue that the history is secure. More important than Johnson Publishing owning the building or residing in it, is that the building even existed for its time. It stands as a major achievement. Historians and preservationists should be more concerned that the landmark does not get torn down and that its story be told prominently and correctly."
Columbia College is planning to honor the Johnson family with some tangible recognition in the building that pays homage to past achievements. That's a respectful transition and end to a bygone era.
But we (as in you and I) can do more.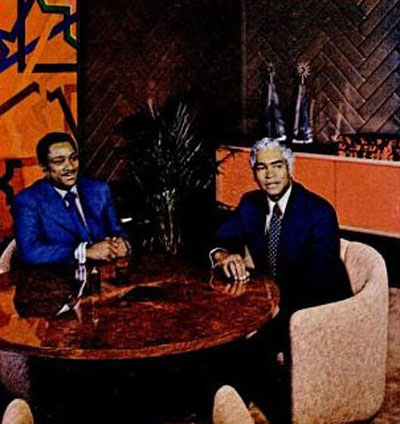 Mr. John H. Johnson (left) meets with the building's architect, John Moutoussamy. Click here for full photo gallery.
City and Media: Chicago's Black Founders
For those who are unfamiliar with Ebony and Jet magazines, and have little knowledge of the Johnson family's media empire, the words "iconic" and "historic" may seem a bit far-fetched. To the uninitiated, the widespread emotional reverberations may seem like over-inflated reactions to sensible decisions made by Linda Johnson Rice, Chairman of Johnson Publishing Company and daughter of John H. Johnson, the company's founder.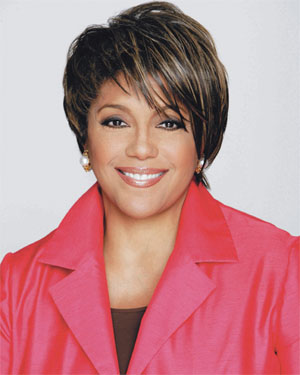 Linda Johnson Rice, chairman and CEO of Johnson publications including Ebony and Jet magazines.
Outside of the spotlights of White media and the common knowledge of many White Americans, the building at 820 S. Michigan Avenue was instantly adopted in 1972, into the minds and hearts of millions of Black Americans, as a proud symbol of Black achievement in the face of institutionalized racial oppression and degradation. The building stands as a monument of one Black family's success in a White-dominated media industry. It stands tall on prime real estate in Chicago, where White financiers had such a strong foothold, that the last Black man to build a business structure on such coveted land was Jean Baptiste Point du Sable, the city's first permanent resident in 1779.
When Black media were reporting the facts regarding lynchings, Jim Crow, redlining, disparities in public education and numerous insights into the infrastructure of White power, throughout every sector of society, most White media ignored such stories. Black media have historically reported the stories most White media would not report. Still, when the issue of race relations is raised today, the dismissive reflex in pointed palms of raised White hands reveals the relative small amount of knowledge about Black America that permeates White America. Today, millions of minds remain closed to any information that threatens to destroy pristine paradigms constructed by White media over the past century.
Johnson's 11-story media office tower in Chicago was completed in 1972, eight years following the Civil Rights Act of 1964 and just four years in the wake of the assassination of Dr. Martin Luther King Jr.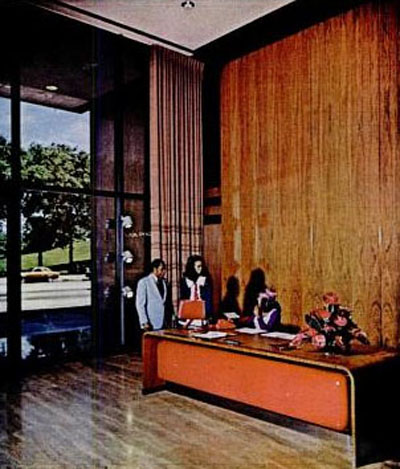 The lobby of Ebony-Jet headquarters at 820 S. Michigan Avenue in Chicago. Click here for full photo gallery.
The Ebony-Jet headquarters in Chicago became a symbol of achievement in spite of the stumbling blocks and closed doors that threatened every step of the process.
In like manner to the monumental reaction to the election of President Barack Obama, the establishment of a Black-owned building in the business sector of Chicago's famed loop in the early 70s became a source of pride for Black Americans who seldom saw much in media of which to be proud.
Symbol of Black Pride and Black Beauty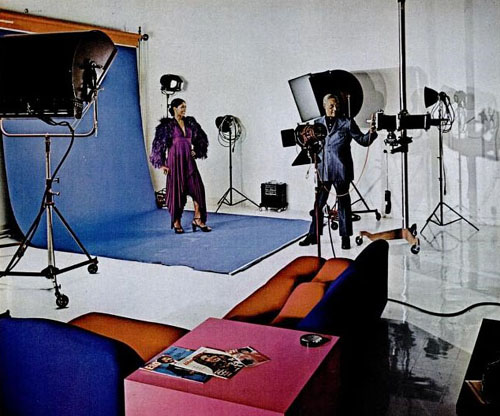 Model Charmayne Caldwell poses for photographer Isaac Sutton in the photography studios at the Ebony-Jet headquarters in 1972. Click here for full photo gallery.
In the 20th century evolution of media, the Ebony-Jet empire was a media brand that reached all of Black America. It chronicled our achievements. It heralded our heroes. It turned a spotlight upon our issues, our families, our relationships... our daily lives.
In Ebony-Jet, we saw beautiful Black people. White media showcased beautiful White people. It lauded White heroes. It proclaimed White America as trustworthy, wealthy and strong. White media held White America up as a symbol of freedom, justice and moral leadership for the world to admire and emulate. Neither before nor after the Civil Rights Movement did White media see our daily struggles or achievements. But Ebony-Jet did.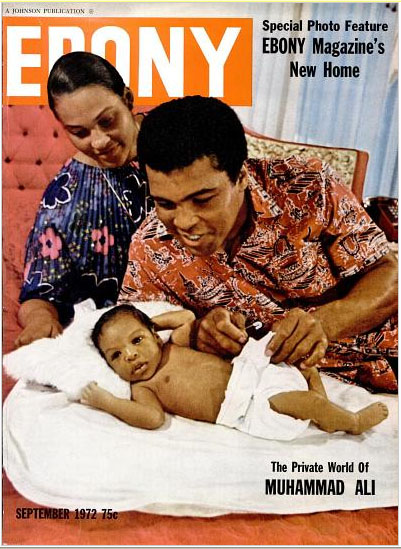 Muhammad Ali with his wife and family were featured in the September 1972 issue of Ebony. Click here for full photo gallery.
In the pages of Ebony-Jet, Black families saw scholars, university and corporate leaders, politicians, college and pro athletes, Hollywood celebrities and extraordinarily talented musicians... all of whom had Black faces. Many of those important faces and stories didn't exist outside of the lens of Ebony-Jet. The magazines held up mirrors of positive images of Black life in America and we stared into our own reflections and smiled.
In the face of rampant racial discrimination on every level -- political, legal, health, financial, employment, entrepreneurship, education, military -- Black America looked for something to make us smile. Ebony-Jet did more: It made us proud.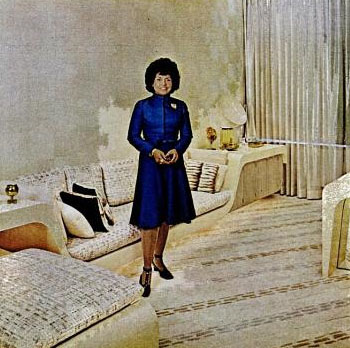 Mrs. Eunice W. Johnson stands in her office, which showcases some of the many pieces of African art that exist throughout the building. Click here for full photo gallery.
Today, this iconic media brand is transitioning from 20th century to 21st century operations. A part of that requires it to shed some of the heavy costs associated with the 20th century. The sale of the Ebony-Jet headquarters building, of which the JPC only uses 40 percent of available space, is a done deal.
But this is the 21st century. The JPC is considering preserving the historic building as it is today, inside and out, in digital 3D. The final product will provide a navigable, interactive 3D replica of the historical décor and artifacts within the building that can be accessed online.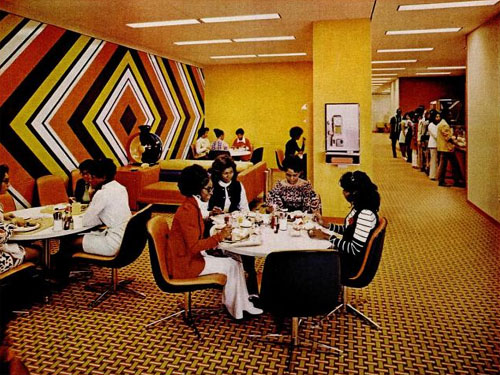 The JPC employees enjoyed complete meals in the building's cafeteria for only $1 a day. Click here for full photo gallery.
There are costs associated with such technology, of course. But, there is no cost for you to support the digital preservation plan. Just click the Facebook "like" button at the beginning of this post or leave a supportive comment below.
Few opportunities come along in our lives in which we can make such a profound difference with the click of a mouse. This moment is your opportunity to make a difference and say thanks to Ebony-Jet for the support it has given us for generations.
If you support the idea to preserve the JPC headquarters as a digital 3D replica, click the Facebook "like" button or leave a supportive comment. Then spread the word.
It's never been easier to participate in preserving Black American history. And we cannot expect anyone but us to care enough to preserve what is important to us. Let's push the Facebook "like" number to one million or more. Let's show our appreciation to Ebony-Jet for its work in preserving our history by supporting the preservation of its history.
Calling all HuffPost superfans!
Sign up for membership to become a founding member and help shape HuffPost's next chapter