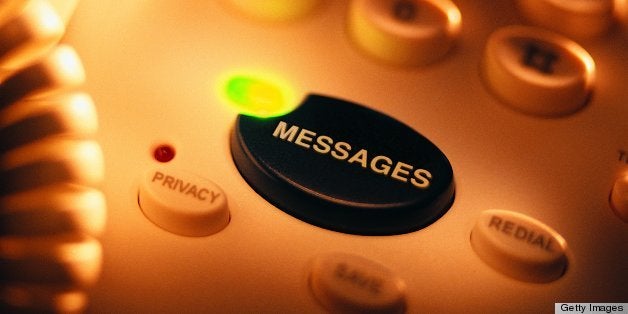 Mom had often complained that I'd thrown away her bag collection when I helped her move. So, for her birthday, we gave her a gift of gift bags... and she cracked up.
I'm a saver. Every time my inbox mounts to the limit of 4,000 emails, I move a few thousand to random folders I doubt I'll ever find again; and then I'm set for another few weeks of not deleting messages, mainly from the likes of Sock Hop Sundays, Hot Tub Works and Book TV Alert.
Aside from reminding me of my hedonistic tendencies, keeping these emails relieves the fear I'll miss something, even though I have never opened a Book TV Alert and I went to Sock Hop Sunday only once.
Someday, after I finish watching all "The Daily Show" episodes saved on my DVR, I may just want to check out Book TV. The emails will serve as a reminder.
Plus, I don't want to waste time deleting email or unsubscribing.
The first time I surfed to Book TV, Isabel Allende was speaking about the death of her daughter, Paula. She referred to the remarkable ability of the human spirit to rise above adversity. I was going through a divorce at the time and it helped to say to myself, if she can rally after such a tragedy, then surely I can deal with this divorce.

With phone messages, it's different. I so fear accumulating my kids voices, which are much more precious than emails, that I delete them right away so as not to tempt any hoarding instincts.
Seven months after my mom died, while visiting my 28-year-old daughter, Eliza, in New York, I listened (except when she made me hold my ears) as she transferred to her computer 20 special voice messages she had saved over time. She was preparing to trade in her Blackberry for an iPhone.
I heard the message from me singing happy birthday. And then the room filled with the voice most familiar to me, the one I heard for hours every week during long daily conversations about our lives.
Lizie, it's Grandmom. The book you sent me, I never laughed so much! (laughter) I laughed out loud the whole time I was reading it. (laughter) I just loved it... It was so funny! (more laughter)...

Lizie had asked me to take Shopoholic to my mom in Florida, "I think Grandmom will like it," she said. Four months later, my mom died. On Christmas Day my mom would have been 94, the birth date she shared with Eliza.
I didn't cry when my mom died, just as she didn't cry when her mother died. My mom and I were/are not criers.
But as each day passes, I miss her more. How she would have loved to hear the details of my interview with TLC's Georgetown Cupcake sisters about their bakery and their lives!
No one gets excited about what I do each day, the way my mom did.
Every adventure I have, every picture I take, I wish I could share with my mom. Hearing her voice and that laugh -- so real, so hearty, so alive -- was like having her right there on the sofa with us, making me feel so happy, so sad.
Now that I have this recording of my mom's voice, I'm wondering whether I should start saving the voicemails of everyone I love. Oh dear!
Read about marriage, relationships, my mom and more in my new memoir . . .
Confessions of a Worrywart: Husbands, Lovers, Mothers, and Others
"Learn how one woman rises above adversity and embraces her life in this deeply personal story, told with comical sensibility by a quirky, startlingly honest mother, daughter, ex-wife, and dog lover, who--à la Nora Ephron--will feel like a dear friend. Confessions of a Worrywart: Husbands, Lovers, Mothers, and Others stays with you long after you finish reading it."

The perfect book for mothers, worrywarts, or anyone who enjoys a "neurotic, hilarious, poignant," true story.