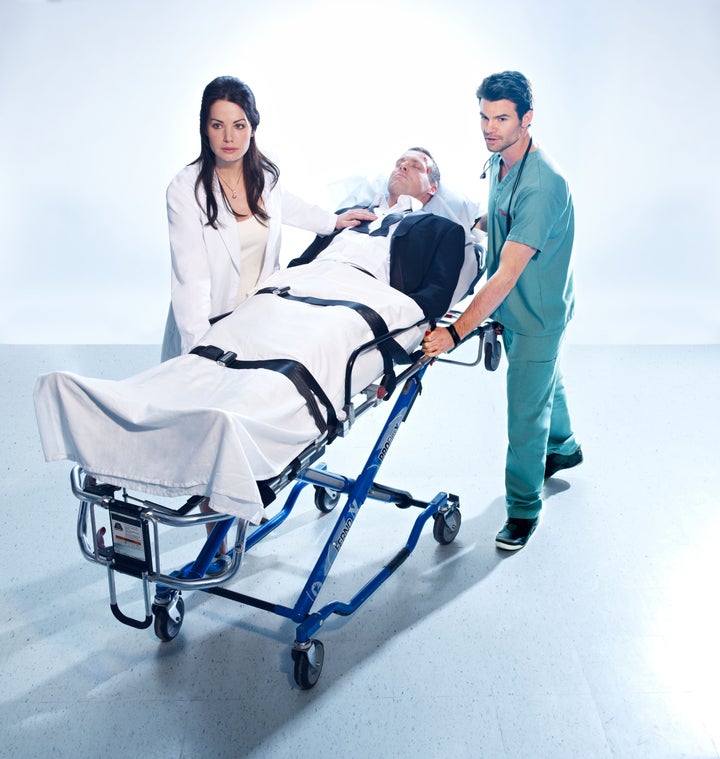 NBC/CTV's "Saving Hope" is not your typical medical drama. Sure, with "Smallville"'s Erica Durance, "The Vampire Diaries"' Daniel Gillies and "Stargate SG-1"'s Michael Shanks as the leads, there's definitely no shortage of good-looking doctors on staff. And yes, there's plenty of interpersonal development, as well as weekly surgical cases and miracles. Indeed, on a Wednesday afternoon, in a suburban Toronto-building-turned-hospital set, one such crisis is currently underway. In an operating room, Dr. Alex Reid (Durance) and Dr. Joel Goran (Gillies) are trying their hardest to save a man's life. Of course, capturing all the high stakes, blood, dialogue and intensity requires take after take after take.
"The way the patient fell, his rib pierced his liver in a way that he's severely bleeding internally," reveals Gillies about the scene. "They call the procedure a 'pringle' because you have to stop the blood flow from the liver. It's a really bad time and a lot of people bleed to death."
Life, death and in between is what elevates "Saving Hope." The first episode finds Alex Reid and fiancée Dr. Charlie Harris (Shanks) in a car accident, leaving him in a deep coma. But Charlie soon discovers his spirit form can freely explore the hospital and interact with other souls in transition. With "Saving Hope" premiering tonight, Durance, Shanks, Gillies and executive producer Morwyn Brebner ("Rookie Blue") invited HuffPost TV to the Toronto set to get the lowdown on the much-anticipated project.
Article Continues After Slideshow!
PHOTO GALLERY
"Saving Hope" Stills
The Leads Are Familiar Millions of viewers probably recognize Durance, Shanks and Gillies as their television alter-egos Lois Lane, Daniel Jackson and Elijah. All three actors have achieved immense success in the genre universe, and while "Saving Hope" certainly incorporates otherworldly elements, their top priorities were a compelling premise and characters. "I don't know if this is how I function as an individual or whether I felt I wasn't particularly at a stage in my career where I could go 'I will only do this...'" says Durance. "I understand it's a revolving door where you go in and are spit back out again. I was just at a point where this appealed to me. I was looking for something more female-centered because I wanted to see what that journey was like."
"We, in Canada, have become very used to genre stuff," adds Shanks. "That stuff is really enjoyable, even though some actors say they just want to do a normal show. Yeah, we do want to do a variety of things, but when it comes down to it, especially with how long "Stargate" or "Smallville" lasted, that stuff is fun. It brings out the kid in you. Gunfire, explosions, aliens and green screen can be a lot of fun. It certainly keeps you on your toes when you're doing it. This show isn't without its caveats too. At times, the earnestness of doing a drama can be a little bit tedious. Fortunately, in this one, I get to play a character who sees the absurdity of his own situation, so there's a little bit of humor and levity there."
Storylines Come From Real Life Frequently, cases for police and hospital procedurals are ripped straight from the headlines. "Saving Hope" is no exception, and even its core concept was inspired by Toronto's Mount Sinai Hospital. "It's based on some newspaper articles about medicine, the hospital practices, the trials and tribulations, who lives and who dies and where the money is spent," reveals Shanks. "The show also provides a perspective of what's out there beyond life. That's where we have a little more of a hook." Drama For Female Docs, Too Dr. Alex Reid has a full plate. She has to cope with Charlie's condition, fulfill her medical duties and, along the way, she's forced to answer some of life's bigger questions. "First of all, we're so lucky to have Erica Durance," praises Brebner. "We love writing for her. For me, Alex is a woman incredibly good at her job and she's going through the thing you least want to go through in your life. In the first episode, we're capturing Alex on the worst day of her life. She's struggling to retain her sense of self to keep her love alive and save the man she loves. She's also the chief surgical resident."
Being A Ghost Isn't Easy, Apparently As for poor Charlie, even unconscious, he's dealing with whether these ghostly activities are a figment of his imagination or the real deal. Regardless, Charlie isn't haunting the place, so don't expect any spooky antics from him. "Roaming the halls makes it sound like he isn't doing much, but he is doing things," says Brebner. "Charlie is definitely interacting with patients in surprising ways. He's trying to deal with his own situation. That world is really so much a part of our show and will evolve."
"It's been an interesting fleshing-out period, trying to figure out what his voice is," agrees Shanks. "Right now, Charlie is learning about life and this space in between, he's learning about people and gaining an empathy for his patients, as well as an understanding of medicine. It's a little more introspective."
Being unable to communicate with or touch other characters has been a challenge for Shanks. "That's probably been the most unique part," notes Shanks. "I enjoy working with other actors and that flame you feed off of. When you're working the way I am, sometimes with dialogue and inner monologues to be added in later, it's been difficult. It's a strange and lonely place and you feel a little bit like an outsider. You feel voyeuristic and almost ignored. No one is paying attention to you."
Things Heat Up Quickly Also joining the ranks is hotshot surgeon Dr. Joel Goran, Alex's former lover. Things could get very steamy on "Saving Hope." "It's a strange position for Joel because he has to be the shelter from the storm for Alex, which Joel isn't that accustomed to," explains Gillies. "He landed in this position with this ex, whose lover is in this predicament, and he has to support her. That's not going to be easy. He's extremely loyal to her and he knows she would do exactly the same thing for him. That's going to be his position. He may have a few romances with some nurses and maybe even other people in positions of power. We'll see. They are making him into a whore ... no, I'm kidding."
And no, the writers didn't further increase Gillies' sex appeal with some bogus foreign accent. It's actually legit! "I auditioned for the part as an American, but executive producer David Wellington spoke to me after I got the part and said 'It's your choice. Do you want to do it in an American accent or a New Zealand accent?'" says Gillies. "I hadn't used my own voice as an actor since the year 2000. To me, it's actually still weird to hear me not being an American or a Brit."
Not Just An Actress All of Durance's passion and perseverance are paying off, big time. With "Saving Hope," she's adding 'producer' to her growing resume. That can be a lot of extra pressure for an actress who already puts in long hours. "You just take it day by day," concludes Durance. "Maybe that's just a way to keep me feeling more comfortable. It's like being in an orchestra. Every part is so important for it to work out. When you're surrounded by the good actors I'm surrounded by, and they bring in these key components, you feel a little better. I feel I was ready to embrace some of that responsibility and I wanted to educate myself a little more. As part of the option, I wanted to have a little of that producer credit. On the day-to-day, they're working really hard to actually do the producing, while I'm here acting, but I'm able to have a bit more of an eye to the other workings of it."
"Saving Hope" premieres on NBC and CTV on June 7 at 9 p.m. ET.
CORRECTION: A previous version of this post incorrectly stated that David Gillies played Klaus on "The Vampire Diaries." He actually played the role of Elijah.
REAL LIFE. REAL NEWS. REAL VOICES.
Help us tell more of the stories that matter from voices that too often remain unheard.