This post is part of the #ProtectingKids blog series and was co-written by Dr. Orin Levine and Amie Batson. Read the whole series here.
World Immunization Week is here. This annual effort to vaccinate more children might not be on every family's radar, but it is a predictable rite of spring in our house. Each year our daughters see us bring home promotional materials, hear us talk about countries ramping up week-long vaccination campaigns, and know that Mom or Dad (or both) might have to make some extra trips at the end of April.
We have been working in global health for more than two decades. In fact, it was global health that brought us together as a couple when we worked on global vaccine initiatives in the 1990s. As you might imagine, our two daughters, Jessie and Abby, get vaccines. Not only do they receive their shots on schedule, but they've grown to understand why we've chosen to dedicate our careers to expanding access to immunization -- and they now know why we have to travel long distances, sometimes for extended periods of time, to help ensure that kids get the vaccines they need.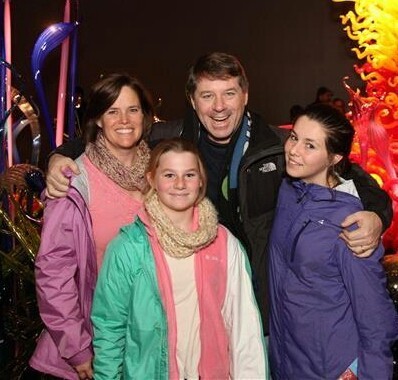 Amie Batson, Orin Levine and their daughters Jessie and Abby
It still stings to miss attending school plays and chaperoning field trips, and inconvenient time zones and unreliable wireless connections are always frustrating. To help Jessie and Abby understand our work, it's been helpful to point out parallels: We make sacrifices because parents in developing countries often must give up far more time and money than parents here to ensure that their children receive the same lifesaving protection. Dad works to strengthen health systems so that parents -- who might have to carry their child 15 miles through stifling heat to reach the nearest clinic -- find a ready supply of effective vaccines when they arrive. Mom works to make health interventions affordable so that parents don't have to choose between keeping their children fed and protecting them from disease.
For all parents out there, World Immunization Week is the perfect time to talk with your kids -- and anyone around you -- about the importance of immunizing children, both here at home and abroad. Right now, thousands of Lions Club volunteers are mobilizing to raise awareness of measles and rubella vaccination programs in Africa and South Asia. Vaccination Week in the Americas (VWA) is continuing its strong legacy of bringing immunization campaigns to the most isolated communities in the Western Hemisphere -- and has reached more than 519 million people since 2003. And Gavi will help the Solomon Islands protect girls from cervical cancer through an HPV vaccine demonstration project and help immunize children with the inactivated polio vaccine in the Democratic Republic of Congo.
Every April, World Immunization Week brings an opportunity to applaud the tireless efforts of health workers on six continents, but as the World Health Organization reminds us, 20 percent of the world's children still don't receive the vaccines they need. As Jessie and Abby would point out, that's a "B-."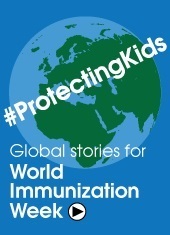 If we want to make the grade and increase that number by next year's World Immunization Week, we need to collect and implement the brightest ideas from all sectors, like PATH's partnership with emerging-country vaccine manufacturers to develop and produce safe, effective, WHO-approved, export-ready vaccines, or UNICEF's trial program in Laos, using automated text messages to instantly inform health workers when the temperature of the national cold storage unit gets too high or too low so that they can spring into action and save millions of vaccine doses from spoiling. Innovations like this are critical to helping us close the immunization gap and reach every child in need.
We, like parents in all parts of the world, want to make every moment with our children count. Accelerating immunization efforts -- not just this week but for the entire year -- is the best way to ensure that parents and children everywhere can experience a lifetime of moments, memories, and health together.
Dr. Orin Levine is the director of vaccine delivery at the Bill & Melinda Gates Foundation
@OrinLevine
Amie Batson is the chief strategy officer at PATH
@AmieBatson
REAL LIFE. REAL NEWS. REAL VOICES.
Help us tell more of the stories that matter from voices that too often remain unheard.