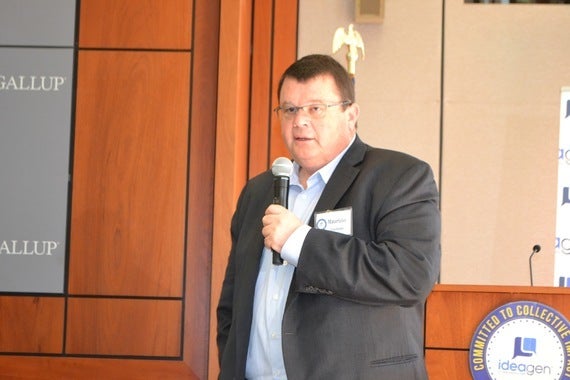 Maurizio describes Global Good as, "A collaboration between Intellectual Ventures and Bill Gates that is designed to bring the power of invention to the base of the pyramid, in economic terms, that make up the majority of the population of the planet. We are focused on those kinds of innovations that lead to practical, important inventions that at the end of the line improve the lives of the poorest people on Earth."
When asked about Global Good's approach to inventing technology in developing countries, Maurizio explained that one of the biggest challenges is to figure out what problems are "appropriate to be technology-based interventions." As a part of this effort, Global Good works closely with organizations like the Bill and Melinda Gates Foundation to understand these challenges and how its expertise in invention can help save lives.
"We have countless problem sets that are very important and do need solutions but are not technology or invention driven solutions. Part of our process internally, or with the help of a partner, is to define the problems, define those gaps, identify the gaps that are indeed technology gaps and then focus on those essentially looking at what is the impact that that gap filling exercise, that technology or that science will bring to the table."
Using this approach, Global Good has created a number of truly world changing inventions that address some of humanity's toughest problems. For example, more than 23 million children do not receive routine immunizations annually and more than 1.5 million children under age five die each year from vaccine-preventable diseases. This is partially due to limitations in the temperature-controlled supply chain that's needed to prevent vaccines from spoiling between their point of manufacture and their use.
In response, Global Good invented the Arktek, a "super thermos" that overcomes traditional infrastructure and logistics barriers to bring vaccinations to those living in the most remote areas "It's a thermos that can keep the vaccines for a population, a village of approximately 6,000 people, which happens to be a good target size for a lot of these rural communities. It can keep the vaccines cold for over a month without any use of electricity at the beginning. Essentially you load it with ice at the beginning and then you go 30 or 40 days...being able to pull the things in and out... without ever having to plug the thing in."
Global Good has helped a large number of countries with their inventions. Including Ethiopia with their vaccination thermos and Kenya with a "food-grade plastic milk jug." This milk jug, "has unlocked the ability for these farmers to store and transport the milk to collection points so they went from sustenance farming... to being commercial farmers, where they can actually make an income."
At Ideagen, cross-sector collaboration and partnerships are the centerpiece of our work to address many of the world's most vexing issues. Maurizio as well as the team at Global Good believe that partnerships across the sectors can have a huge impact in solving some of today's challenges. "I do think that public, private, and philanthropic partnership has the potential to really act as a catalyst and accelerator to much of this economic development. Economic development and public welfare are linked."
Maurizio has learned so many lessons over the course of his career. He calls the most important lessons, the "three A's." "Appropriateness is the first A, affordability is the second A, which means make it reasonable in cost, and the third A is access."
When asked about the future, Maurizio said Global Good would be focusing on primary care. "Primary care is an underserviced area, its underserviced everywhere by the way, not just in the developing world. It is particularly difficult in the developing world and we want to reinvent it. We want to really focus on what are the essential diagnostics, the essential medicine that needs to be in primary care to affect the largest amounts of patients and dramatically improve the effectiveness of those patient encounters."
The work Maurizio and his team at Global Good are doing is truly profound and inspiring. Their approach is insightful and the good that they are creating is unparalleled.
For more information on Global Good, please visit:
www.intellectualventures.com/globalgood/
For the full exclusive audio version of the interview, click on the link below: http://www.blogtalkradio.com/ideagen/2015/05/28/ideagen—exclusive-interview-with-maurizio-vecchione—global-good
Calling all HuffPost superfans!
Sign up for membership to become a founding member and help shape HuffPost's next chapter
This post was published on the now-closed HuffPost Contributor platform. Contributors control their own work and posted freely to our site. If you need to flag this entry as abusive,
send us an email
.