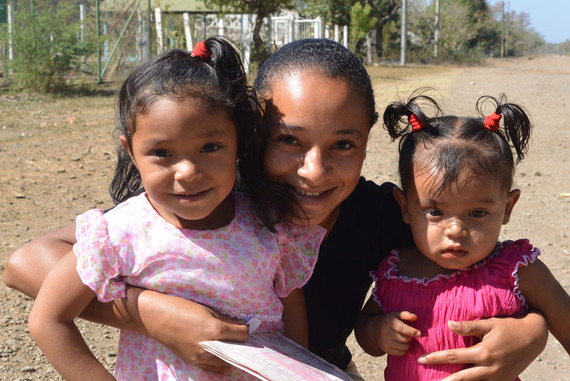 I have recently returned from a poor dusty village west of Leon, Nicaragua where the locals live in huts built of plastic wrap walls and corrugated tin roofs held up by tree branches. During this trip with the Yale Alumni Service Corps, I helped organize volunteers to construct a school addition, build a bridge, teach children music and computers, give health education and medical care. While these were extremely valuable projects, I was most proud of my effort to haul medical equipment for cervical cancer diagnosis three thousand miles by plane, bus and truck so that it could be used to potentially save hundreds of lives. I had just completed treatment for cervical cancer myself and I was determined to help others get access to the same simple life saving procedure.
However upon my return, rather than accolades (which I am really not looking for), I was given a registered letter from my HOA that my driveway had some dirt and mildew on it and they would be taking me to court. The incongruity I felt at that moment was beyond measure. I had just left a group of the most compassionate and generous people, both villagers and visitors, in the poorest of areas who represented the best in human nature, to return to face the opposite in a country of such affluence. What direction has our society taken that it has enabled some of us to care so much about mildew and so little about other people?
Now since I had been out of the country, I hadn't received the earlier dire notices and warnings from the HOA representatives about my violation. But this is a house that gets regular lawn care, landscaping and maintenance by companies to keep it in shape and the driveway dirt they were so concerned about was barely visible. However the by-laws were quoted in every scathing paragraph of the notice reiterating my negligence and so I had no choice but to comply before I was given large fines or worse.
I had actually heard of this kind of threat a few months earlier when we had attended a dinner at a friend's house and one guest, a proud member of an HOA board, was telling of a violation in her suburban development. She had described how a neighbor hadn't trimmed their bush near a sidewalk and after multiple warnings this woman had directed the HOA to take action by filing for foreclosure on the house. I had laughed thinking she was joking. No one would really do such a thing especially to a neighbor I had believed, but I was wrong.
When I asked what possible crime this represented, tongue in cheek, the woman explained that people with strollers would have difficulty getting past this bush. "Then why didn't you just trim the bush for these neighbors yourself rather than try to kick them out on the street?" I replied. This had obviously never occurred to the woman as she looked at me with a blank expression. I have since refused to be in her company, but I am sure there are many more like her -- those who seem to have forgotten the way to be a decent neighbor, whether local or global, at least in my opinion.
So after ordering an earlier date for powerwashing my driveway, which had been scheduled anyway, I tried to focus back on the warmth of the benevolence I had witnessed in Nicaragua. The doctors who repaired broken bones, performed pap smears, tested for kidney failure and treated bacterial infections in a crude makeshift clinic with tarps to separate exam areas. The laughter between teams of local masons and volunteers, who did not speak each others language but still communicated enough to enjoy each other, as they twisted steel rebar and set concrete block to build a new classroom. The kind nurse from Leon who would be using the colposcope, autoclave and other equipment that I had left at the village health post to perform early cancer detection. So many women in that area had died too young from cervical cancer, some in their late 20s but most before they reached the age of 45. This was an avoidable tragedy.
There are generations of mothers, daughters and wives who did not need to be lost so soon in Nicaragua and other developing countries, and I could have been one of those to perish early as well if I had not been lucky enough to live in the United States. But for all of our privileged lives with high tech gadgets, fancy new cars and neat tidy suburbs, we should ask ourselves if we are all aiming our moral compass in the right direction for the greater good. Perhaps not yet if dirty driveways or untrimmed bushes can consume so much of our energy and attention!

Support HuffPost
The Stakes Have Never Been Higher
Related
Popular in the Community