World Pangolin Day 2015 happened on February 21. Compared to previous World Pangolin Days, this particular one should be rated as a great success. Images and videos of pangolins trended on social media with a peak on February 21. What made 2015 so special, is that the experts at the IUCN Species Survival Commission, IUCN SSC, upgraded the status of pangolins to Critically Endangered in 2014 with all eight species threatened with extinction.
If you did not hear of World Pangolin Day or have never even heard of pangolins, you can help save them because it's going to take action on a global front to save them. CNN did a fantastic report on pangolins The Most Trafficked Mammal You've Never Heard Of The IUCN report estimated that one million pangolins were lost to the illegal wildlife trade in the past ten years, making it the most heavily trafficked animal in the world today.
The eight different species are found across a wide range of countries including China, India, Pakistan, Malaysia,Vietnam, Indonesia and Africa. Conservationists from all regions are however are reporting that they are becoming increasingly hard to find with sightings of wild animals being rare. The staggering odds against the survival of pangolins are exemplified in the situation in Nepal, celebrated as the best conservation effort for big mammals. The poaching of pangolins however, has skyrocketed by a staggering 800 percent in recent years!
So how do we protect an animal whose biggest threat is humans?
Pangolins are much harder to protect. Shy and reclusive by nature, many have died simply from the trauma of being handled by poachers. Their diet in the wild consists exclusively of ants and termites, which makes it almost impossible to protect large numbers in enclosed areas. The best chance for their survival, is to identify areas where their population levels are still healthy and engage the entire community in the region to protect them. Those that poach or trade pangolins are few in numbers, which means if the larger community gets involved, they can save the pangolins in their region.
One of the remaining strongholds for pangolins today, is the tiny nation of Brunei which has retained most of its forests, compared to its neighbors that share Borneo island. This is a truly inspiring story of how one person can make a difference. Shavez Cheema, a student at Brunei Darussalam University had started a Facebook group 1StopBrunei Wildlife. We made contact in early 2014, and I was shocked by the information he sent through. These included stories of how pangolins were offered openly for sale on social media including facebook and twitter.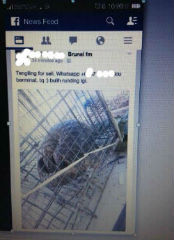 Shavez started to track these public advertisements of pangolins for sale and noted 35 such cases, with 25 advertisements noted in 2014 alone. He started an awareness campaign on social media with great success. Nine pangolins were surrendered to him from sellers and members of the public.
People ask me how I get these pangolins. I never buy them because that will just create a demand. So what I do is , I contact these Facebook sellers and text them. I tell them my name is Shavez, and I am a student from University Brunei Darussalam and founder of 1stopbrunei wildlife. I give them snapshots of pangolins and tell them that it is a very endangered animal which is important to Brunei's ecosystem.
Last year, two families called him after their children attended one of his talks on pangolins and surrendered the pangolins they had, as their children insisted that the pangolins be freed!
His lack of knowledge and experience in handling pangolins led him to contact Louise Fletcher on social media. Louise who is a member of the IUCN Species Survival Commission on pangolins had worked extensively with pangolins in Vietnam. Their discussions revealed an urgent need for a campaign in Brunei to save pangolins so Shavez contacted the British High Commission in Brunei who funded the first ever workshop on pangolins in Brunei.
The keen interest in what she had to present can be seen in the attendees which included :
-OneStopBrunei Wildlife
-Wildlife Division (MIPR)
-Brunei Nature Society
-BruWild
-Green Brunei
-Forestry Dept. (MIPR)
-Heart of Borneo (MIPR)
-Brunei Nature Society
-UBD
-Panaga Natural History Society
-Ministry of Culture Youth and Sports National Service students
-Youth Centre
-Ministry of Education
-Brunei Tourism
Quoted below are Louise's thoughts on saving pangolins that are relevant not only to Brunei, but to any other range countries where pangolins are found.
Conservation of a species involves focusing efforts in key locations, where work will have a measurable impact on a species at a global scale.

Any conservation strategy, regardless of whether the focus is a particular species, ecosystem or habitat type, should always be partnered with an awareness campaign and education program. Conservation strategies and awareness campaigns need to undergo continue monitoring, evaluation and refinement in order to be successful in the long term. Ultimately the place we want to see our efforts have the most impact are in the wild -- protecting and in some case boosting numbers.
This is not easy. Pangolins are elusive, solitary creatures and are difficult to find. Traditional methods of camera trapping and night spotting, that tend to work so effectively for other species seem less effective for pangolins
The conclusion of the workshop occurred on World Pangolin Day, where the International School in Brunei and the British High Commission supported an interactive workshop to increase excitement about the pangolin, Brunei's threatened treasure, and provide a platform to launch Brunei's first pangolin video. Until now the crucial role that Brunei plays in the conservation of Sunda pangolin has not been sufficiently highlighted and this was a chance to emphasize the role that this country plays and what a unique position it is in.
Brunei has great potential to become a stronghold for the Sunda pangolin species. Unlike its neighbors in the region which are Malaysia and Indonesia, the country boasts of the highest per capita incomes at $50,000.00. Eating pangolins would therefore seem to be more of a tradition, rather than a need for cash, which is the main reason pangolins are being poached in other countries.
Related
Popular in the Community