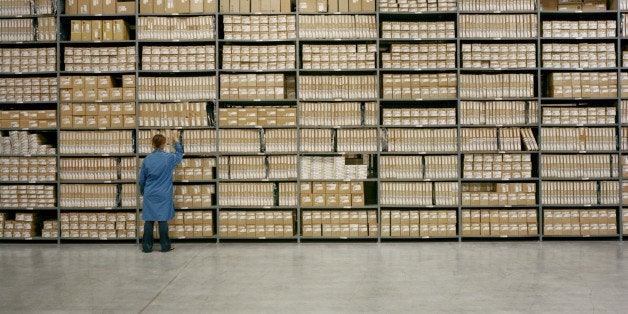 While being the curator of the Museum of Sex got me a lot of attention at bars, the best part of the job was being the person saving the history of sex from the trash.
The calls and emails came in regularly.
Grandpa or Grandma, or your favorite uncle had passed away and in the process of going through their belongings "porn" was found. Magazines, photographs, erotic art, love letters from secret affairs and even a time or two, some antique sex toys. Found in the backs of closets, at the bottom of drawers and in some cases, hidden away inside walls and squirreled away in secret panels. These discoveries were of treasured items that belonged to generations who owned tangible artifacts of sex, rather than just a browser history.
In most cases, these were the family heirlooms many just didn't feel comfortable keeping. While they personally didn't want them, thankfully these callers understood these were in fact artifacts that deserved to be preserved. The artifacts that get to the heart of our human intimate experience.
And with great pride, as the long time curator at the Museum of Sex, I was the person on the other end of those calls for more than a decade.
They whispered at first, embarrassed to be brokering the topic over the phone with a stranger convinced they were alone in this kind of discovery. In each encounter I would reassure them, console them in their grief and explain how through their bravery a part of the narrative of sex was being saved. With these artifacts, my work as a "curator of sex" was made possible.
These are the artifacts that give us insight into the past. They highlight personal narratives and journeys. They showcase our negotiations with the taboos and prohibitions of a particular moment in history. They present truths that have so long been marginalized, and left out of many of our history books.
In this vein, I was a part of the preservation of collections as diverse as those of Arpad Miklos (a well-known pornographic actor and escort who lost his life to suicide in 2013), Ralph Whittington (a former librarian at the Library of Congress who over 30 years collected and filled more than 900 boxes of erotic content), and most recently Rentboy's institutional archive.
But the most rewarding moments, were the ones where I was able to help save the collections of the unknown, the everyday person, and in some instances, the person who had no family to make that preservation call to me. In some of these moments, ones sexual identity had been a part of this familial ostracization and shunning, an all too common experience for members of the LGBTQ community. And it was one collection in particular that taught me how important it was to be an advocate and ally in the saving of the history of sex.
Excerpt from Sex in the Museum: My Unlikely Career at New York's Most Provocative Museum (St. Martins Press, April 2016):
A few years back I got a call from a landlord on the Upper West Side of Manhattan describing a tenant who had passed away with no family to claim his belongings. In a thick accent, the landlord made it very clear that the "pile of porn" was going to end up in the dumpster at the end of the week if we didn't come to review it. The landlord made clear his disapproval for the subject matter -- and also his own homophobia.
A pile of porn. And just a subway ride away.
We arrived at a nicely appointed brownstone where we were met by the gruff landlord. He opened the door to a small studio with furniture thrown into a growing mountain in the middle of the room. Framed art, books, and magazines were carelessly thrown into the mix, with no thought given to these items that once held great value to the owner. As we crossed the threshold, the landlord pointed us to the "pile of porn," a humble stack of tattered magazine clippings and maybe 50 VHS porn tapes, his very reason for summoning us to the apartment. I had incorrectly assumed we would encounter boxes and boxes of items (mass consumption was the typical MO of a large scale collector). I was a little disappointed.
The recently deceased, it appeared, had for many years ripped out images from gay porn magazines, probably those he found sexually compelling. While an interesting look into one man's sexuality, this two-foot stack of actively-handled pages from magazines and commercially-available films was not the treasure I had hoped for.
But as we looked a little closer, the deceased occupant came to life -- and so did his collection.
It soon became apparent that our anonymous collector had a great love affair with books, and over the years had amassed thousands of volumes on topics ranging from art history to travel. But his primary interest seemed to be gay history and politics, a movement he had likely seen take life in New York. Hundreds of rare books, many now out of print, filled floor-to-ceiling bookcases along every wall.
We climbed over the discarded furniture, caked in dust, to get a closer look at this incredible library.
"Forget about those!" the landlord shouted as we made our way up the rickety library-style ladder. "The porn is over there." He pointed in the opposite corner.
"We might be more interested in these," I said, barely turning away from the books, so excited to see such a large and well-preserved collection. He shrugged, waved us off and returned to dragging boxes out to the dumpster.
"We have to save these," I said quietly as I handed a few examples to Lizzie.
We only had a few hours before the apartment needed to be completely cleared. Climbing up and down the ladder and on the tops of tables covered with discarded contents, we methodically placed the books into boxes. Our excitement grew along with our pile, and the landlord became visibly worried that he was missing out on a financial opportunity. When he asked us how much we wanted to pay, we simply reminded him that he had already asked us to take away "all the disgusting gay stuff"
A victory in the battle of sexual preservation.
And a reminder how important is it to preserve the history of sex and all of the voices within its wonderful diversity.
Calling all HuffPost superfans!
Sign up for membership to become a founding member and help shape HuffPost's next chapter