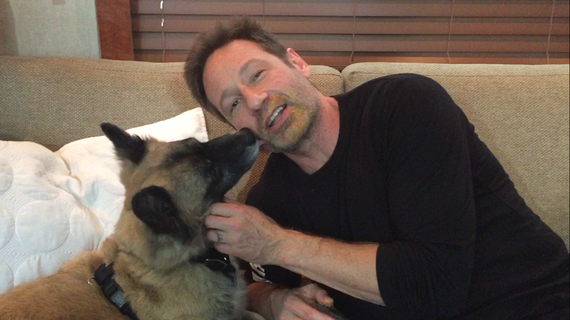 This week, me and my rescue dog, Brick, launched a campaign called "Lick My Face." The idea is simple: convert what Brick already loves to do (cover me in dog saliva) into donations -- one dollar per lick -- towards my favorite animal nonprofit, Target Zero, which is working to get to zero euthanasia of all adoptable shelter animals nationwide. Currently, close to three million cats and dogs are killed in shelters each year due to overcrowding, or because of stressful or unclean conditions that make them sick.
While "Lick My Face" is irreverent fun (and yes, sloppy, as illustrated by our video), the work Target Zero is doing is anything but. It's serious, rigorous, and most importantly, working.
Target Zero was launched in 2013 and currently has nine "Fellow Cities", meaning cities it's helping get to zero kill (at no charge), and two Alumni Cities -- Waco, Texas and Huntsville, Alabama -- which they got to zero as of December 2015. Waco was euthanizing 64% of the cats and dogs entering its shelters in 2013, and Huntsville 22% as of late 2014. Do the math. These are incredible success stories, which we need a lot more of.
What's Target Zero's secret? It's no secret at all really because what the organization did was simply identify and pull together what was already working in the no-kill movement, package it as proven best practices they call the Pyramid Program, and then mentor it out, city by city, to shelter and animal welfare leaders willing to collaborate towards the zero goal (a city won't get to zero without real collaboration). The Pyramid consists of six programmatic levels all designed to reduce the intake of cats and dogs coming into shelters, as well as get them out as quickly as possible. For an in-depth understanding of what Target Zero teaches and why, I recommend checking out its website, as well as reading David Bornstein's fantastic overview in the New York Times.
So just how will our pets licks translate into saving lives you ask? Well, every dollar you donate to Target Zero goes toward the incredible work it's already doing, as well as expanding into more cities to do what it did for Waco and Huntsville. I don't know about you, but I'd like to see them in every city as quickly as possible. It's pretty unconscionable to be euthanizing animals when the problem is fixable, don't you think?
So go forth, grab your dogs and cats and let 'em get their lick on. Their far less fortunate brothers and sisters, sitting in shelters across America right now, really need us to get this right.
REAL LIFE. REAL NEWS. REAL VOICES.
Help us tell more of the stories that matter from voices that too often remain unheard.