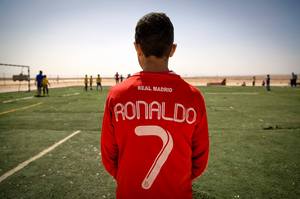 Soccer star Cristiano Ronaldo recently posted about 16-year-old Ahmed who is pursuing his own dreams in the sport. Ahmed, though, like so many other children, is a victim of the brutal civil war in Syria.
Ahmed and his family were forced out of Syria, first to Jordan. The family has now moved on to Lebanon, another country hosting many thousands of Syria's refugees.
So many opportunities we might take for granted are lost for Syria's children. Shortages of food, water and medical care are widespread throughout Syria. Humanitarian agencies like the World Food Program, UNICEF and Save the Children try to bring them aid. Many times they are blocked by the fighting.
UN Secretary General Ban Ki-Moon says, "Humanitarian assistance is not something to be negotiated; it is something to be allowed by virtue of international law."
Over two million other Syrians have fled the country. They can escape the fighting, but hunger and cold still exist. The host countries are welcoming but it's difficult to provide for this population that grows daily.
That is why it's so important that humanitarian groups get the support they need to help the refugees. That is the chance for children to at least reclaim some normalcy in their lives, something absent in the last three years.
It starts, of course, with the basics of food, water and shelter. But for Ahmed and other children his age, that means getting to school again. Something special Save the Children has done is giving him a chance to play soccer again at the Zaatri refugee camp in Jordan. That caught the attention of Ronaldo, a Save the Children artist ambassador, and he posted pictures of Ahmed at the soccer field.
Francine Uenuma of Save the Children told me yesterday about the art, writing and photography lessons they also give children at the camp. Or about the young Syrian girl who dreams of becoming a journalist. She goes around the camp interviewing shopkeepers about their story. Save the Children creates a center to give the children a friendly space to learn and play sports. Volunteers come in to teach.
What we have to do now is act to save a generation of Syria children. The war must be brought to an end. We must also pressure the combatants in Syria to allow humanitarian aid agencies access to the hungry and sick.
There is also more we must do. The relief operations both inside Syria and in the refugee host countries need to be funded.
News of the World Food Program having to cut rations for Syrians is very disturbing. The world community cannot just brush aside the humanitarian disaster, one of the largest since World War II.