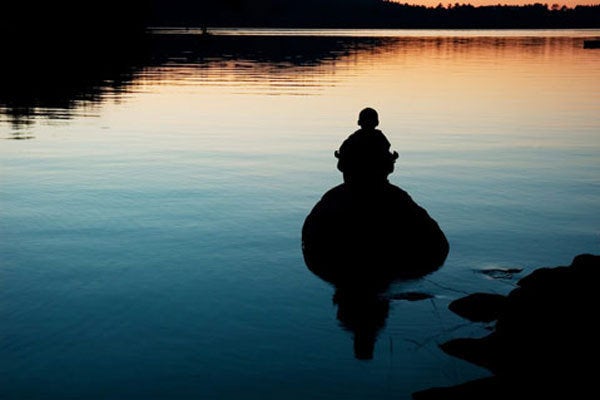 UDAIPUR, Rajasthan - Life has brought many advantages to Arvind Singh Mewar, not the least of which is an unobstructed view overlooking Lake Pichola from his palace terrace here, the city Travel & Leisure readers recently voted best in the world.
Now more than the view -- the lake itself -- could join the cheetah and other species on India's endangered or extinct list unless he and others can spearhead a reversal of the lake's misfortunes.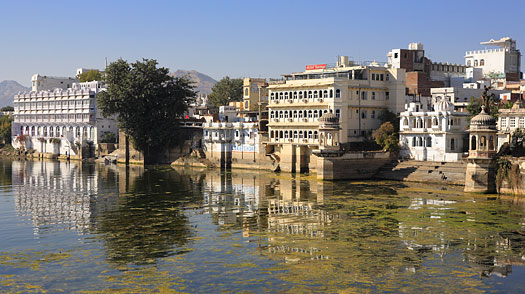 A view of the shoreline of Lake Pichola, a magnet to anyone who visits Udaipur, Rajasthan.

As current head of the Maharana clan that founded the Rajasthani city in 1568 and soon after developed what geographers have identified as the world's first man-made micro-system of river diversion, linkage and watershed management, Mewar is among the major local stakeholders concerned with protecting the string of lakes from increasing pollution and depletion.
While over the last 15 years some 14 local environmental groups have attempted to preserve the waters, some even filing lawsuits against local and state governing boards, lake conservation has been slow to nonexistent to backward.
"There's too much political finger-pointing and not enough problem solving," said Mewar, who owns HRH Hotels, a collection of 12 Rajasthan properties converted from family palaces and hunting lodges, including five in Udaipur. "Like my forefathers, I feel it's my responsibility to bring us together to take action quickly or lose our greatest asset, both environmentally and economically."
Now, tourism-generated revenue may be the incentive that turns the tide. The series of lakes are a major magnet to the city. Last year 1.2 million tourists visited the city nicknamed it "Venice of the East."
But when water levels drop so low that you can drive a jeep to the island wedding venue, Jagmandir, or to the Mewar-owned Lake Palace Hotel, so does the destination's appeal.
That's one reason Mewar offered Durbar Hall -- where Indian royals once convened -- at HRH's Fateh Prakash Hotel to co-sponsor a one-day conference this past summer exploring approaches to integrated lake basin management.
For once, global warming and climate change were not to blame, said keynote speaker Masahisa Nakamura, director of the Center for Sustainability and Environment at Shiga University in Otsu, Japan, and chairman of the International Lake Environment Committee Foundation's scientific committee.
Rather, he ticked off a number of human factors, among them deforestation and silting, construction along lakeshore, human and other waste dumping, poor governance and bribes.
He was particularly critical of regional marble cutting industries that dump white sludge, a contaminant waste that penetrates soil and water systems. Adding to the negative impact, large tracts of the white powder act as sun reflectors, creating their own micro-climatic warming effect.
All these have contributed to the scarcity and degradation of the lake waters, he said.
He advised governing bodies to impose tighter regulatory laws, better policing and fewer pay-offs to government officials. He also promoted environmental impact education programs, not only for politicians and influential private sector citizens but also the general population of the city (population 5.5 million).
"There is an x-factor I call heart-ware," he said. "As the confluence of many factors has caused the problem, so too must the solution be approached holistically. We need to also involve people body and soul, heart and mind."
At the age of 63, Udaipur surgeon Tej Razdan is old enough to remember Lake Pichola before it was overdeveloped. "With so many ghats (steps) and temples lining the lake, it was more beautiful than along the Ganges in Benares," he said. "To see it now, I am weeping. That is the pain in me."
A physician by profession, Dr. Razdan is a passionate environmentalist who heads Udaipur's Lake Conservation Society, which helped organize the August conference here.
While he laments the lake and basin degradation, he acknowledges some progress has been made in the last 20 years. "Previously there were 100 latrines hanging directly over the lakes," he said. Twenty-five tons of solid waste and six million liters of raw sewage were dumped into the lakes on a daily basis. Now, he said, those numbers are down by 60 percent. A drainage system now diverts sewage downstream, though a treatment plant has yet to be installed.
Meanwhile, wholesale development too close to the lakeshore has accelerated the lake's slippery slide. The opening of Oberoi's Udaivilas luxury hotel in 2000 and the Leela Palace this past April, both less than a few feet from Lake Pichola, opened the door for other shoreline hotel and residential development, said Dr. Razdan.
"The big guys essentially bought their way past lakeshore encroachment laws," said Dr. Razdan. "That created a domino effect. Smaller entrepreneurs with money muscle and political connections asked, 'Why not us too?'"
Many here believe Mewar can use his political muscle and to keep lake cleanup efforts afloat.
"Water is not the property of any political party -- it belongs to ordinary people," he said. "It's our collective right and responsibility to act as its custodian. We have a lake conservation plan but if there is no water, what is there to plan?"

Calling all HuffPost superfans!
Sign up for membership to become a founding member and help shape HuffPost's next chapter