Surfers know the importance of balance. It's the difference between a great ride and a wipeout.
It's a simple principle, but we could learn a lot from it when it comes to how we treat the oceans we love so much. Our over consumption of natural resources, like fossil fuels, is knocking natural systems out of balance. By making better, sustainable choices and managing our resources with an eye on ecosystem health, we can strike a better balance between our own needs and the wellness of our oceans and planet.
In other words, finding this sustainable balance can keep the oceans from an irreversible wipe out.
Sadly, we have changed the face of the world's oceans -- fishing species to near collapse, choking marine life with plastics, and acidifying the very waters we rely on for food and life itself. We have drastically changed the ocean in an evolutionary instant, and the magnitude of that impact is visible around the world. On my journeys around the globe I have witnessed many of the impacts that humans have had on the oceans. From oil-coated dolphins in the Gulf, to beaches covered with plastic garbage in the Pacific, I have indeed seen far too many ocean tragedies. Perhaps more alarming, is the fact that many of the greatest impacts are not visible to the naked eye. Out of sight cannot mean out of mind if we want to secure a future of healthy seas.
But I also see room for hope. I have met so many people who are working toward a better, healthier and more resilient ocean future.
There's an army of ocean lovers out there who will stand up for healthy seas. I spent a very memorable afternoon in Malibu creating an incredible symbol of ocean solidarity with many of them, including good friends like surf legend Dave Kalama, ocean advocate Kelly Meyer, and my wife, Gaby Reece. We were joined by more than 250 surfers and stand-up-paddlers who came to show their support for the oceans, who braved the cold water to form a giant floating human peace sign, an image of which we were lucky to capture by helicopter. Please share this image with others to remind us all of the connection we share with our ocean.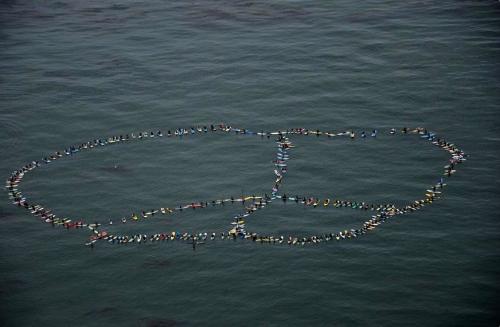 Fittingly, the Peace Paddle took place just miles from a new marine protected area. Like underwater national parks, these places provide safe havens for marine life to thrive, away from human harm. They are signs that we are making progress in the right direction. And yet, much more remains to be done for our oceans to be returned to a place of health.
Fortunately, we will have an opportunity to do more to save our seas on a global scale later this month. The United Nations is gathering for its Rio+20 Earth Summit in Brazil, and ocean protection is a top priority on the agenda. The summit offers us all a chance to make our voices heard on these issues, and an opportunity to transform the way we interact with our planet. Join me and tell our world leaders to take action on critical ocean issues like plastic pollution in the waters and the conservation of marine life on the High Seas.
More than anything, humans are innovators and we have a chance here to make a change for the better. We simply cannot afford to lose life in the oceans and we don't have to. You have the power to return our seas to balance -- all you have to do is take one moment to participate and let our leaders know you demand action.
Calling all HuffPost superfans!
Sign up for membership to become a founding member and help shape HuffPost's next chapter