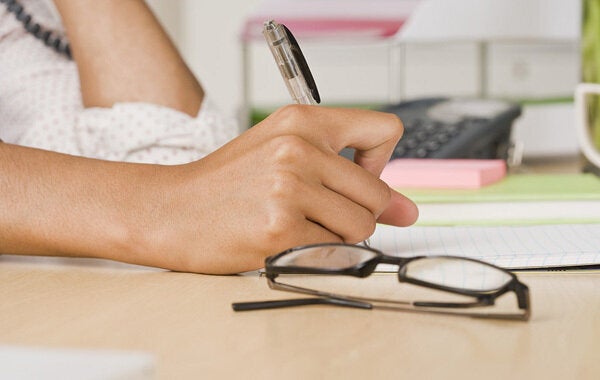 Saving the Stories of Beverly Jensen
When Beverly Jensen, my wife, was dying in 2003, she feared she'd been given talents and had not used them. But in fact she had. Last month, Viking published The Sisters from Hardscrabble Bay, which Elizabeth Strout and Joyce Carol Oates championed and which Stephen King calls "completely beautiful."
On December 19, 2002, Beverly learned that a C-T scan revealed "lesions" on her pancreas and liver. The doctor held out hope for various diagnoses, but Beverly said to me, "I've got pancreatic cancer, and I'm going to die." We sat together and wept. In the coming days, she gave me instructions, fearful for our two children, nine and fifteen. We updated our wills. And she took the stories she'd written over sixteen years, just for herself, and made copies for the children and her sisters.
She'd written these stories in stolen time, in the mornings after dropping Noah and Hannah at school, before heading to her part-time office job. So they were written in scraps--a paragraph or page at a time, often picked up days later. She described sitting with her laptop on the couch in Hannah's room and welcoming her mother, Idella, and her Aunt Avis. The two sisters had grown up early in the century on a remote farm in Canada and made their way, through many adventures, many relationships with ornery men, to Maine--Idella marrying and raising four girls, Avis getting in and out of trouble. In Beverly's mind, as she typed, the two old ladies would start telling stories, goading each other. She would laugh aloud at what they said or be shocked by what they revealed. Then her time would be up.
At night, as Hannah fell asleep, Beverly read the day's work to me. Eventually, a draft would be finished: some stories came out in days; others took years. Each went through, on average, six drafts. Beverly loved searching for redundancies to cut and moments to expand.
I'm an English teacher, I've loved and studied fiction for forty years, and I knew these stories were the real thing. But Beverly resisted sending them out for publication. As a mother and part-time worker, she had little time and wanted to use it to write and to perfect, not to get derailed into fretting over where to send them and who'd replied or not and why.
But when she died I wanted to publish the stories. It seemed too terrible that they would end up merely as family heirlooms, that her sisters and I would be telling some great-niece how talented her great-aunt Beverly had been and bringing out an old photocopy. It seemed too terrible for her sense of humor, her eye for detail, her ear for talk, and her voice to disappear when they were here, caught in her writing. So when, at Beverly's memorial service, the novelist Jenifer Levin asked what I planned to do with the stories, I told her I hoped to publish them, and she offered to help. Jenifer had taught Beverly in two writing workshops, and Beverly deeply admired her. She and I checked each story for typos and minor inconsistencies, and finally sent out "Wake." It took six months, but one afternoon I got a call from the New England Review. By then Noah was at college, so Hannah and I celebrated, just the two of us. And a few months later, Stephen King noticed "Wake" and put it into 2007 Best American Short Stories.
There had been another break. When Beverly was dying, her college friend Jennie Torres sent five stories to her ex-sister-in-law, the author Katrina Kenison, who encouraged Beverly to work with an agent. It was too late for that, but when the stories were in good shape, I sent the whole collection to Katrina, who passed them along to the novelist Howard Frank Mosher. Howard is a man of great and generous enthusiasms. He called me out of the blue, comparing Beverly to Flannery O'Connor, and offered to help promote the book.
So allies emerged. Katrina connected me with the agent Gail Hochman who passed the manuscript to Carole DeSanti at Viking. Howard persuaded Elizabeth Strout, whom he'd never met, to read it and made sure Stephen King had a copy of the entire manuscript.
Of course, this process did not happen so easily. Months went by between steps. Publishers hesitated to commit to an author who could not give interviews or provide a second book. The whole process took seven years from the time of Beverly's death.
It succeeded first and last because of the quality of the writing. I had faith that if I persisted, her stories would be recognized. That persistence came from love: love for her, love for the stories themselves, and love for our children and her sisters, for whom this success is so meaningful.
But the love didn't come only from me. I sensed from each of the writers and editors who helped along the way a sort of existential purpose. Each felt a wish to rescue a young woman's spirit from death. There was a generosity and devotion that came out of all these allies, who knew Beverly only a little or not at all, but who saw the meaning in saving her voice and bringing it to the world.
For an excerpt of The Sisters from Hardscrabble Bay and to hear Beverly Jensen read, go to www.beverlyjensen.net.
Calling all HuffPost superfans!
Sign up for membership to become a founding member and help shape HuffPost's next chapter