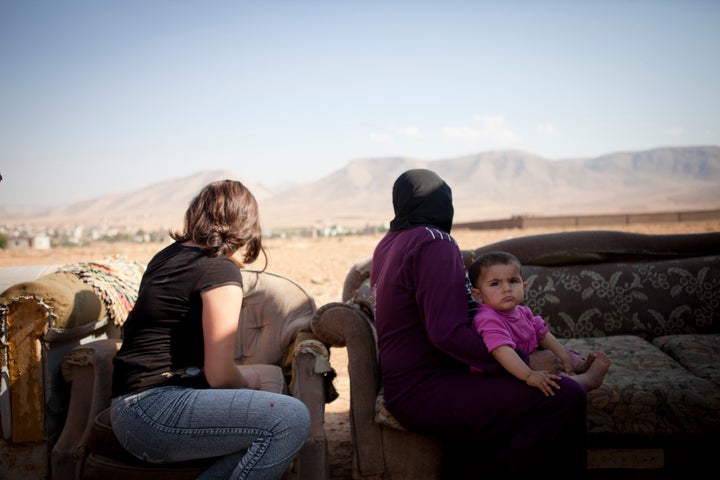 Farida Beydoun and her three children live off food handouts in a camp for displaced Syrians, in the border town of Bab al Salam. They fled their home in Aleppo and now live in a tiny tent with no warm blankets, no shoes on her children's feet. There's a stench of sewage over the camp, as a child defecates on the ground nearby.
"Journalists come here and take photos, and leave without helping us. You take pictures, and then what? If we don't die because of the war, we will die because of the filth," she told us.
She's right. As journalists we don't help, not enough, because we're not telling her story, Syria's story, in ways our audience can understand.
We float in and out of the issue, our attention pulled in so many directions. That's no one's fault: as a foreign correspondent I have to chase the latest breaking crisis; as a viewer, you follow the headlines that flow. But as a result we never really get a deeper understanding of a what's going on. Its victims, like Farida Beydoun, get forgotten.
I love what I do in journalism, covering the world on radio and television. But when I look at the system as a whole, how all of the networks and newspapers cover foreign news for an American audience, I know we can do much, much better. We are failing the Syria story and complex issues like it.
For the sake of the Syria story, for women like Farida Beydoun, I've pressed pause on my TV career and leaned into technology. I decided to build Syria Deeply, a single-story website that launches today, using the best digital tools we could find to convey the story in a more complete way. Our goal is to bridge journalism and technology, education and foreign policy, by reshaping the way we create and deliver the story.
Syria Deeply was created to share the best of what we know, in ways that technology now makes possible. I cracked open my rolodex, rounded up my favorite experts, and started taking a much more open approach to my craft. When I have an interview with a great mind on Syria, I do it over Google+ for all to see. As I hear from Syrian journalists and bloggers, I take the time to elevate their voices, giving my American audience greater access their perspectives.
As I started building Syria Deeply, wonderful friends stepped forward to help - members of the Middle East press pool who all believe it's time to try something new. The venerable Deborah Amos of NPR agreed to serve as our advisor. Technology partners like Prezi, Soundcloud, and Google+ all stepped up to help us deliver new ways to serve our audience with information.
Along the way, I shed my old media skin and took on a tech startup mentality: just build and iterate. Accept that there will be kinks and flaws, a hair or two out of place - instead of always expecting to live life camera-ready. Be flexible and let the platform evolve. The Syria Deeply you see today will change with new ideas and user feedback, as we learn what works in optimizing foreign news for digital delivery.
The best part of what we're doing: we are connecting people on both sides of the story. We know that Americans care about what's happening in Syria. Teachers like Andrew Beiter at Springville Middle School are working with us to turn the Syria story into a social studies curriculum, bridging the newsroom and the classroom. We're helping college students at Yale, Stanford, the University of Michigan, and UC Long Beach as they launch a movement called Caravan Aid, promoting awareness and refugee relief for UNHCR.
They all fit into a vision of America that I believe in and have dedicated myself to serve. The old, cynical narrative that Americans aren't interested in foreign news just isn't true. The Pew Research Center shows a growing number of Americans want more foreign news coverage and that their number one obstacle is a lack of background information. As we properly fuse new media and traditional journalism, that becomes an easy problem to fix.
Journalists alone can't feed the Beydoun family, or put shoes on their children's feet. But we enable you to do that - once we empower you with information, instead of just bombarding you with content. If we change how people see the world, we can change the world, because we all act on our perceptions of reality, our mental fact file of myths and misconceptions. We can make the world a much better place, in a quantum leap, if we can achieve a breakthrough in how we explain it.
It's a lofty goal, but consider Syria Deeply the open source R&D. What we learn and hone we hope to apply to a range of global issues: think Iran Deeply, Pakistan Deeply, Drug War Deeply, Debt Crisis Deeply. If we do that, we can get a whole lot smarter, together. Then the good we all have in us will have better information to go on, shrinking wicked problems down to size.
That's the hope and the jet fuel that's driving us at Syria Deeply. It's a creative news experiment, and I sincerely hope you'll join us for the ride.
Lara Setrakian is a foreign correspondent and founder of Syria Deeply. She has covered the Middle East for more than five years, filing for ABC News, Bloomberg Television, Monocle Magazine, and the International Herald Tribune. Lara splits her time between New York and Dubai, and lives on Twitter as @lara.
Support HuffPost
The Stakes Have Never Been Higher
Related
Popular in the Community