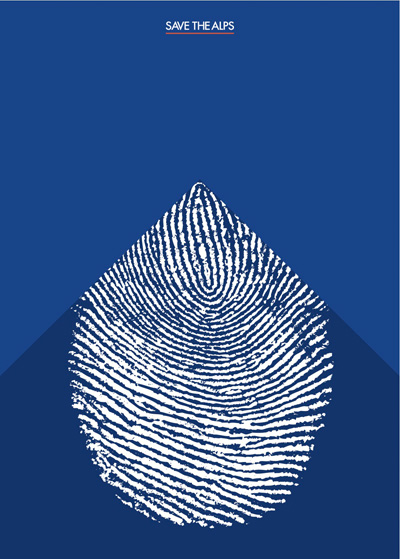 Art is a powerful emotional tool for creating awareness and fostering a commitment to change the world, even if each print makes just a small dent. Think Uncle Sam's "I Want You For The U.S. Army," Apple's "Think Different" and the "Wonderful Copenhagen" poster with a police officer helping a mother duck across the street with her small ducklings. If you want to disseminate information quickly and engage people, thought-provoking art posters are an effective medium.
The "Save The Alps" poster, designed by Per Arnoldi, the Danish designer, artist, and TV and radio host is one such encouraging story. The "Save The Alps" story illustrates how two men engaged the financial elite and made an important and visible difference in a mountain world.
At the World Economic Forum's meeting in Davos, Switzerland, 1990, Prince Sadruddin Aga Khan, then president of the Bellerive Foundation, solicited Arnoldi to create a limited series art poster to elicit funding for saving the Alps. While mountains may look strong, theirs is a very fragile environment. At that time, there were an estimated 40,000 ski runs throughout the seven Alpine countries, carrying 1.2 million passengers to summits every hour during the peak season, and all this activity was threatening the Alps. Exhaust fumes from the traffic going to and from ski resorts were killing off the wildlife and plant life and fifty percent of the trees were dying, causing soil erosion. As a consequence, trees were being cut down increasing the risk of avalanches. Something had to be done to save the Alps and to make the tourism there sustainable.
What Prince Sadruddin Aga Khan and Per did was both very clever and different. Instead of asking wealthy people to save all the Alps, they broke the momentous job into manageable bites to which people could relate. They called upon the elite to save a specific valley stream from pollution, clean up a selected distance of road, plant trees on a mountainside or fence off a vulnerable area. The sponsor would then knew where their money had gone, so, instead of spending a million dollars to "Save the World" the sponsors could see what they achieved, feel good and brag about it a little. "See, I saved a plant that had almost disappeared," or, "I brought back a butterfly that had nearly vanished."
Per created a beautiful and provocative art poster that depicted a dark blue mountain, framed by a medium blue sky, with a strong contrasting melting white mountaintop. As you close in on the poster, you notice the melting peak's texture and see Per's actual fingerprint all over the white top. The pattern creates a sense of roads, streams and sand erosion patterns in the virgin snow. Man has symbolically and quite literally touched something he should not have touched and if you smudged the mountain, well, it is up to you to right that wrong.
The world is too convoluted for anyone to understand fully. Therefore, we depend on our pattern recognition skills to make sense of it all. Overriding our thinking, we make emotional decisions and then back them up with logic to justify our actions. In this instance, art distilled a complex message to its essence and communicated it to us though visual storytelling and that has made all the difference to a beautiful mountain such as Mont Blanc.
Related
Popular in the Community