We recently had the pleasure of spending a month in Paonia, Colorado, the (small but beautiful) hometown of the nonprofit Solar Energy International (SEI), and favorite gathering place of sustainability nuts like ourselves.
Rebekah was teaching a class specifically tailored to women learning how to design and install photovoltaic (solar electric) systems. She'd taken the class in 2005 after studying regular electricity at our local community college, and used her empowering SEI experience to help launch her successful solar electric career. Stephen was out there adding his two cents worth to the Sustainable Building program, working on curriculum for their flagship class "Building for the Future," an online class taught every fall and spring.
Nearly all things sustainable can be found on the eco-campus at SEI: half a dozen different types of photovoltaic installations, strawbale buildings with earth plasters, microhydro and wind turbines making renewable juice on the edge of the property, and general bonhomie all around. Even renewable energy-savvy folks like ourselves can learn a great deal visiting the campus, or taking one of the hands-on classes they offer. But the highlight of the month for us had to be the solar falafel party, masterminded by natural building expert Matthew Harris. The idea of solar-cooked food took on added charm with the arrival of Rebekah's sister Rachel Wharton, a food writer and deputy editor for Edible Manhattan and Edible Brooklyn. The sisters got the rare chance to combine their passions (solar and food) in one delicious dish!
When Matt announced we were to meet at 7 PM to deep-fry falafel balls using only heat from the sun, we were seriously skeptical. We've seen some cool solar ovens in action over the last several years, but surely it would take some pure Rocky Mountain sunshine to be able to heat up cooking oil and fry falafel balls so perilously close to twilight!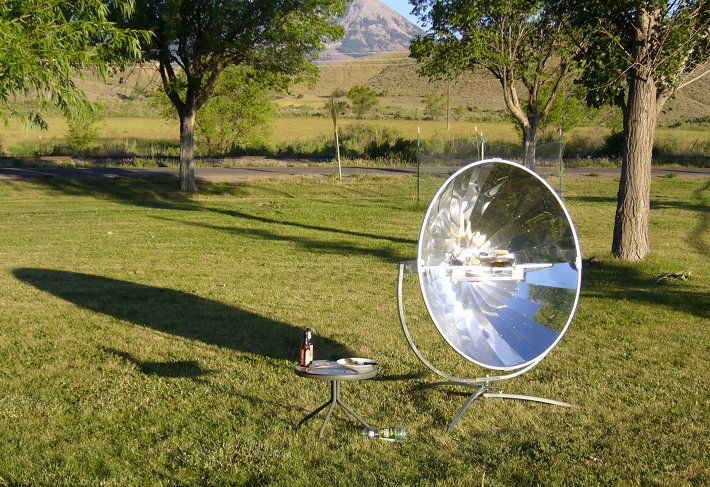 The mirrored parabolic solar cooker we used quickly burned through any erroneous notions we held of solar cooking as only useful for mid-day slow cooking at low temps. In Colorado, the solar cooker kept the fry-oil boiling until the sun disappeared behind a looming mountain on the other side of the North Fork of the Gunnison, which was after eight o'clock on that particular summer night.
With the addition of fresh local lettuce, cucumbers, and yogurt, our carbon-free falafel was delicious - Matt even used local favas to make the balls. As the sun went down and the breeze picked up, giving the wind turbine a healthy spin, we munched on our falafel, wondering at the power of the sun. Too much focus on what's new in the sexy world of solar electricity can hide the cool low-tech ways to enjoy the free energy the sun showers on us every day. From solar clothes dryers to solar water heating, there's a lot of easy clean energy out there just waiting to be used. Sipping our local wine in the gloaming on SEI's campus, we realized we were helping to save the world one falafel ball at a time.
REAL LIFE. REAL NEWS. REAL VOICES.
Help us tell more of the stories that matter from voices that too often remain unheard.