Five thousand people have gathered in Sydney, Australia, to save the world. Not in some metaphorical or whimsical way but in the real sense. The secret weapon being discussed at the IUCN 2014 World Parks Congress: protected areas.

Currently, there are about 200,000 terrestrial and marine protected areas. These parks cover 15 percent of the land on earth and 3 percent of the world's oceans; they harbor approximately 80 percent of all threatened bird, mammal, and amphibian species. To the conservation world, these designated areas are the last great hope for biodiversity - where elephants, tigers, gorillas, and sharks can roam free without the threat of their habitats being destroyed or being poached by criminals.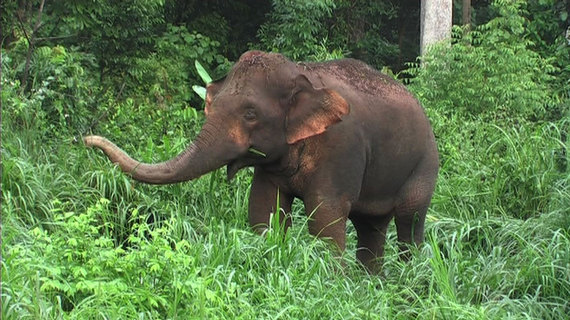 With support and guidance from the Cambodian government's Forestry Administration, USAID, WCS, and the local elephant conservation group ELIE, the Seima Protection Forest now boasts one of the largest elephant populations in Indochina. Photo ©WCS Asia Program.

Protected areas also support human populations by protecting our water or for storing carbon, thus helping our planet with its critical climate change crisis. The benefits are many and in Sydney governments, NGOs, and the private sector have gathered to share how to better operate these protected areas and how to increase their numbers, sizes, and effectiveness.

In a landmark review paper published last week in Nature, James Watson, lead author and my WCS colleague, points out the pivotal need to increase funding and political commitment "to ensure that protected areas deliver their full conservation, social and economic potential."
According to the Nature article, many ecosystems are vulnerable because protected areas do not always encompass the most important areas for biodiversity; the vast majority of existing protected areas do not have sufficient resources to be effective, with as few as one quarter of them effectively managed.
Growing threats from climate change and the escalating poaching crisis place additional pressures on protected areas globally. At the same time, many governments are actually cutting funds and weakening policies that support protected area networks.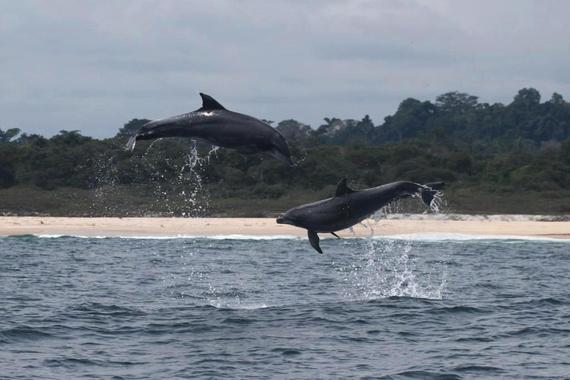 A pair of bottlenose dolphins frolic in the waters of Gabon's Mayumba National Park, part of a new system of marine national parks announced at the World Parks Congress that will protect 23 percent of Gabon's territorial waters. Photo ©Peadar Brehony.
The contrast between this failure to deliver on the promise of protected areas and their extraordinary success at conserving biodiversity when well-managed could not be starker. Thus, we need to balance this urgent call for action, and the disturbing data that backs it up, with the hope provided by protected area success stories.
For more than 120 years, WCS has helped to create and expand protected areas by exploring Earth's last great wild places, documenting biodiversity and ecosystems services to people, and working with governments and communities.
On the first day of the World Parks Congress, Gabon President Ali Bongo Ondimba announced that his nation would create a new system of marine national parks to protect fully 23 percent of Gabon's territorial waters. WCS helped to provide the science behind this announcement, in much the same way as it has helped establish 245 protected areas over the past century, from Kruger National Park in South Africa in the 1920s to the Wakhan National Park in Afghanistan in 2014.

This year, we are celebrating the tenth anniversary of the creation of the Karukinka Natural Park in Tierra del Fuego, an innovative partnership between WCS and Goldman Sachs. Since the reserve's creation in 2004, WCS has partnered with Goldman Sachs, the Chilean government, and an advisory council of Chilean scientists, academics and business leaders to manage and protect the southernmost forests in the world, while making it accessible for the people of Chile.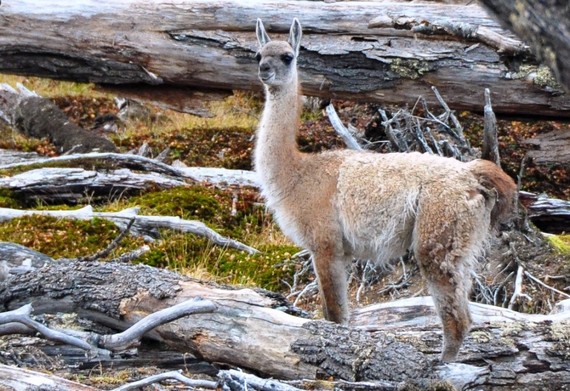 The Karukinka Natural Park in Chile's Tierra del Fuego is an innovative partnership between WCS, Goldman Sachs, the Chilean government and others to manage and protect the southernmost forests in the world. Photo ©Rolando H. Santos
When parks are sufficiently funded and staffed, the results can provide conservationists with important models for how to protect natural resources. Successful examples of well-managed protected areas include:
The Western Forest Complex, an aggregation of 19 national parks and wildlife sanctuaries straddling the border of Thailand and Myanmar, is a main biodiversity conservation corridor of the region. Covering 18,730 square kilometers, it is one of the largest protected territories in Southeast Asia and is home to the largest population of tigers that region.
The Tambopata-Madidi landscape in Peru and Bolivia forms a protected block of more than 15,000 square miles of tropical Andes, the most diverse region on Earth. The landscape boasts 12,000 types of plants as well as important archeological sites. Eight indigenous territories and local government jurisdictions provide additional connectivity for wide-ranging species and make the overall landscape a total of more than 42,000 square miles, covering a gradient from 100 to 6000 meters in elevation.
Glover's Reef Seascape lies at the heart of the largest coral reef system in the Western Hemisphere, just 28 miles off the coast of Belize. An astounding 800 patch coral reefs dot its waters, which encompass 12,500 acres. Glover's Reef is a critical nursery and feeding ground for sea turtles, sharks and rays, and numerous fish species that gather in huge numbers. Hundreds of licensed fishermen rely on these waters to support their livelihoods. The seascape is also a centerpiece of ecotourism within the greater Belize Barrier Reef - a must-see visitor destination.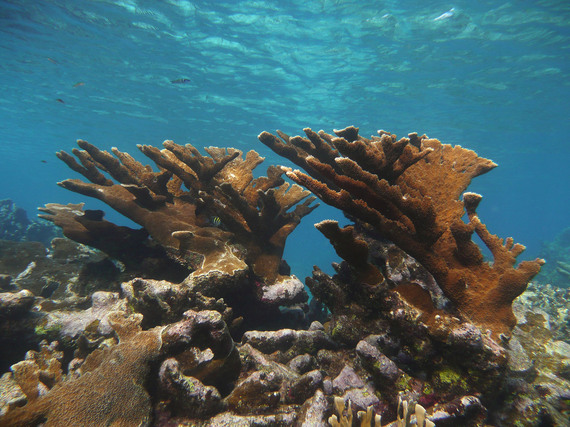 The Glover's Reef Seascape is a critical nursery and feeding ground for sea turtles, sharks and rays, and a wide variety of fish species that gather in huge numbers. Photo by Caleb McClennen ©WCS.
History gives us myriad examples of how nature fares without protection. More than 300 terrestrial animal species have been driven to extinction since 1500. The creation and maintenance of well-managed protected areas provide the greatest promise of ending the extinction crisis confronting our Earth's best of the wild.
The dedicated conservationists who have come to Sydney this week are working to ensure that we save our world one park at a time.
-------------------------------------------------------------
Follow Cristián Samper on Twitter at: @CristianSamper.

Related
Popular in the Community