Tourists in bikinis and board shorts packed onto the narrow strip of sand fronting the iconic Royal Hawaiian and Moana Surfrider hotels on a recent weekday. Dozens of novice surfers lurched to catch waist-high waves in the turquoise water.
It's a scene that has played out for decades at the world-famous beach that lures several million people a year to Waikiki, generating about 42 percent of the state's visitor industry revenue.
But the beach stretching to the Kuhio Beach Basin, where a bronze statue of famous surfer Duke Kahanamoku welcomes visitors with outstretched arms, is in danger of disappearing.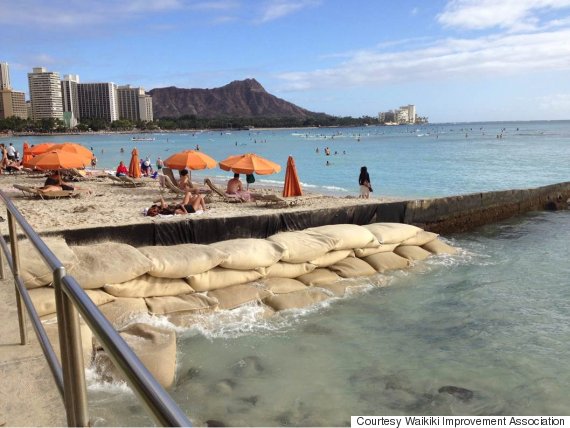 A crumbling, century-old stone wall that juts out from the Royal Hawaiian Hotel is in imminent danger of collapsing, say scientists. The groin is the sole reason sand remains along this main stretch of Waikiki Beach.
Most visitors may not know it, but Waikiki Beach is almost entirely man-made. It has had erosion problems since the late-1800s when developers began erecting hotels and homes too close to the natural shoreline and building seawalls and other structures that blocked the natural ebb and flow of sand along the beach.
By 1950, more than 80 structures, including seawalls, groins, piers and storm drains, were counted along the Waikiki shoreline, according to a U.S. Army Corps of Engineers report.
Efforts to combat the resulting erosion have been haphazard, however, and with sea level rise now claiming about a foot of the beach a year, the threat of losing Waikiki Beach has become more dire.
"Waikiki is arguably as important as a slice of the H-1 and if a part of the H-1 needed maintenance there would be no question that we would go and maintain it, repave it, fill potholes," said Chip Fletcher, a coastal geologist and associate dean at the University of Hawaii's School of Ocean and Earth Science Technology. "Well, that is what we are doing to Waikiki Beach -- it's maintenance. If it costs millions of dollars, there is abundant economic justification for that."
The groin jutting out from the Royal Hawaiian isn't the only structure in danger of collapsing. Many of the old shoreline structures in Waikiki weren't engineered to modern standards and are at risk of failing, according to scientists. And some of the beaches along Waikiki have been gone for years, including parts of Kaimana and Gray's Beach and an area on the Ewa side of the Natatorium. Just a few years ago, water was flooding the bar at the Moana Hotel because there was no beach left, noted Eversole.
Charging Waikiki Businesses
The situation has prompted the Honolulu City Council to hear two bills that would levy assessments on about 6,500 Waikiki businesses that stretch from the Ala Wai Harbor to Kaimana Beach and back to the Ala Wai Canal in an effort to raise $600,000 annually to fund long-term beach management and replenishment plans.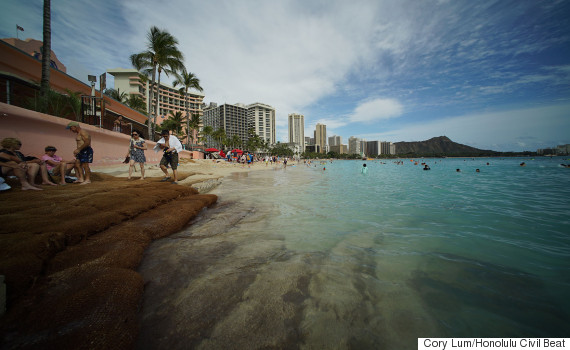 Bill 81 and Bill 82 have passed two out of three votes by the full council and have been referred back to the Zoning and Planning Committee for review. A final vote on the bills has yet to be scheduled.
Businesses would pay about 7 cents annually for every $1,000 of their property value. For a company like Starwood Hotels, this would come out to about $81,000 a year, said Rick Egged, president of the Waikiki Improvement Association, which is backing the bills. On the other end of the spectrum, some small, non-beachfront businesses would pay less than $100 a year.
The measures have received pushback from some local businesses, however. About 700 Waikiki property owners and lessees, representing about 10 percent of the affected properties, have filed objections to the assessments with the city.
Other groups, such as Friends of the Natatorium and Surfrider Foundation, have raised concerns that the bills will give private businesses too much control over beachfront property -- Kapiolani Park and the Natatorium, in particular.
For decades, groups have fought over whether or not to tear down the Natatorium, a shuttered, open-ocean swimming pool built as a memorial to World War I soldiers. Options include replacing it with a beach or restoring the structure. Opponents of restoring the Natatorium have worried that it will lead to further commercialization of the area and the loss of Kaimana Beach, one of the few local beaches left on the south side of Oahu, to tourists.
"This would not be the first time that development interests made a covert run at commercializing the Natatorium and its surrounding area," Rick Bernstein, who heads the Kaimana Beach Coalition, wrote in testimony opposing the measures.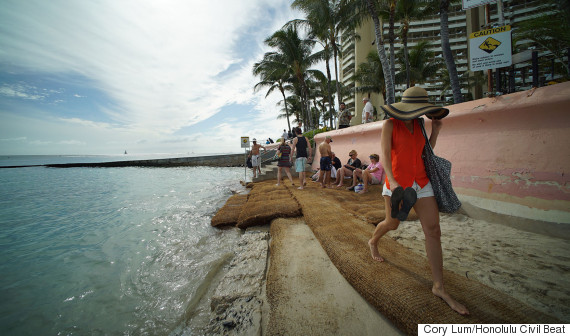 Egged said that there was no ulterior motive in the bills to commercialize the area around the Natatorium.
"This is not our intention at all… We're trying to do good things to prevent erosion," he said. "We have no plans to do anything commercial."
The bills would create a Waikiki Beach Management District, which would be overseen by an elected board. A coordinator from UH Sea Grant would spearhead efforts to come up with an overall beach management plan for Waikiki.
Eversole said that one of the first projects could be assisting the Hawaii Department of Land and Natural Resources with replacing the groin extending from the Royal Hawaiian, a project estimated at $1.3 million.
Other priorities could be establishing a regular beach re-nourishment program for the sand around Kuhio and the Royal Hawaiian. The DLNR completed a major beach project there in 2012 in which 27,000 cubic yards of of sand was piped in from offshore and deposited on the beach. The project extended the beach by about 37 feet at a cost of $2.9 million.
Eversole said that this sort of sand pumping may have to be repeated every five to 10 years.
Sand along Kuhio Beach is sliding into the artificial swim basins and may need to be pushed back up onto the beach, he said, while the Natatorium is crumbling into the nearshore water.
"The walls around the pool are on the verge of failure," said Eversole. "It's just a matter of time before it fails catastrophically."
He said the management plan could lay out options for dealing with the resulting public health and safety issues from a collapse.
Decades of Dredging and Seawalls
As beachgoers flopped under the Royal Hawaiian's red beach umbrellas last week, workers clad in jeans awkwardly struggled in the surf as they tried to push burlap sand bags up against a wall and stairwell that used to descend onto a sandy beach, but now leads into the ocean.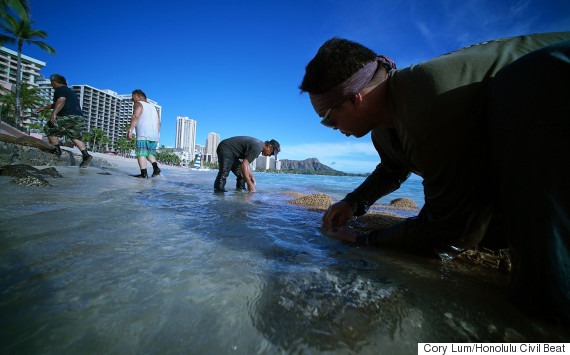 An unusual southwesterly swell in recent months has caused several yards of the beach to erode, say scientists. The sand has been pushed toward Diamond Head and the hope is it will eventually return. But the situation highlights the ongoing problems that Waikiki has had for decades since developers began building too close to the shoreline in the late-1800s.
The resulting erosion prompted property owners to erect seawalls and groins to protect their properties, which only eroded the beach more. Major dredging and sand removal to fill in natural wetlands and for use in construction in the first decades of the 20th century have also contributed to the erosion.
In 1909 workers dredged sand to fill in wetlands that would become Fort DeRussy, and a few years later the military cut a wide channel in the reef to bring in a 69-ton artillery gun. The results to nearby beaches were devastating as sand was swept through the hole in the reef.
"What had been a glorious beach -- which no other beach on earth could touch -- was nothing. Property owners lost anywhere from ten to thirty feet of their ocean frontage," wrote Kinau Wilder in the "Wilders of Waikiki." "Everyone was forced to put up seawalls to keep from losing their houses as well. Instead of running from the grass right on out to the ocean, we had to go down slippery steps to a miserable little strip of sand which, during certain months, was non-existent."
To combat the erosion, enormous amounts of sand have been trucked into Waikiki over the years, mainly from other areas on Oahu and Molokai. Very little if any of the sand that now makes up Waikiki is natural, according to reports. Records are spotty, so it's difficult to discern where all the sand came from, but there are reports of it coming from places like Waimanalo, Kahuku and, possibly, Waimea Bay, said Eversole.
Records compiled by Robert Wiegel, an engineer at the University of California at Berkeley, suggest that the majority of sand was trucked to Waikiki in the 1950s through the 1970s. The reports detail some 380,000 cubic yards of sand being placed on Waikiki beaches, or enough sand to fill 116 Olympic-sized swimming pools.
The sand mining caused its own erosion problems in the areas it was being taken from, and the state outlawed the practice in the mid-1970s.
"You are robbing Peter to pay Paul," said Fletcher, of the sand mining. "We can't do that anymore."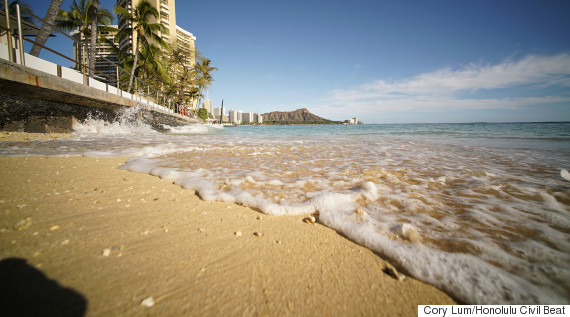 The state has only recently revamped efforts to replenish sand on Waikiki, including the most recent 2012 project. But piping sand from offshore comes with its own challenges. For instance, it's not clear if there are enough deposits offshore of Waikiki to keep the supply coming.
"Sand is a scarce commodity," said Fletcher. "It is not actually clear where the sand is going to come from. There's not that much sand out there."
Eversole said that there is a sand deposit offshore of the Reef Runway at the Honolulu International Airport that could help supply Waikiki sand.
Buying Time and Facing Flooding
For tourism officials, there is no question about the importance of Waikiki to Hawaii's economy. If all of Waikiki Beach were to erode, the state would lose about $2 billion in visitor expenditures annually, according to a 2008 report from the Waikiki Improvement Association.
The report, which surveyed tourists, found that 58 percent of mainland and western tourists wouldn't stay in Waikiki if there was no beach, compared to 14 percent of Japanese tourists.
And while tourist numbers have remained strong so far, Waikiki could start seeing less repeat business. A recent survey by the Waikiki Improvement Association found that 12 percent of Waikiki tourists said they wouldn't come back because of the small, overcrowded beaches.
"One of the major complaints is that there is not enough space on the beach," said Egged.
But with global warming threatening to raise area sea level by a foot by mid-century, are local officials just staving off what will inevitably be the complete loss of Waikiki Beach?
John Marra, a climate change scientist with the National Oceanic and Atmospheric Association, said it's a real possibility, not just because the sea level is rising but because severe weather events are increasing in frequency.
Pumping sand from offshore should work for the near future, said Marra, but "there's probably a certain point where it isn't going to be enough to stay ahead of the game."
"Could it happen by 2050? Yeah. Could it happen sooner? Yeah," he said.
Egged said that while that may be the long-term reality, for now it makes economic sense to battle the problem.
"I can tell you that we are very concerned on an ongoing basis and we want to do everything we can to protect the shoreline and the beaches," he said. "If that becomes unmanageable at some point, we will just have to address the choices at that time. I don't see that as happening in the real planning horizon. For the next 10 years, I feel pretty comfortable -- beyond that, I'm not sure."
The rising ocean and loss of beach isn't the only threat to Waikiki from global warming, however. Waikiki rests only 2 feet below ground level, noted Marra. And as the sea level rises, so does the groundwater table -- a situation that is already causing water to occasionally spew out of stormwater drains and flood the roads fronting Waikiki Beach.
Over the last three years, there has been flooding at the Honolulu Zoo, Royal Hawaiian and Hilton Hawaiian Village, as well as streets on the Ewa end of Waikiki where there has been as much as 2 feet of standing water, noted Fletcher.
It's a problem Miami is already grappling with at a cost of $400 million over the next five years. The city is installing up to 70 pumps that will send the water back out into the ocean. Fletcher said that Waikiki could be facing a similar scenario.
"These are important problems that are going to increase," he said.
Related
Before You Go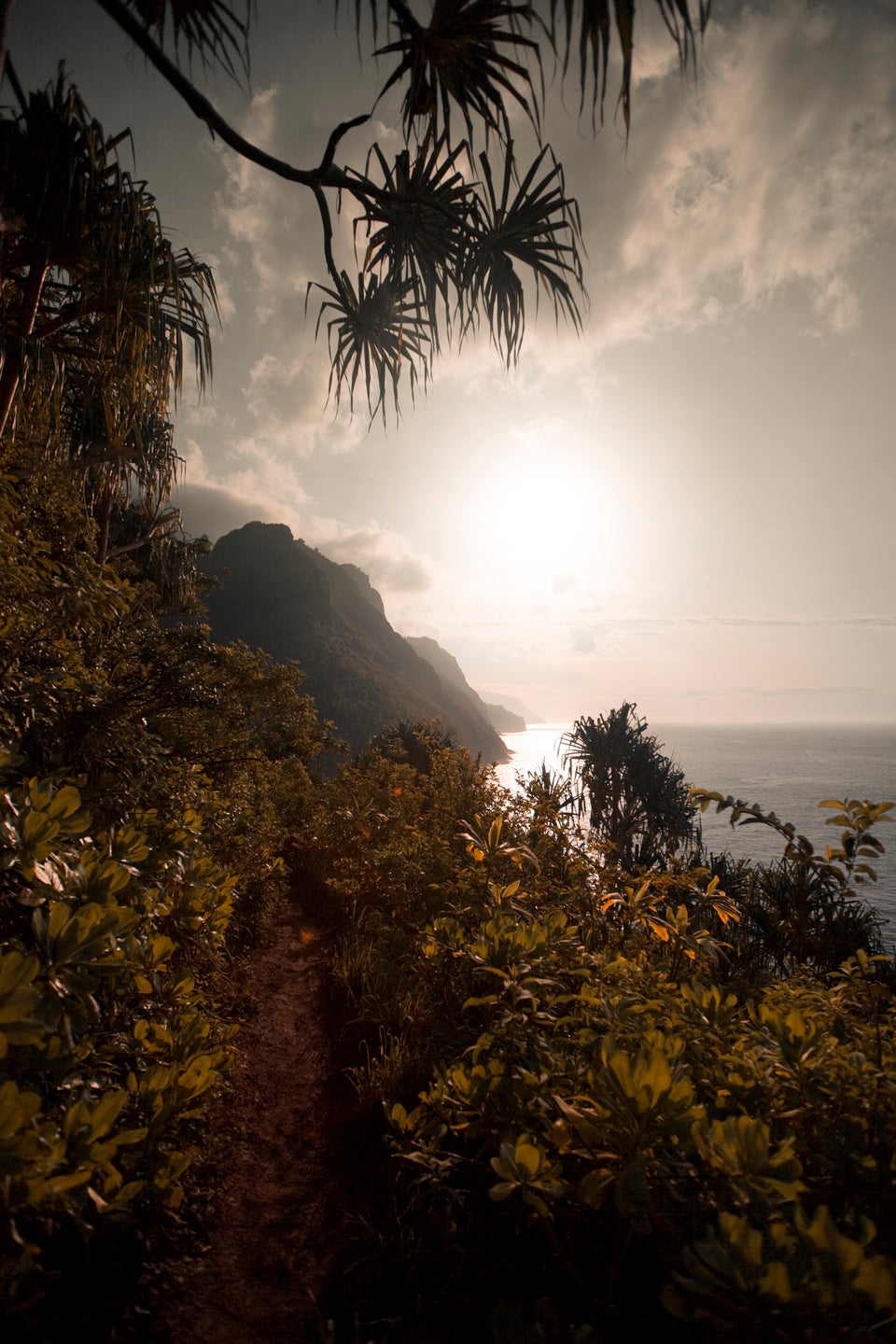 Hawaii In Photos