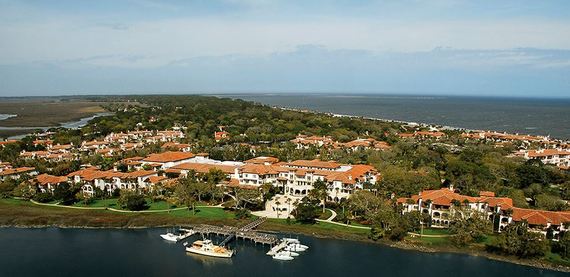 Georgia's private Sea Island will open to the public for its first-ever festival of Southern food, beverages and music. The three-day festival beginning June 19 will take place within the various resort properties that comprise the exclusive Sea Island resort complex. The Southern Grown Festival will showcase bourbon and barbecue, as well as the distinctive seafood and traditional foods of the South. Participating chefs are a who's who of Southern chefs and mixologists, including Vivian Howard of the PBS series, A Chef's Life, and chef owner of Chef and the Farmer and the Boiler Room in Kinston, N.C.; Scott Crawford of Standard Foods in Raleigh, a three-time James Beard Award semi-finalist; Steven Satterfield, James Beard Award nominee and author of Root to Leaf, A Southern Chef Cooks Through the Seasons; as well as many other renowned chefs.
The weekend includes art displays, a select vendor showcase, and musical entertainment by the Avett Brothers, the Wood Brothers, and Sol Driven Train. Daniel Wallace, author of the bestselling novel Big Fish, will spin tales at the Big Fish Fry on Rainbow Island, while Tom Bulleit of Bulleit Bourbon will talk about distilling at the late-night Speakeasy event. A "carnival-style" culinary village will surround the headlining Southern Grown Concert on the Oceanfront on Saturday night with headlining act the Avett Brothers.

Although this is the first festival of its kind at Sea Island, organizers hope Southern Grown will exhibit the distinctive culture of the South from the formal, to the casual, and everything in between. "Southern Grown truly reflects Sea Island's gracious hospitality and charm and celebrates the very best that the South has to offer," said Scott Steilen, president of Sea Island.
Head on over to Nashville on June 20 for Taste of Music City held at Public Square Park. Title sponsored by Nissan, Taste of Music City's charitable beneficiary is The District, a nonprofit organization dedicated to preserving and revitalizing historic areas of Nashville. More than a dozen local eateries will provide small tastes of such Southern specialties as biscuits, barbecue and bundt cakes. Beverages will be provided by Blue Chair Bay and Cayman Jack, Yazoo Brewing, Jack Daniel's, Arrington Vineyards, Hap and Harry's. Now in its 13th year, Taste of Music City is a bargain with its all-inclusive, one price admission for a day of food and entertainment in the Music City.
The Louisville Water Tower is the site of the Blues, Brews and BBQ festival July 10-12, 2015. This family-friendly event is easy on the wallet, with entry prices starting at only $12 for one-day and $30 for a three-day adult pass, with children 10 and under free. Food stations are set-up throughout the festival for sampling pulled pork, sliced beef and smoky ribs prepared in such styles as St. Louis, Texas, Southern and Northern, each one delectable in its own distinctive way. While guests are enjoying the beer and the barbecue, the bands are playing New Orleans and Memphis blues. Visit the Blues, Brews and BBQ festival website to get the latest updates on band schedules and BBQ purveyors.
Take a break on the shores of Mississippi River at the Natchez Food and Wine Festival where an array of the region's most prominent chefs, brewers, distillers and mixologists come together for three days of culinary adventures. The festivities begin on Friday afternoon with the homespun Mae Holyoak and Friends Lemonade Stand in front the Natchez Convention Center, a fundraiser to support the Natchez Adams County Humane Society Shelter. Later on Friday night the Convention Center is lit up for Tastings Along the River, where 700 guests mingle and munch among the dozens of renowned chefs and vendors.
Saturday festivities begin with Chef John Folse, author of The Encyclopedia of Cajun and Creole Cuisine, presenting a four-course historical luncheon with wine pairings, followed by a cheese tasting at the Castle Restaurant on the grounds of historic Dunleith. A craft beer tasting and educational session takes place in mid-afternoon at the Rolling River Bistro Listening Room. Bowie's Tavern overlooking the Mississippi River and the walking trails along the bluff is hosting a family-friendly event called Burger, Blues, Bocce, with Fat Cow sliders and brews from Tin Roof, Southwest Distributors, Lazy Magnolia and Stokes Distributors. Dinner features on Saturday night will prove tough to choose from, as four of Natchez's historic mansions will host guest chefs to prepare dinners to satisfy serious and budget-minded gastronomes. Sunday closes the festival with a Champagne Jazz Brunch at the Carriage House Restaurant boasting an impressive list of award-winning chefs from throughout the region.
The Beer, Bourbon and BBQ Festival franchise hits Cary, N.C. for a weekend of all-you-can-drink samples for a single ticket price. Those wanting to feast on barbecue will pay extra for generous servings from local purveyors of this Southern specialty. The Beer, Bourbon and BBQ Festival promises 60 beer and 40 bourbon vendors on site. Some of the perks guests can expect include pork worship at the source with The Shrine of Swine roasting a new pig every hour on the hour; seminars in the Tasting Theater with master distillers, brewmasters, and pit masters; vendor exhibits of brewerania, hot sauces, barbecue accessories; a cigar tent; a free tasting glass, plus the first 100 guests in line for each session receive a free collectible Beer, Bourbon and BBQ T-shirt. The Cary Classic BBQ competition will smoke out the winning flavors from local pit masters and amateur grillers. Live rock, blues and bluegrass happens throughout each day on the festival main stage, headlined by the Daisy Dukes and Boots Girls.
The annual Asheville Wine and Food Festival runs August 20- 22, 2015 at various locations throughout the town. Two pre-festival events, Amuse and Essence, took place during May and June, with winners of those competitions stepping up to participate in events throughout the main festival. The festival kick-off event happens August 20 with Elixir, a competition to select which chefs and mixologists will rise to the next level of competition. A gathering of renowned pastry chefs will offer samples of desserts and wine on August 21 during the Sweet event.
The centerpiece of Asheville's Wine and Food Festival is its "Grand Tasting: A Culinary Circus of Food, Wine, Beer, Spirits, Competitions, Music and Fun." Held at the U.S. Cellular Center, the Grand Tasting features hundreds of local and international wineries, local breweries, regional distilleries, restaurateurs and chefs, farmers, and artisan food producers. Culinary events and winemaker competitions will take place throughout the Grand Tasting. Vendor booths featuring farmers, chefs, cookbook authors, artisan beverage makers, crafters and nonprofit organizations provide additional opportunities for guest education and enjoyment. Last year's festival drew more than 4,000 guests over the three-day event.
Virginia is home to the first vineyard ever planted in the New World and is undergoing a renaissance of winemaking as celebrated at the annual Epicurience Virginia festival running September 4-6, 2015. Several wine tasting and educational events occur at Loudoun-area vineyards throughout the festival, but the Grand Tasting at Morven Park on September 5 is the crown event. Notable chefs from around the country will be on hand to provide samples of farm-to-fork cuisine paired with local wines. Master winemakers and tastemakers will offer educational sessions and demos. A vendor showcase will provide guests with opportunities to purchase wines, foods and other culinary and craft products. More information about Epicurience will be available on their website soon.