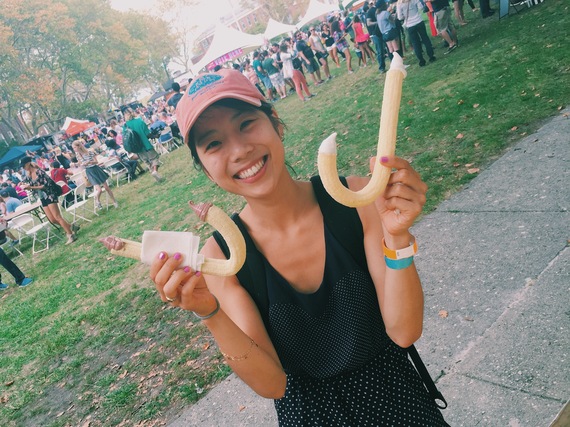 Known as the "Oscars of Street Food" that celebrates tasty roaming meals, desserts, and drinks in New York City, the Vendy Awards also doubles as a fundraiser for the Street Vendor Project, a non-profit organization that stands up for vendors' rights. This year's Vendy Awards featured 25 food trucks competing for five distinct awards: Vendy Cup, Rookie of the Year, Best of Market, Best of Dessert, and Best Street Drink. The 25 finalists were selected by public nominations prior to the event, while the winners were chosen by a panel of celebrity judges, including my personal favorite, the adorable and the ever-so-hungry @FoodBabyNY.
And without a further ado, this year's Vendy Awards goes to...
Vendy Cup: Snowday Food Truck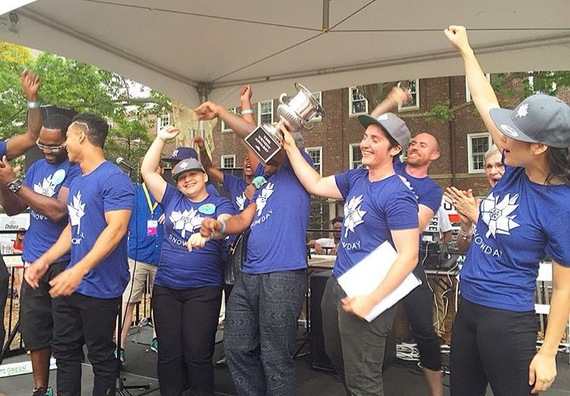 Last year's Rookie of the Year came back for the big win! The name "Snowday" is somewhat of a misnomer because there is no ice involved; instead, Snowday is the city's first farm-to-truck food truck that serves maple syrup-inspired foods made with ingredients sourced from local farms.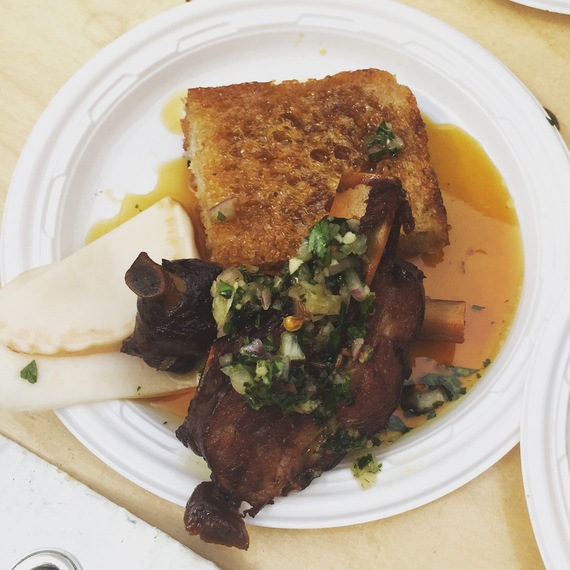 Snowday tantalized the attendees with its famous maple grilled cheese with a side of fried smoked pork rib. The plate was topped with a generous pour of maple syrup and maple chimichurri. Personally, the dish was a bit too heavy for my liking, but what really stood out to me about Snowday is that it is run by Drive Change, a New York-based organization that trains and employs formerly incarcerated youth in the hope of helping them access new opportunities and live bright futures.
Rookie of the Year: Coney Shack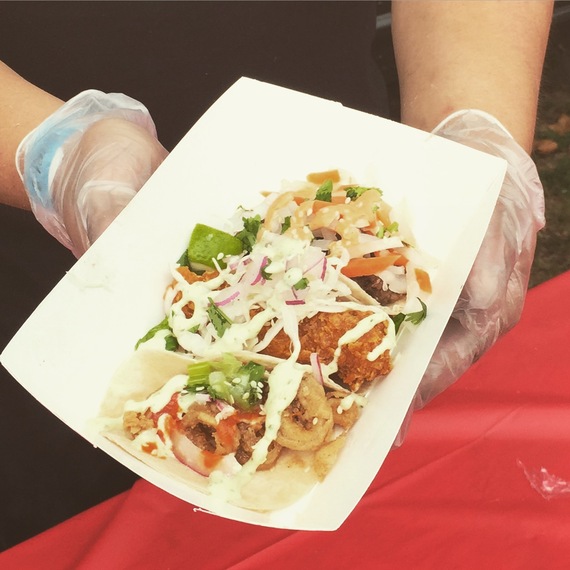 Boasting a five-star (out of five) average rating on Yelp, Coney Shack recently branched out to feed the hungry Manhattanites from its original location on Coney Island. Coney Shack fuses the flavors of Southeast Asian cuisine with favorite beach bites like tacos, hot dogs, grilled cheese, and quesadillas. The offering at the Vendy Awards included a trio of tacos: Vietnamese Beef Short Rib, Beer Battered Crunchy Fish, and Five-Spice Calamari. The tacos were topped with crunchy cabbage slaw, lemongrass aioli, pickled daikon, cilantro, and spicy mayo...just to name a few!
Best of Market: Home Frite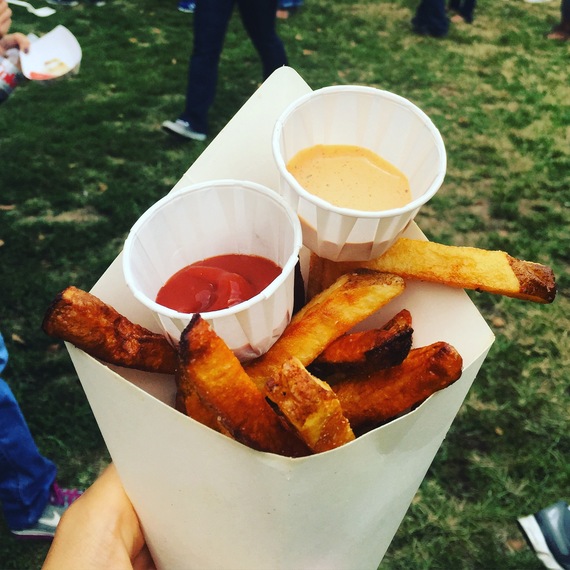 Home Frite has mastered the art of perfect fries with its thick, hand-cut Russet potato fries that are crispy on the outside and fluffy on the inside. The beauty of these frites is its simplicity. Seasoned with just kosher salt, you can go as simple or crazy as you want by topping them with unique dipping sauces like Herb Ocado, Lemon Garlic Aioli, or Curry Ketchup. Either way, you got yourself a satisfying snack served in a cone so that you can walk around while you eat.
Best of Dessert: Doughnuttery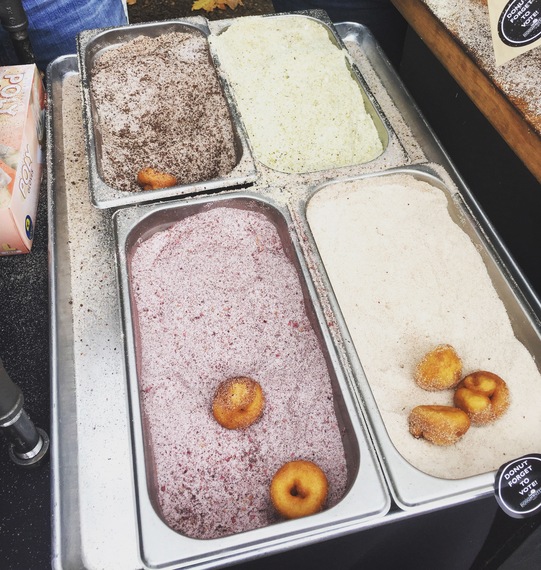 You often see people cutting a whole doughnuts into little pieces, either because they want to have the glazed, chocolate-covered, and rainbow sprinkle doughnuts all at once without feeling the guilt, or because they just crave that bite-sized portion. Doughnuttery has found the solution to this problem by producing small cake doughnuts that pack an incredible amount of flavor in its sugary toppings. These hot, fresh mini cake doughnuts are fried to golden brown, and then rolled and coated in unique sugar mixes like Paris Time (lavender, pistachio, vanilla) and Flower Power (hisbiscus, honey, rose petals), as well as classic favorites like cinnamon sugar.
Best Street Drink: Renegade Lemonade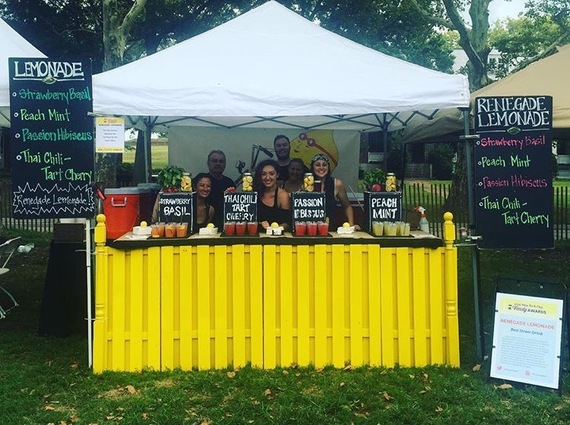 Say goodbye to your plain, boring lemonade! Renegade Lemonade specializes in this classic summer beverage packed with unique and creative flavors. Try flavors like strawberry basil, peach mint, and Thai chili tart cherry, which are all made with real fruit and herb. They are sure to quench your thirst, while giving a little kick to your taste bud.
-----
While the judges voted on the above food vendors as the "best of the best," my personal favorite among the finalists were...
Savory Favorite: Shuka Truck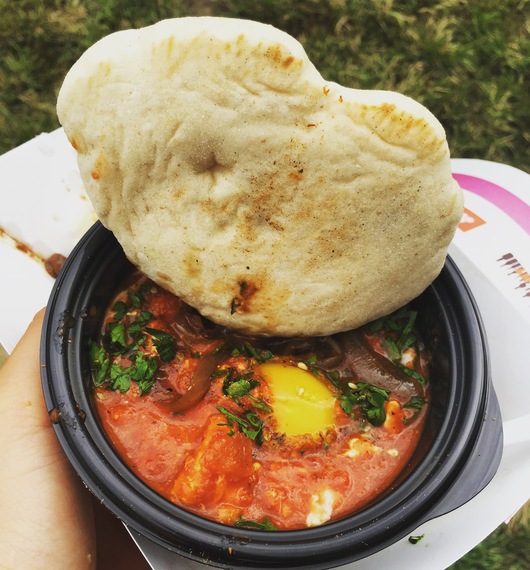 Shuka Truck serves savory shakshuka, an Israeli dish made with poached eggs in tomato sauce, which is perfect for breakfast, lunch, or dinner. This hearty bowl of red shakshuka included a perfectly poached egg in fresh tomato sauce with charred onions and roasted bell peppers, and topped with feta cheese, fresh parsley, harrisa, and a drizzle of sweet honey. You will be scraping the last bit of the sauce with the freshly baked pita bread on the side.
Sweet Favorite: Booqoo Beignets
Just close your eyes and take a bite into this fluffy, powder-sugared beignet from Booqoo Beignets. You will hear the tunes of jazz music in your ears as though you have been teleported to New Orleans. These French-style fritters made from yeast dough are perfectly crispy on the outside, fluffy and chewy on the inside, and buttery all around. Even better, these beignets are made with unbleached flour, cage free eggs, organic dairy products, and all natural ingredients. You can dip them into unique caramel dipping sauces that highlight classic New Orleans and southern flavors, such as praline, chicory coffee, and creole vanilla.
Sweet Favorite: Squish Marshmallows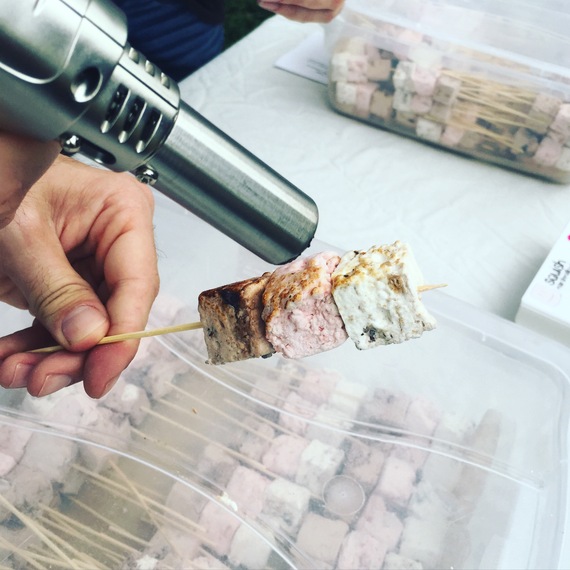 Squish Marshmallows takes this campfire favorite to a whole new level. These small-batch, hand-cut marshmallows are made from scratch and infused with unique flavors to fulfill every palate from childhood favorite combinations to sophisticated, grown-up confections. When you bite into this Neapolitan Squish Kebab, you will taste the flavors of real s'mores, peanut butter and jelly sandwich, and rocky road ice cream...minus the textures, of course! Each bite packs real ingredients that highlight the flavors, such as chocolate chunks, real strawberry, honey wheat pretzels, and cinnamon graham crackers.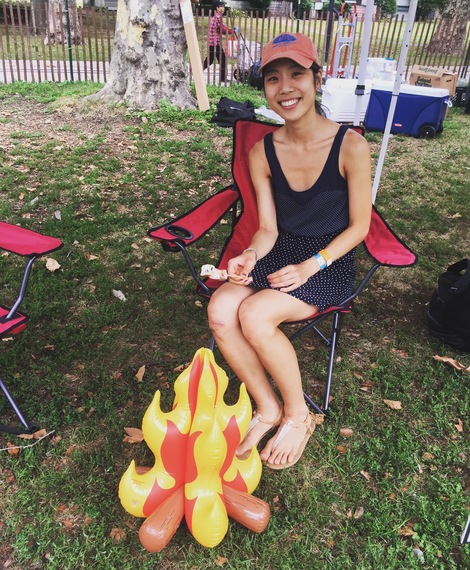 Don't forget to add a torch of fire to roast the marshmallow for that perfect gooey taste...or you can do-it-yourself over this inflatable fire!