Sablés are delicate, sweet or savory, butter-laden crisps. (The name, from the French word for sand, refers to the crumbly texture of the cookie/cracker.) This version would be a simple, elegant appetizer with cocktails or for a dinner party and a nice savory for an afternoon tea. Much less expensive than all-butter treats from a bakery or gourmet store, these sablés are not complicated to make. Plus, you can prepare dough the night before (or even earlier), simply cutting and baking the crisps when you want them.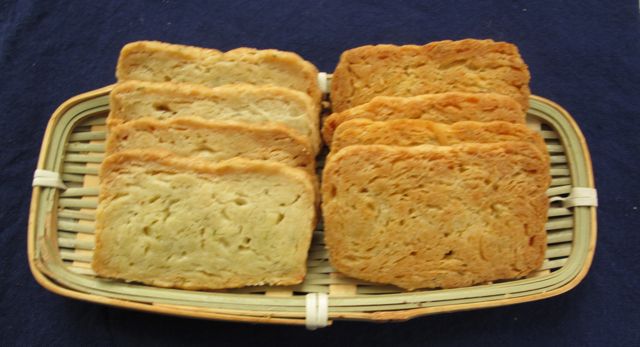 I made these delicacies as part of Abby Dodge's Baketogether group, an online baking community. Abby is a well-known baker and cookbook author. Using a recipe Abby chooses each month as inspiration, group members take the concept in different directions. She provides advice, encouragement, and support; it's a fun way to experiment with recipes I might not otherwise have noticed or tried. In this case, the recipe took me in a savory direction, when my normal inclination for baked goods is always to head to the sweet.
Looking out my kitchen window, I realized that the chives growing on my deck look enticing.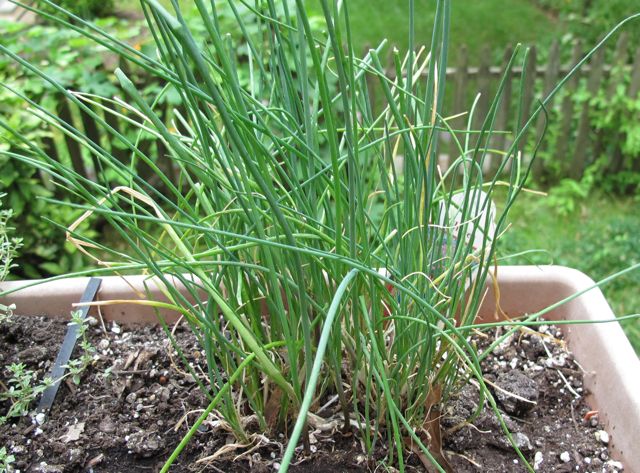 With a log of goat cheese in the freezer, the chives on my deck, and Dijon mustard in the refrigerator, I had my own take on sablés in hand. The MotherWouldKnow version followed the pattern of many recipes in my house -- look around and figure out how to proceed without a trip to the store.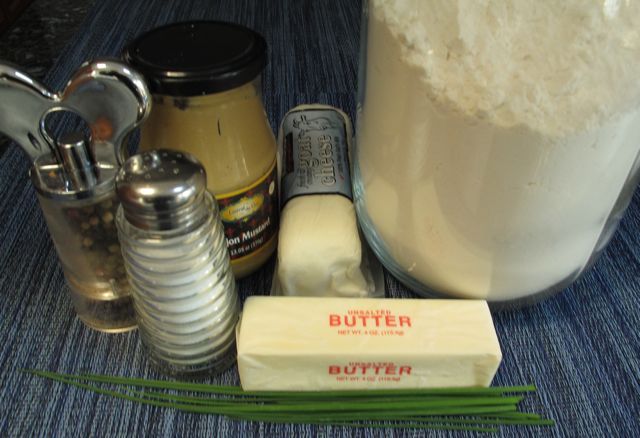 Notes:
If you follow my lead and use a soft cheese such as a goat cheese log, freeze it to a crumbly consistency. Harder cheese like parmesan or cheddar works fine at refrigerated temperature, but goat cheese is sticky unless frozen.
The easiest way to cut chives is with a sharp pair of scissors.
You need a something with a flat edge to shape the log. Abby suggests a bench scraper. If you don't have one, a metal spatula works well, and even a strong plastic one will do.
It is best to use a ruler to measure the log when you cut it, so that you can cut the slices evenly.
The dough must be well chilled to cut it into individual slices. Work quickly or re-chill if it starts to get sticky.
Goat Cheese, Chives, and Dijon Mustard Sablés
Servings - 29 Sablés Cost - Less than $3.00
Ingredients
1⅓ cups (6 oz) all purpose flour
½ cup (2 oz) goat cheese, frozen and crumbled or cut into small pieces
½ teaspoon table salt
1 heaping teaspoon chopped finely chives
¾ teaspoon Dijon (French-style) mustard
freshly ground black pepper (I used 3-4 turns of pepper mill)
8 tablespoons (4 oz) well chilled and cut into 7 or 8 slices
2 tablespoons + 1 ½ - 2 teaspoons very cold water (add ice cubes to cold tap water)
Equipment
Food processor
Scale (for flour & cheese)
Measuring spoons
Scissors (to cut chives)
Sharp knife
Metal spatula
Ruler
Plastic wrap
Cookie sheet
Parchment paper or silpat mat (see below)
For step-by-step directions (including pictures), click here.