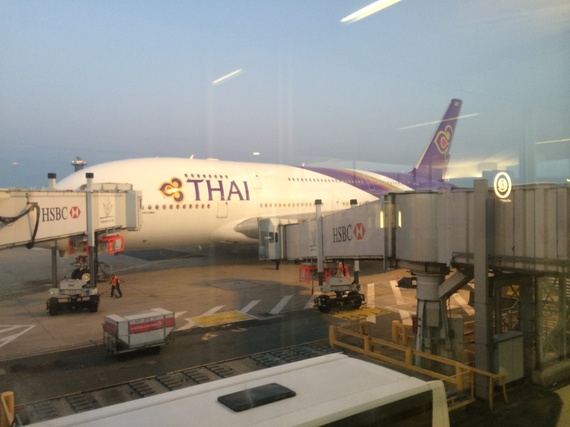 Admit it, when you hear "Thai," some part of you thinks of getting a massage. If you're flying Thai Airways First Class from Bangkok, in addition to superb ground handling and an excellent lounge, the Royal Orchid Spa will also sort you out with a 60-minute full body massage to assure that you're nice and relaxed before you climb aboard your big metal bird.
The Thai First Class Lounge at Bangkok (BKK) is perennially in the conversation for the top lounge in the world. If you are arriving in Bangkok and connecting to a Thai First Class flight, expect to find an airline employee waiting for you with a placard bearing your name. From there, you'll be escorted to a golf cart done up in Thai Airways colors and driven to the transfer security check, whisked through there and personally walked to the first class lounge. If your trip is originating in Bangkok, you will enter door #1 at BKK and go to the dedicated Thai First Class check-in area, where you'll receive a cold towel and beverage, while you lounge in a comfortable chair as the staff complete your check-in. From there, a Thai employee will escort you through the private security line reserved for Thai Business and First Class passengers. The lounge itself is spacious and rarely crowded. If you reserve early, there are "living room" like private spaces that you can settle into for the duration of your time in the lounge. Once you've gotten started on drinking as much free Dom as you can handle, an attendant will bring you an iPad with the a la carte dining menu...we strongly recommend the club sandwich.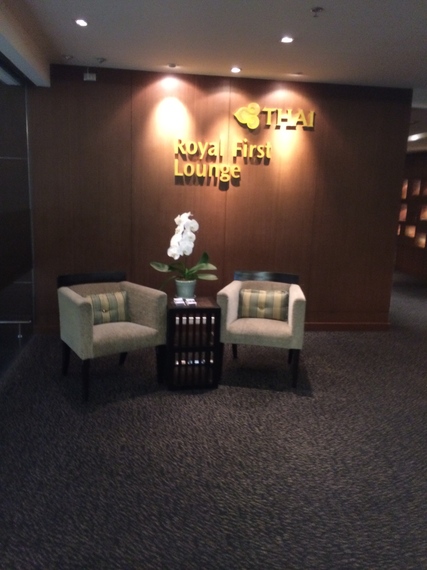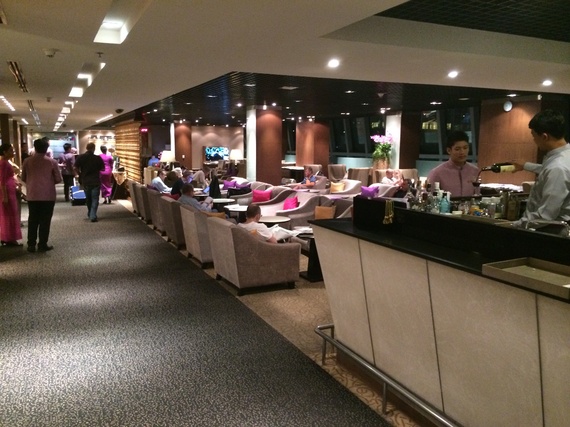 While the lounge itself is phenomenal, the best perk about flying Thai First ex-BKK is the spa. All Thai First Class passengers are entitled to a 60-minute full body massage in the Royal Orchid Spa. After you've been worked over and relaxed, there's a great shower area to freshen up before your flight.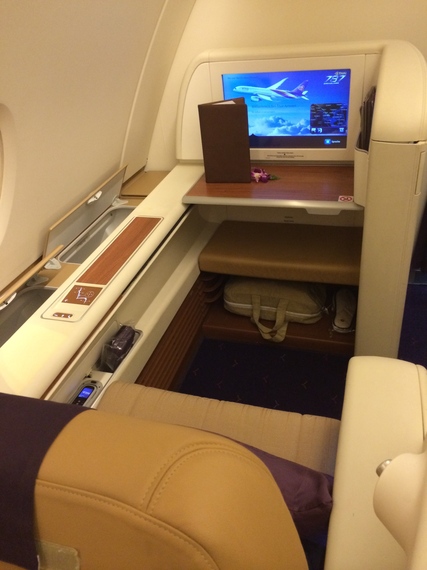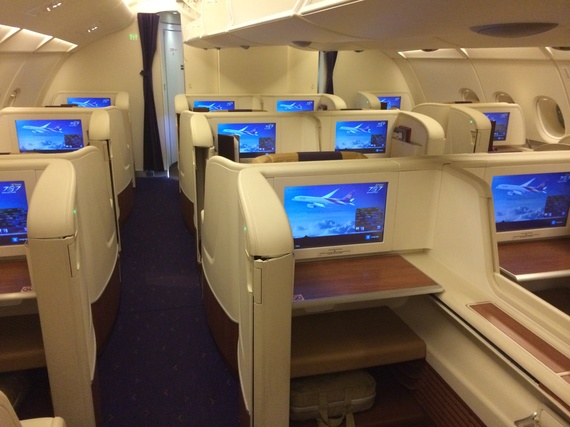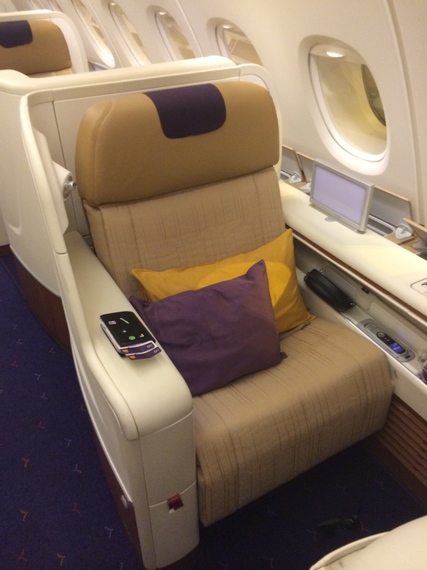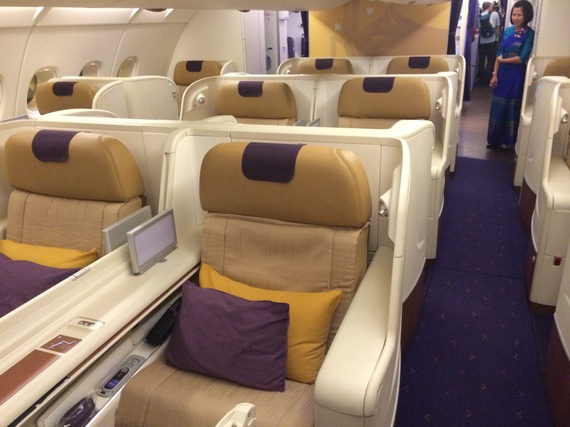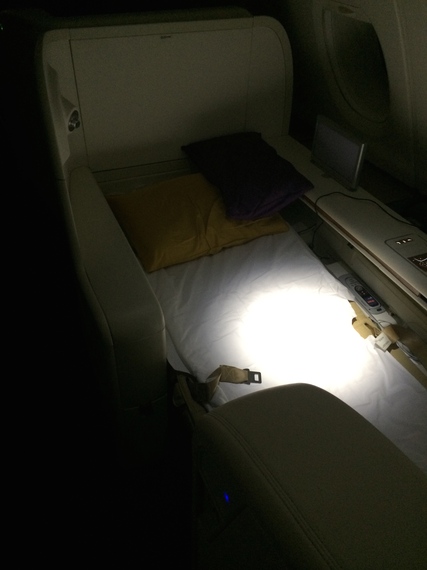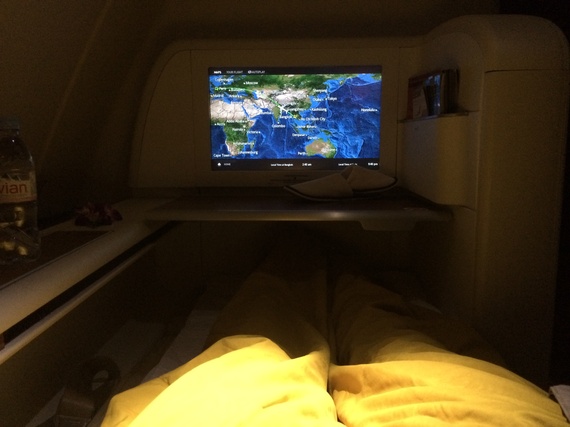 The seat is nearly perfect, and I truly grappled with whether or not to award it the full 5 stars. My one minor gripe is that the seats do not have closing doors. There is still a very substantial amount of privacy with the A380 first-class seats, and I know some passengers get claustrophobic and prefer the feel of an open cabin; but I personally prefer the seclusion of having a closed off little room in the sky. Almost everything else about the seat is perfect. There is an enormous in-flight entertainment screen, with a shelf below it to put your feet up and store any items you'd like to keep handy. If you're traveling in a window seat, there's an almost comical amount of storage space in between the seat and the window and on top of that, the forward privacy wall of the seat has a built in mini-closet for you to hang any clothes you need to keep unwrinkled. The seat controls are intuitive, and after the turndown service, the Thai A380 first class seat folds down into one of the most comfortable beds you will ever experienced aloft.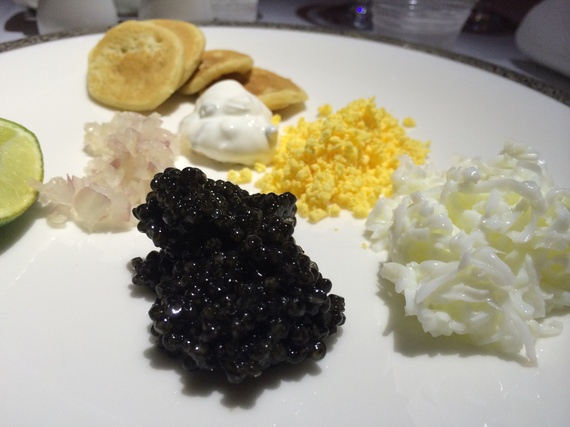 Flying Thai is always somewhat of an inconsistent experience. It seems like the management of the airline can't quite decide if they want to truly try to compete with Singapore, Cathay and the other top dogs in the premium air travel game, or if they're happy to be more like the Air Chinas of the world. This frustrating indecision is always on display when it comes to the food and beverage offerings on Thai. On one hand, there is free flowing Dom Perignon and caviar. After Thai gets your hopes up with the flashy champagne and caviar service however, they do an abrupt 180 and often regress to cuisine that looks like it should be served in the economy cabin of a mid-tier carrier, not the first class section of an airline with aspirations of being one of the best in Asia. This meal was no exception.
Is Thai the best airline in the world? No. Is Thai the best airline in Asia? No. However, Thai is a great airline, Thailand is a great country to visit, and even if the experience ends up being a little bit uneven, I have never regretted a flight with Thai Airways. Thai's ground handling of first class passengers is second to none, the lounge is excellent, and the free massage is a unique perk that trumps just about any other freebies out there. Thai's cabin crews are always very friendly, even if they may sometimes seem a bit lost. You won't confuse Thai with Singapore Airlines anytime soon, but the A380 offers a fantastic hard product and when it comes down to it, you're really flying first class to get a comfortable night of sleep, not have a great meal...you can save that for your destination.