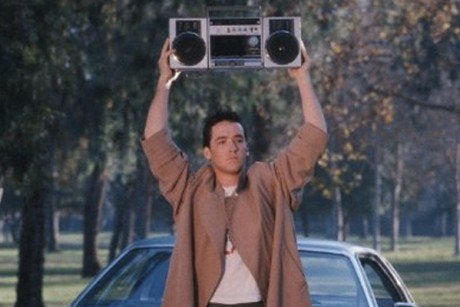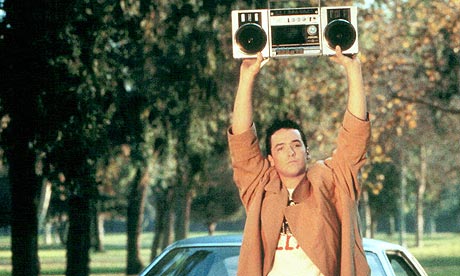 2012 could be the breakout year for fan fiction. After all, what is the film The Avengers but a $200 million fantasy league? Remixes and mashups of public domain titles remain popular. And, of course, the Twilight fan fiction origin of erotic bestseller Fifty Shades of Grey is well known.
While we've come to expect superhero, wizard and vampire characters to lead immortal lives -- through official sequels, reboots, and unofficial fan-created sex romps -- what about a subtle romantic comedy loved by Generation X and starring a young John Cusack? What, for example, happened to Lloyd Dobler and Diane Court after the "No Smoking" sign turned off at the end of Cameron Crowe's 1989 film Say Anything?

That's the question a group of authors from the Brooklyn Writers Space will ask during a reading on May 19 at Book Court in Brooklyn.
Weaving together the loose narrative ends of Say Anything that night will be new work from Terence Degnan, Heidi Schreck, Amy Sohn, Kate Cortesi, and Jim Hanas. I spoke with Hanas, the event organizer (and, full disclosure, an editor at Joyland), about the importance of Say Anything to his generation and how fan fiction is changing.
Brian Joseph Davis: Why has Say Anything been attached to two generations as a key text? Is it because there actually aren't a lot of films that could be called The Graduate for the Lollapalooza years?
Jim Hanas: I think it managed to offer the perfect mix of John Hughes allegory and Amy Heckerling-style social realism. The high-school movies after that veer toward Porky's. I know there's an American Pie reunion movie out, but does anyone care? Plus, John Cusack circa 1989 is one of the most dreamy/accessible males leads, maybe ever.
BJD: If you watch the deleted scenes you can actually see that Crowe originally had planned a "big idea" film about teenagers and -- through the John Mahoney plot -- the elderly, but what it ended up being was this simple romantic film. Even still, the film is on the subtle side compared to most things that get the fan-fiction treatment. What was the initial response to the idea of a reading night like?
JH: I'd been thinking about fan fiction and wondered what it would look like if it was taken out of genre and applied to something else. Say Anything -- and its open-ended conclusion -- seemed like a perfect launching pad for Gen X and Gen Y literary writers (so-called). I conceived of it as an anthology, but knew the rights would be a nightmare. Then I mentioned it to Scott Adkins, who runs the Brooklyn Writers Space, and he suggested we make it a reading.
BJD: I think you could do this as a print anthology and maybe skate past the copyright issues but probably not. Could simple commercial licenses for fan-created works fly?
JH: Perhaps Cameron Crowe could crowdsource a sequel, starting with the reading. He told EW last summer that the film "is the only story that I kind of think there might be another chapter to that at some point."
The event is May 19, 6PM at Book Court bookstore. Free. More info here.
Popular in the Community