Roadtrip to Asheville in the Chevrolet Bolt Ev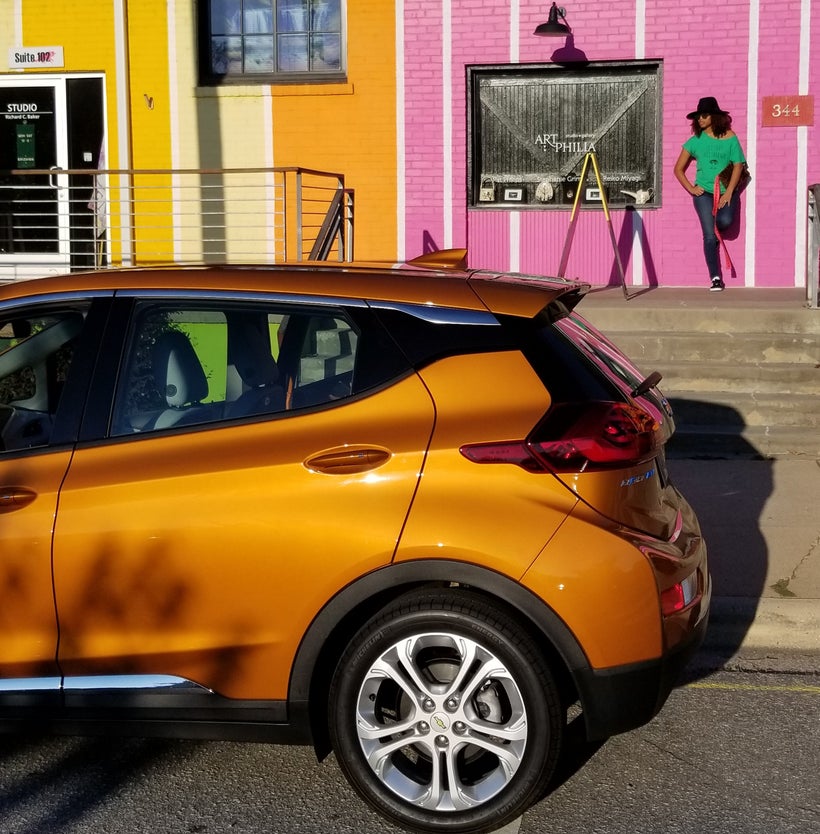 Range anxiety... a pressing, nagging, sweat bead provoking ball of horror, trapped in the pit of your stomach. No matter how confident you are in your vehicle, the fear of running out of power before getting to a charging station is an all too familiar feeling for owners of electric cars.
Cut to the 2017 Chevy Bolt EV. Chevrolet's answer to range anxiety is the 238 mile range Bolt EV. The all-electric vehicle serves notice to the Nissan Leaf and the BMW i3 in more ways than one. When compared to the Leaf, the Bolt gives you 60% more range for only 20% more money. The Bolt EV's 0 to 60mph time of 6.5 seconds blows away its BMW competitor, which comes in at 7.2 seconds. Woooaaa mamma!
Chevrolet East Coast Communications Manager, Joe LaMuraglia, on the Bolt EV: "It's an awesome EV, but it's an awesome utility vehicle too. It fits an active lifestyle. You want to go kayaking on the weekend, you want to go skiing, you want to go backpacking? This is a car that will fit that lifestyle as well."
My bestie and I, were able to drive from Atlanta, Georgia to Asheville, North Carolina on a single charge. Can you believe it? (Make sure you don't speed or blast the air-conditioner for too long. As this will impact your mileage range.) During the drive there and back, my all time favorite feature was the Bolt EV's one pedal driving. Once I got the hang of it, the feature became invaluable.
What is "one-pedal" driving you ask? It is a pretty cool feature that companies like BMW, Tesla and now Chevy put in their electric cars. When a driver lifts off the accelerator pedal, the car automatically slows down. Beware. The slowing associated with lifting off of the accelerator happens quite a bit more quickly in an electric one-pedal enabled vehicle than it does in a gas-powered car. As a matter-of-fact, the car will eventually slow to a complete stop, regenerating much needed energy that could increase your range. I loved this feature because I didn't have to do a thing. The Bolt did it all for me.
Here are a few note worthy features of the Bolt EV:
238-Mile Battery Range: Chevy's first all-electric vehicle offers an EPA-estimated 238 miles of range on single battery charge.
Regen on Demand: With just a simple pull of the paddle on your steering wheel, you're able to slow down without using the actual brake pedal. This helps convert energy into more electricity and then transfers it back to the battery.
One Pedal Driving: When in "Low" mode at any speed, you can slow down and come to a complete stop by simply lifting your foot off the accelerator. This feature helps you transfer energy back to the vehicle battery instead of losing energy when you break.
Surround Vision: A Chevy first, this available feature uses four strategically placed cameras to create a virtual bird's-eye view of the vehicle while maneuvering at low speed, all camera viewpoints seamlessly merge to helping you to see both the area behind and around you.
Apple CarPlay/Android Auto: New phone Integration features available on select MyLink infotainment systems are CarPlay and Android Auto. Both applications enable phone users to display certain apps and functionality from their phone on the vehicle's infotainment display, allowing them to control those apps and functions via the vehicle's infotainment system touchscreen or voice commands.
4G LTE WiFi: Enables drivers to explore new features like a built-in Wi-Fi hotspot capable of pairing up to seven devices, as well as improved access to existing OnStar safety and security services.
myChevrolet Mobile App: The myChevrolet Mobile App turns your mobile device into a virtual command center, giving you seamless control of your vehicle — even when you're nowhere near it. Some of the impressive commands the app allows you to make are: start and shut down your vehicle, lock and unlock your doors, active your car's horn and lights, send parking reminders and more!
All-in-all the Chevrolet Bolt EV was a great drive. If you are in the market for a city car, or an electric car, I recommend that you strongly consider the Chevrolet Bolt EV. It's range, interior size, and versatility as a small SUV out paces its competition.
REAL LIFE. REAL NEWS. REAL VOICES.
Help us tell more of the stories that matter from voices that too often remain unheard.
This post was published on the now-closed HuffPost Contributor platform. Contributors control their own work and posted freely to our site. If you need to flag this entry as abusive,
send us an email
.