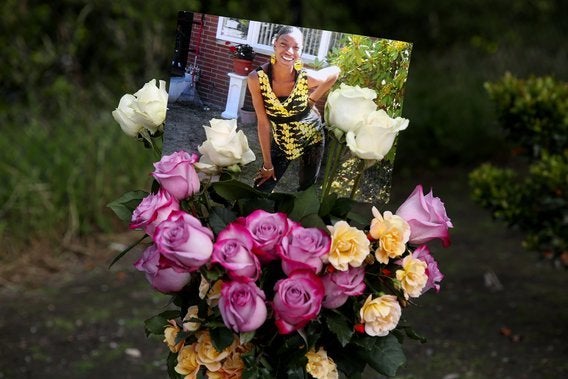 It has become far too normal to turn on the news and see another black life taken by the hands of the police in the United States of America. These questions run through my mind as an African American woman, mother, and grandmother. Why? When does the killing stop? Why aren't police officers trained adequately in de-escalation? How can the police administrations and judiciary officials justify and excuse these behaviors? When will it stop? I believe that God, the universe or whomever it is you believe in to be your higher power is shining the spotlight on some of these disturbing and horrendous murders in America. However, some of the "powers that be" refuse to acknowledge these problems even with the light of the truth shining brightly.
Here are some truths about Charleena Lyles, she was a daughter, pregnant mother of 3 children, a cousin, and friend to many. "Leena" as her family calls her was adventurous with a smile as bright as the sun they say; she was willing to give anything to anyone they proclaim! I am told by her cousin Nakeya Isabell, as she recalls spending time with her cousin that she and Leena would make adventures out of everything when they spent time at their grandmother's house together as young children. The pain in her voice is evident that she is truly hurt by the death of her cousin Charleena Lyles. She was loved by her family and friends. She will be missed.
Ms. Lyles was less than 100 pounds and was shot to death by Seattle Police Officers. She was viewed as a threat by the police after she pulled out a knife, and that perceived threat took her life. According to The Seattle Times, the officer that shot her was told to use a taser. However, the taser had been left behind in a locker and because of this Charleena Lyles is now dead.
The Seattle Times also report that the, "Department of Justice found that the Seattle Police Department routinely engaged in excessive force, mostly with people who had mental health and substance abuse issues." According to court records, Ms. Lyles had some mental health issues.
In the 1960's police brutality towards African Americans was a common thing and today it seems to be the same. Today these gross murders and brutality of African Americans are taken place on live camera, and there is still no real cry for justice by some of our elected officials. Can there be justice when the judicial system does not represent the African American community? No. There is and has always been a huge disparity in our legal system as it concerns racial bias against African Americans. Philando Castile's mother expresses her truth about the disparities in this clip below.
We must no longer remain quiet in the face of gross injustices. The late great Dr. Martin Luther King said it best, "Injustice anywhere is a threat to justice everywhere. We are caught in an inescapable network of mutuality, tied in a single garment of destiny. Whatever affects one directly, affects all indirectly." People who suffer injustices on a continual basis will eventually succumb to the pressures of the injustices in one way or another. In other words, the boiling pot left unattended will eventually catch fire!
Why is it OK to have empathy and apathy for all other causes except the cause of, being black?
We as a people must stand together in unity to ensure that the right for justice to prevail for African Americans are allowed. If we could just get past skin tones and become fully aware of the reality that there is only one race, and that is the human race, then there will be justice for all. As of now in America, there is no "justice for all!"
Please take a moment of silence and say her name, Charleena Lyles!
We are powerful people, to say the least, we are the miracles that God created to live in this universe, we are wondrous beyond our imagination. We are here to spew the anger of injustices and to bring healing to the wounds of our neighbor's very existence. In Unity, we are the New Force You Must Reckon with. We will turn our pain into purpose, and we shall incite justice for all.
Calling all HuffPost superfans!
Sign up for membership to become a founding member and help shape HuffPost's next chapter