No need for masks and conversion therapy.
The playwright, director and lead actor all weigh in. Today's final blog is with the lead actor, Matt Crabtree.
Although a work of fiction, Doctor Anonymous was inspired by a watershed moment in LGBT history when Doctor John E. Fryer, wearing a mask and using a voice-distorting microphone, declared himself a homosexual in front of the 1972 convention of the American Psychiatric Association, leading to the decision to de-list homosexuality as a mental illness in the Diagnostic and Statistical Manual of Mental Disorders. It took another 40 years for California to become the first state to ban gay conversion therapy in 2012. Today, as other states debate similar measures, and despite the support of the APA, efforts to change sexual orientation continue to be practiced in the U.S. and abroad.
RG: Hello Matt, how excited are you to be playing the lead character in Doctor Anonymous?
Matt Crabtree: It has been amazing to work on a brand new play, to get a chance to tell a story that hasn't been told before. The collaborative process between writer, director and actor on this particular show has been one of the best experiences I have had.. This is a great and wonderful drama, and I look forward to sharing it with the world.
RG: Can you tell us a bit about your character in Doctor Anonymous, and what drew you or attracted you to the character?
MC: I saw the notice that had gone out for the role of Doctor Goldstein and there was something about the description that drew me. He is the epitome of someone who is conflicted and deals with this brutal self-hatred that exists not only in the homosexual community, but also in the general population. Unfortunately, people still feel the need to mask themselves, to not show who they really are. I came in and read with some great people such as my fellow cast member Kevin Held, and we had such great chemistry together. Plus the fact that this is a brand new play dealing with subject matter that happened 40 years ago but is still relevant to day.
RG: You studied with the famed Steppenwolf Theatre Company in Chicago. How did your schooling at Steppenwolf enable you to tackle the various roles that you have played throughout your career so far?
MC: The school of Steppenwolf changed my life. It changed the way I worked. They say the difference between New York and Chicago is that people in New York act for their agents and people in Chicago do it for the art. What Steppenwolf did was teach me the power of the ensemble, to trust other people and to be able to tell a story. They taught me that the story is the most important thing and that the play is not about me or anyone else but about the story that you want to tell. Jeff Perry, Rondi Reed, Laurie Metcalf, Amy Morton, Mariann Mayberry and Francis Guinan all taught me how to be a better actor, how to take myself to a different level as an artist.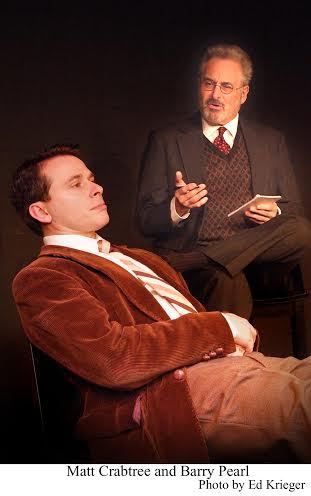 RG: What has been the most challenging aspect of rehearsing for this play, and how has the process of working with your fellow actors and director been?
MC: What I love about this group is that the cast and John Henry keep me safe. I am able to explore and go places that I usually don't go when I work. I usually do a lot of comedy and that has been my bread and butter for a long time. So I was looking forward to sinking my teeth into something deeper than that, emotionally. As an actor it's my job to use the words that have been given to me to bring a character to life. But what I am really grateful for is that there aren't any harsh, hysterical "conversion therapy" sessions included in the show!
RG: As the lead actor in Doctor Anonymous, what do you want the audience to take from the play from your perspective?
MC: When you do any kind of show or art, you want the audience to come into the world with you, to go on the journey with you. I want them to be able to see just how ridiculous, how unbelievable it was that people had to live this way. And unfortunately some people still do live this way. I want audience members, gay and straight, to be touched. I would love to be able to sneak out at the end of the play and listen in on what the audience is saying, because a good piece of theater will have people talking. It will have them doing research, asking questions and striking up conversations about this relevant subject matter.
Head shot of Matt Crabtree courtesy of Gap In The Wall Prods.
Doctor Anonymous opens on Saturday, March 29, continuing through May 4 on Fridays and Saturdays at 8 p.m. and Sundays at 7 p.m. Two low-priced preview performances take place on Thursday, March 27 and Friday, March 28 at 8 p.m. General admission is $25; previews are $15. The Zephyr Theatre is located at 7456 Melrose Ave., Los Angeles, CA 90046 (between Fairfax and La Brea). For reservations and information, call (323) 960-7724 or www.plays411.com/doctor
Calling all HuffPost superfans!
Sign up for membership to become a founding member and help shape HuffPost's next chapter