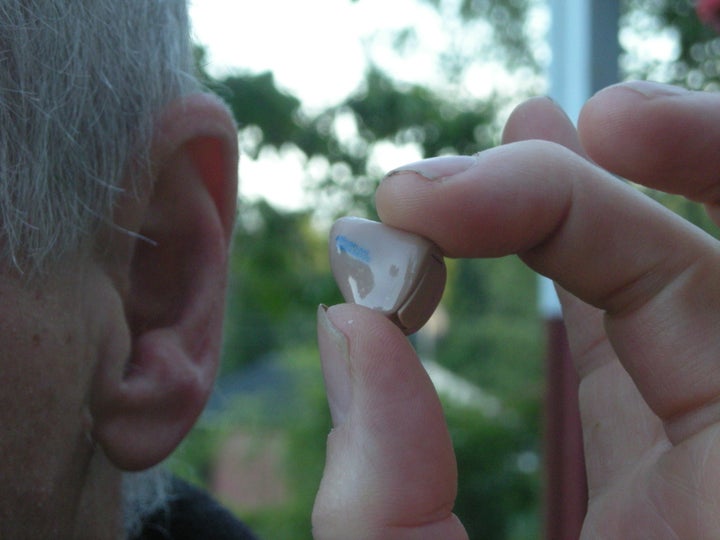 I watched as my husband climbed our hardwood steps and stopped to pick up a coin that fell from his pocket; he had heard it bounce on the floor. Earlier in the day, he had called me at work to ask if we should "do something" about the black crows that have nested in our front yard tree. "They make a racket," he told me. Last night at dinner, we were able to have our first conversation in five years that didn't require shouting to be heard and later, as we watched "Parenthood" in bed, the TV volume was comfortable for both of us.
Yes, my husband just got hearing aids -- one in each ear. They sit diminuatively and hidden behind each ear, truly invisible to the eye. How something so small can function so large is a wonderment. They set us back $4,000, which means we will be making budget sacrifices to pay for them.
The need for hearing aids pretty much goes hand-in-hand with aging. And yet Medicare doesn't cover them.
Medicare, obviously, pays for a lot of things that I am grateful my husband doesn't need -- things like hospital stays. And I am equally grateful for efforts taken to make sure the program continues to cover those important things. Still, it came as a shock to me and I'm sure millions of others to realize that the extremely common need for hearing aids wasn't being met by the safety net for seniors.
I can only speak from example when I say: No single health issue has impacted my family's life as much as my husband's loss of hearing. Nope, not even his heart attack and open heart surgery -- which, while terrifying at the time, were the wakeup call we needed to launch a healthier lifestyle that includes diet and exercise.
On the other hand, his hearing loss has had no silver lining. His frustration at not being able to hear people led him to avoid crowded parties or noisy restaurants -- to the point that we just stopped going out. Movies were out of the question; he couldn't hear the dialogue well enough to enjoy them. I remember being on a cruise ship and watching him sulk in silence at dinner, unable to hear even the person next to him because of all the ambient noise. He tried to use closed captioning on his favorite TV shows but would often just get up and leave the room, annoyed and distracted by the stupid spelling errors. His frequent interruptions when others were speaking was because he couldn't hear them, yet I could see how others thought he was rude for changing the subject or just overriding them when they spoke. Conversations? Literally unheard of in our house.
Hearing loss, like failing vision (which Medicare also won't treat), is a quality-of-life-altering condition. If untreated, it worsens -- gradually, like the water wearing away the rock. It impacts your relationships, and can lead to isolation and depression, says the Better Hearing Institute.
To spend $4,000 out of pocket was a big deal for us. But to be able to talk to the man I love, an even bigger one.
Related
Popular in the Community