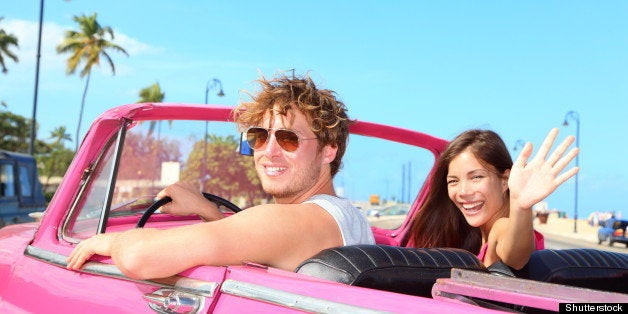 Say it isn't so... teens who "don't drink and drive" may drink and drive; teens who don't "text behind the wheel" may text behind the wheel; and teens who serve as "designated drivers," may drink or use other drugs.
Not everything is as it seems, it seems.
Yes, young people know that drinking or using a cell phone while driving are dangerous behaviors -- that's no surprise. What is surprising is that, according to a new survey from Liberty Mutual Insurance and SADD (Students Against Destructive Decisions), teens seem to have different definitions of what it actually means to engage in these potentially deadly behaviors.
From drinking while driving, using a designated driver or texting while driving, the new research highlights a sharp disconnect between what teens acknowledge as risky behavior and what they actually admit to doing behind the wheel. And mom or dad may not know.
According to the survey results, teens claim to understand the dangers surrounding drinking and driving:
•The majority (86 percent) of teen drivers consider driving under the influence of alcohol to be extremely or very distracting
•Only 1 percent of teen drivers define driving under the influence of alcohol as acceptable
However, when asked about actual behavior involving alcohol, driving "under the influence" takes on a different definition:
•One in 10 teens who say they never drive under the influence acknowledge that they occasionally drive after having an alcoholic beverage
•More than two-thirds of teens (68 percent) who admit to driving under the influence of alcohol say they have done so after having more than three alcoholic beverages
With a quarter of fatal crashes involving young drivers resulting from drinking and driving, according to the National Highway Traffic Safety Administration, these statistics are a reminder that even one drink can be too many.
But what about designated drivers?
While underage drinking is never acceptable and always illegal, many teens and parents consider a designated driver to be a safe alternative to impaired driving -- despite at least anecdotal evidence that their use exacerbates underage drinking. Even so, more than half of parents (58 percent) encourage teens to appoint designated drivers to avoid driving under the influence, and almost half of teens (47 percent) admit to doing so.
But that may not mean what you think.
•Designated Means "Basically Sober": 21 percent of teens say their designated driver is allowed to have "a little" alcohol or other drugs, as long as they aren't too impaired to drive
•Designated Means "Least Impaired": 4 percent of teens describe their designated driver as the "most sober" person in the group
And what about distracted driving?
According to the U.S. Department of Transportation, more than 3,300 deaths were reported in 2012 alone as the result of distracted driving, many attributed to talking or texting on a cell phone. Teens seem to understand the dangers of these behaviors:
•Nearly all (96 percent) teen drivers understand that using a cell phone while driving is at least slightly distracting
•62 percent of teen drivers think texting and driving is extremely or very distracting
However, according to the new data:
•The majority of teen drivers (86 percent) still admit to using a cell phone behind the wheel
•Nearly half (47 percent) of the teen drivers who say they never text while driving still admit to texting at a red light or stop sign
•68 percent of teen drivers admit to reading or replying to text messages while driving
"While many teens seem to have gotten the message about these driving dangers, the real challenge is to make sure they understand that even a sip of alcohol or a quick text at a red light can be deadly," said David Melton, driving safety expert with Liberty Mutual Insurance and managing director of global safety.
Liberty Mutual Insurance and SADD encourage parents to have conversations with their teens about responsible driving and to sign a Parent/Teen Driving Contract. The customized agreement enables parents to create and uphold family driving rules.
Penny Wells, president and CEO of SADD, says, "Time and again, we have found that parents who take the time to engage their teen in dialogue about driving safety are more likely to have kids who follow family driving rules put in place to keep everyone -- adults included -- safe."
Like so much else in prevention, real progress comes down to conversation.
Related