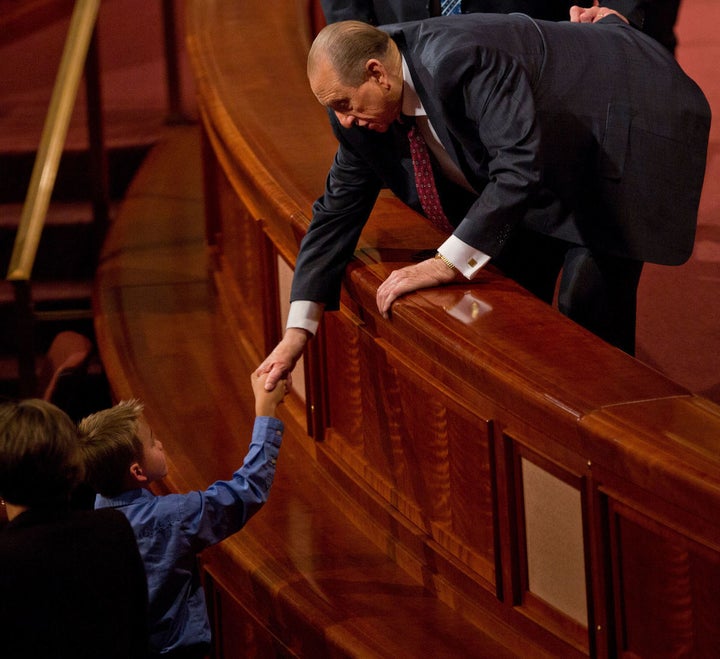 I don't remember the first time I shook Thomas S. Monson's hand. I do remember his handshake was firm and that it enveloped my hand entirely. I remember his hand was warm and large and reassuring, much like the sound of his voice. The inimitable sing-song cadence of his voice was as familiar to me as the sound of my parents' voices. I'd grown up listening to it, reverencing it, eagerly awaiting it every six months during the broadcast of the churchwide LDS General Conference.
I shook his hand after he spoke at devotionals at Ricks College, the LDS church-owned school in the small town of Rexburg, Idaho where I grew up. I shook his hand as a bright-eyed 19 year-old at the Missionary Training Center in Provo, Utah where I was preparing to teach people about the church I loved and believed in during the next two years in Alaska.
I shook his hand over the course of the six years I spent as both an undergraduate and graduate student at Brigham Young University in Provo. And I shook his hand, multiple times, during the three years I sang as a member of the Mormon Tabernacle Choir.
Every time I shook his hand, I felt something powerful — an almost electric assurance that this was a man of God.
I did not shake his hand at the dedication ceremony for the Rexburg, Idaho LDS temple, which took place one week after he was ordained as prophet and president of the church. I wanted to, but I wouldn't have been allowed inside the temple for the ceremony. I had come out as gay one year earlier, and had to leave BYU and resign from the Tabernacle Choir as a result. The institutional response to my coming out might look different today, but at that time it meant having to leave the only spiritual home I'd ever known.
I did go to the Temple Open House, available to the general public. I placed the disposable slippers over my shoes and walked through each ornately adorned room of the temple in silence. I lingered in the Celestial Room, the final destination spot in the temple -- which Mormons believe mirrors the heavenly reward that awaits at the end of our mortal journeys if we remain faithful. I believed that, too.
Only now I believed my departure from this Celestial Room might be my last -- that in this life, and in the next, I would no longer be allowed to return to this place because being gay and choosing not to be alone would make me unworthy to be there. I stood in the Celestial Room holding my mother's hand, neither of us speaking, both of us crying. We could each sense it would be my last time there.
Four months later, President Monson and his counselors issued a letter to be read aloud in LDS congregations stating, "We ask that you do all you can ... by donating of your means and time to assure that marriage in California is legally defined as being between a man and a woman."
Hearing those words broke my heart. A man whose hand had become synonymous with the quiet, unsurpassable power of God's love had now penned a letter asking the people closest to me to vote against my right to marry and raise a family.
I tried to pick up the pieces of my fractured faith and move forward. But seven years later, my precariously patched-together heart came undone when President Monson and the other senior members of the Church's leadership declared that individuals in same sex relationships were to be considered "apostates" and that their children couldn't be baptized until they turned 18 and, only then, if they "specifically disavowed" their parents' "same gender relationship."
When I found out President Monson had died last week, I recalled the sting of betrayal and the throes of despondency I had experienced as a gay Mormon under his tenure as the leader of a church whose teachings, traditions, and music are as much a part of my native tongue as anything. I also recalled the love he had for his wife Frances and their three children and eight grandchildren. I could hear the sound of his voice in my mind -- a voice that will forever take me back to being a child perched in front of a rabbit-eared tv set listening to words I believed were God's own. I could hear the sound of his voice breaking with emotion as he told of ministering to the widows, the childless, the lonely, overlooked, and forgotten -- just as Christ would have done.
President Monson was many things. He was kind and generous. He had a twinkle in his eye and an unforgettable lilt to his voice. He could be exacting and affable, uncompromising and compassionate, formidable and inspiring.
He caused my heart to skip a beat every time he took my hand in his during my formative years, the same eager heart he broke, more than once, as I became a man. He's like my father in that way: at once both more than you'd hoped for, and not at all who you'd thought. He proffered an abundance of love and left behind genuine heartache.
That's the thing about grief: it doesn't always make good room for nuance. It has a way of making heroes or villains out of almost anyone, depending on who's doing the eulogizing. The truth is we are all, even the best of us, some of both. So today I'm holding space for a man to be remembered for who and what he was to the millions who revered him -- including my parents, and me for most of my 40 years. And I'm also holding space for all the goodbyes I had to say to my Mormonism long before his passing.