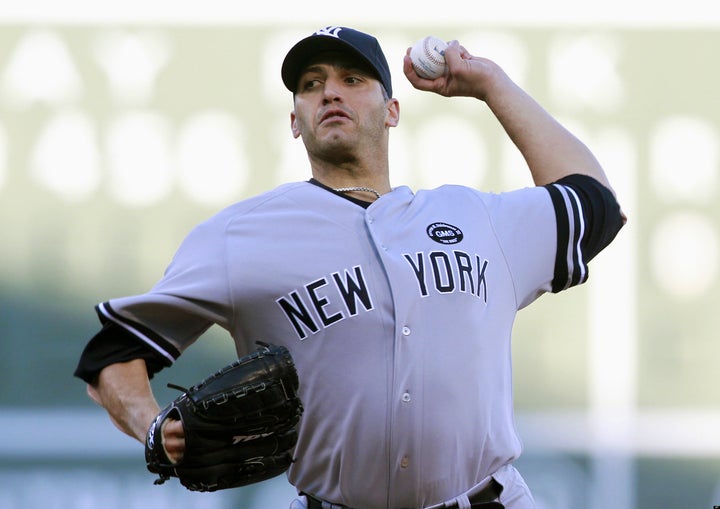 Has it really been sixteen years since a babyfaced, dimple-chinned Andy Pettitte made his debut with the New York Yankees, who at the time hadn't made it to the postseason since 1981? Well, yes, actually -- it feels like a million years since the Yanks were anything but perennial pennant contenders. No, what amazes me is that it's only been one off-season since Yankee fans were basking in the glow of the 2009 World Championship. The vaunted "Core Four" of Pettitte, Mariano Rivera, Jorge Posada and Derek Jeter defied Father Time in '09 by putting up stellar numbers which rivaled their stats from a decade earlier. We knew the ride couldn't last forever, but at the same time, a part of us deep down felt, well, maybe it could.
We all know what happened in 2010. Jeter suddenly got old, putting up the worst offensive numbers of his career. Posada, in between trips to the disabled list, finally proved that he was no longer qualified to be the Yanks' regular catcher. Rivera, at age 40, was... well, he was Mariano Rivera. But his innings continued to decrease -- he's less of a workhorse now, and more the piece of heirloom china the family only brings out for special occasions.
Pettitte, on the other hand, was rock-solid through the first half of the season, posting an 11-2 record by the All-Star break, along with his lowest ERA in five years. And then he pulled a groin muscle and was out for more than two months, returning for a few largely ineffective starts in September and October.
And now he's the first of the Core Four to call it quits, apparently for good. It's some consolation to know that he's walking away from the game, still apparently able to pitch at a high level, rather than his skills abandoning him first. But that doesn't make the Bombers' starting rotation look any less miserable for 2011.
It's easy, in the hazy, nostalgic glow of his farewell, to forget that he wasn't as beloved by the Yankees' front office as he was by the fans until quite recently. He was the ace of the 1996 championship team, but by the end of the decade, he seemed to have lost his edge, and his effectiveness along with it. In 1999, he sported a lackluster 14-11 record with a 4.70 ERA, and it took the combined efforts of GM Brian Cashman, manager Joe Torre and pitching coach Mel Stottlemyre to keep George Steinbrenner from trading him.
In retrospect, the near-trade may have been a wakeup call for Pettitte, who never again seemed to lose the laser-like focus and intensity for which he was known the rest of his career. Even so, the Yanks let him walk after his second 21-win season in 2003. True, he had a balky elbow which team higher-ups suspected could blow up at any time. And Cashman did eventually make a belated, half-hearted offer to keep Pettitte in pinstripes. But in my memory, at least, it felt like he was being unceremoniously shoved out the door against his will.
Duly shoved, Pettitte went to Houston for three seasons. Sure enough, the elbow acted up in '04, but he bounced back and helped the Astros to the 2005 World Series with a 17-9 season, while the Yankees got bounced in the first round of the playoffs. I took a kind of bitter pride in Andy's success and the Yanks' (relative) failure; this was karma coming back to bite Steinbrenner on the ass. In 2007, both sides decided to kiss and make up in time for Andy's return to the Bronx, and from then on he's been treated with the respect and adulation he so richly deserves, from the press and the Yankee brass as well as the fans, who have been on his side since the beginning.
The thing I'll remember most about Pettitte -- apart from his ridiculous pickoff move, the best I've ever seen by far -- is not the games where he was dominant. Rather, it was those games where he didn't have his best stuff, but somehow managed to last long enough and escape enough damage to get to the bullpen with the Yankees still in it. He touched on that himself at his retirement press conference, when asked if he thought he had a shot at the Hall Of Fame. With characteristic honesty, he said, "To me, the Hall of Famers I've played with made it look so easy ... I can honestly say this game has not been that easy for me."
And that, weirdly enough, gives Andy Pettitte credibility for the Hall Of Fame in my mind, even if his numbers fall a bit short. There are so many talented pitchers -- Jeff Weaver's Yankee tenure springs immediately to mind -- who fell apart at the first sign of trouble. Of course Pettitte had his share of dominant games, when he blew away opposing hitters with what looked like minimal effort. But it was those outings when he didn't have command over his full repertoire of pitches, or when some part of his body was hurting, where he had to improvise and grind through each at-bat. That's when he showed that he was a pitcher, not just a thrower. Every five days, he'd give the Yankees a reasonable chance to win regardless of how he was pitching. That's something you can't easily replace, no matter how much money you have to spend.
REAL LIFE. REAL NEWS. REAL VOICES.
Help us tell more of the stories that matter from voices that too often remain unheard.